Logo Files
Here's how to use the logo appropriately and keeping it looking its best. Downloads are at the bottom of this page.

Size
The logo can be made larger and smaller (proportionally!) but the minimum width is 1 inch, 26 mm, or 120 pixels wide.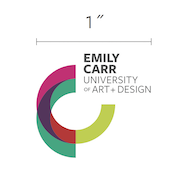 Clear Space
Every logo needs breathing space. Keep text or other design elements clear of the logo by a distance equal to the height of two of the Es in "Emily."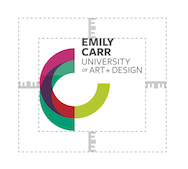 Monochrome Versions
Use the dark monochrome for printing on light or white backgrounds, and the light monochrome for dark or black backgrounds.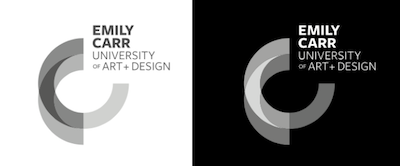 Backgrounds
The full colour logo looks best on a solid white or light neutral background. Don't put any logo on a coloured or textured-look background.
Wordmark
We have a wordmark (the words "Emily Carr University" only) that can be used in very small spaces where the full logo won't fit. Please contact communications@ecuad.ca if you think you need to use the wordmark.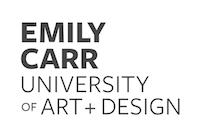 Don't Mess With It
Whichever version of the logo you use, don't distort it, add to it or delete from it. Consistency is key to a solid brand.
Downloads
Emily Carr University of Art + Design Logo Lockup
1. COLOUR LOGO FOR PRINT ON COATED PAPER


2. COLOUR LOGO FOR PRINT ON UNCOATED PAPER


3. COLOUR LOGO FOR WEB/DIGITAL


4. ONE COLOUR LOGO


EMILY CARR UNIVERSITY OF ART + DESIGN WORDMARK
1. FULL STACK WORDMARK ON COATED PAPER

2. FULL STACK WORDMARK ON UNCOATED PAPER

3. FULL STACK WORDMARK GREYSCALE


4. FULL STACK WORDMARK FOR WEB/DIGITAL


5. HALF STACKED WORDMARK ON COATED PAPER


6. HALF STACK WORDMARK ON UNCOATED PAPER

7. HALF STACK WORDMARK GREYSCALE


8. HALF STACK WORDMARK FOR WEB/DIGITAL