Great Northern Way Campus News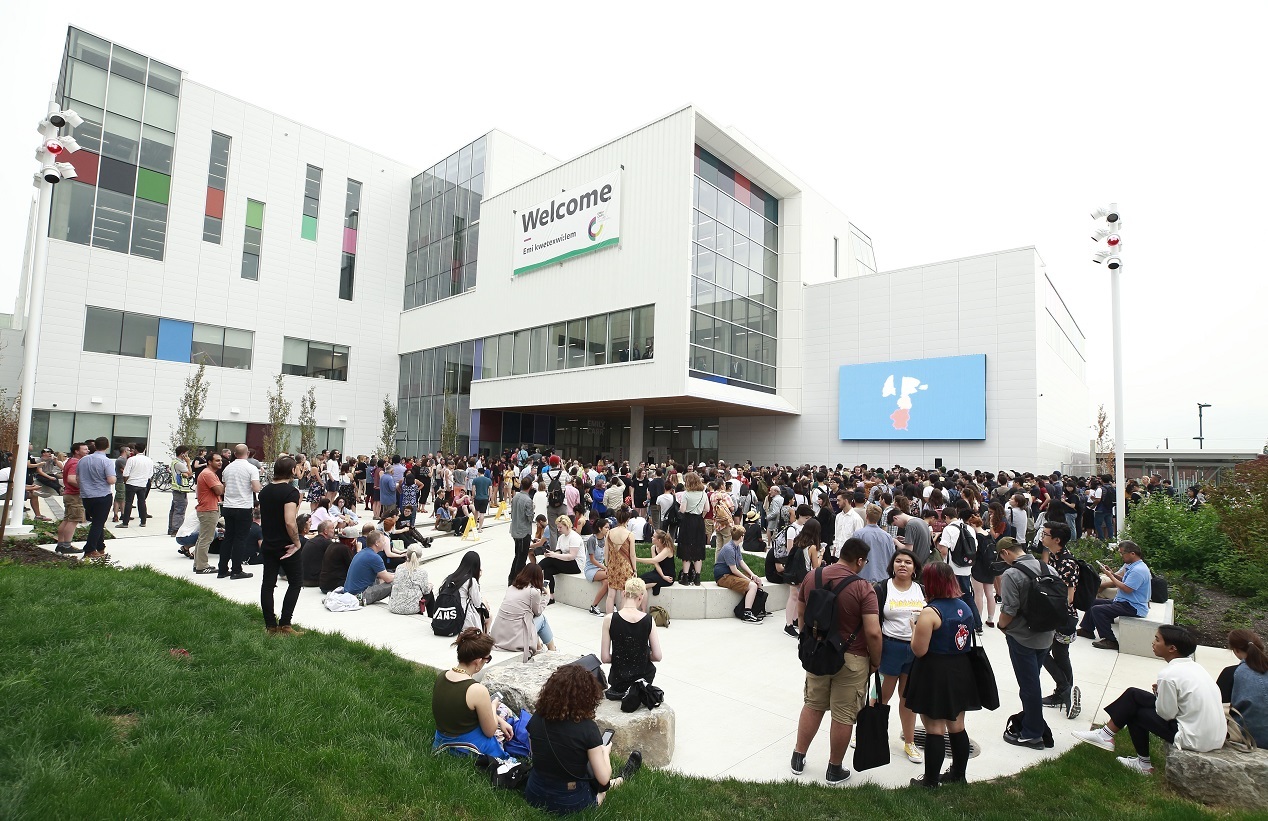 Countdown to The Big Reveal
We've moved in, classes are in full swing, and we're now preparing to welcome you to The Big Reveal - our official public opening. The Big Reveal will feature two full days of activities, self-guided tours, art stations, and exhibits. Mark your calendar for October 27 + 28 and plan to join us to celebrate this momentous milestone in our University's 92 year history.

Campus Quick Facts
Campus Facilities
The building is 4 stories high and occupies 289,730 square feet.
The building is designed to achieve LEED Gold Certification, and complies with the Wood First Act.
There are three floor-to-ceiling atria, enabling an abundance of natural light.
The entire campus is outfitted with state-of-the-art technology that will allow for integrated displays for learning and interaction. This includes exteriors that will allow for public programming.
The campus boasts a 400-seat, state-of-the-art theatre facility, The Reliance Theatre.
The campus features several galleries including - the Libby Leshgold Gallery, the Michael O'Brian Exhibition Commons, the RBC Media Gallery, along with our award-winning bookstore, READ Books.
Student common spaces are open and flexible, encouraging exchange between interdisciplinary artistic practices and informal social gatherings enhancing overall university life.
Vancouver artists and ECU faculty members Landon Mackenzie and Ben Reeves conceived the colour selections highlighting the exterior of the new building. The pair created a palette of fifteen colours to reflect and honour the work of the renowned BC painter Emily Carr (1871-1945).
Transportation + Parking
We're on the Central Valley Greenway (CVG) — a 24-kilometre pedestrian and cyclist route in Metro Vancouver that runs from Science World in Vancouver to New Westminster through Burnaby. Two enclosed bike cages are located at the east and west sides of the campus, 14 bike lockers can be found at the north side of the campus, and there are multiple bike racks located throughout the grounds. End-of-journey showers and change rooms are available.
The campus is centrally located between two Skytrain stations; it's a 13-minute walk from Main Street Science World on the Expo Line, and a 12-minute walk from VCC Clark on the Millennium Line. The #84 bus also travels along Great Northern Way directly in front of the campus.
The campus will have 160 dedicated permit-parking spaces including electric vehicle charging stations and carpool spaces. Several additional parking options are within walking distance.
Food + Drink
Our onsite food service, Loafe Café celebrates local producers and fresh ingredients and will offer made-to-order gourmet sandwiches, vibrant seasonal salads, homemade soups, locally-roasted artisan coffee and delicious baked goods. Loafe Café has a patio with views of the North Shore mountains and is located on the main floor, adjacent to the Library, Student Union and Staff Lounge. Loafe Mini, a coffee kiosk, is located at the southeast entrance on the ground floor and offers grab-and-go items, specialty hot beverages and bottled drinks.
School Supplies
Opus Art Supplies will continue to be our official school store, with discounts available to students. They will host an onsite pop-up shop during the first 3 weeks of each school semester.
Location

The campus is located in the Mount Pleasant neighbourhood, in close proximity to Olympic Village. Breweries, restaurants, galleries, cafes and parks are all available within a 15-minute walk.
Great Northern Way Campus officially opens
The Honourable John Horgan, M.L.A., Premier of British Columbia officially opened the doors to our new campus at the ribbon-cutting ceremony Tuesday, September 5. Read more...
Exciting Totem Pole Project at the Great Northern Way Campus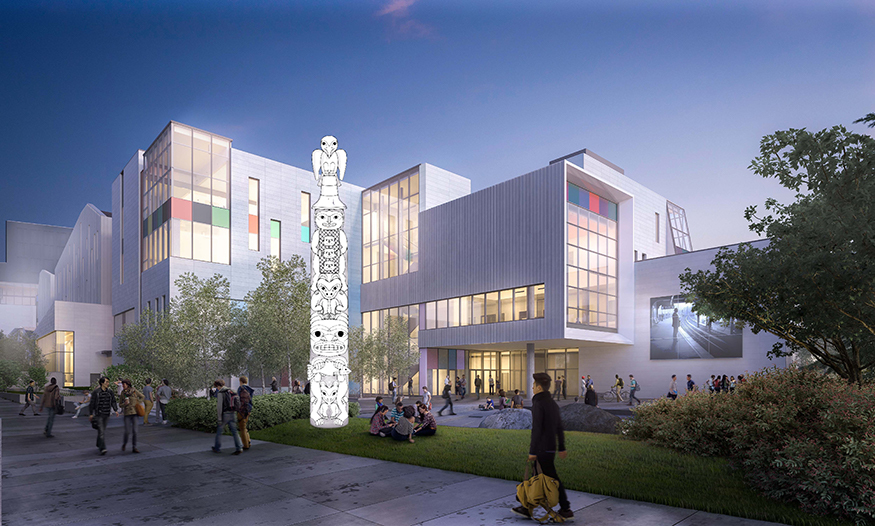 Artist rendering
_____

Emily Carr University of Art + Design is embarking upon an exciting new project to mark the University's relocation to its new Great Northern Way Campus. We are commissioning a Totem Pole – and you can help. You can donate through the Advancement Office by calling 604 630 4562 or through Canada Helps online at the link below. We will keep you updated as the project progresses.
Learn more about the Totem Pole Project.

We have reached our Capital Campaign Goal. Thank You.
Thank you to the generous donors, advocates and partners who have helped us make Emily Carr University's first Capital Campaign a success. Construction of our new campus has surpassed the 85 percent mark and we are just months away from opening the doors to our world class, state-of-the-art campus.
This has been a collective and community effort and we are grateful to you for your support of this visionary project. We couldn't have reached this remarkable feat without you!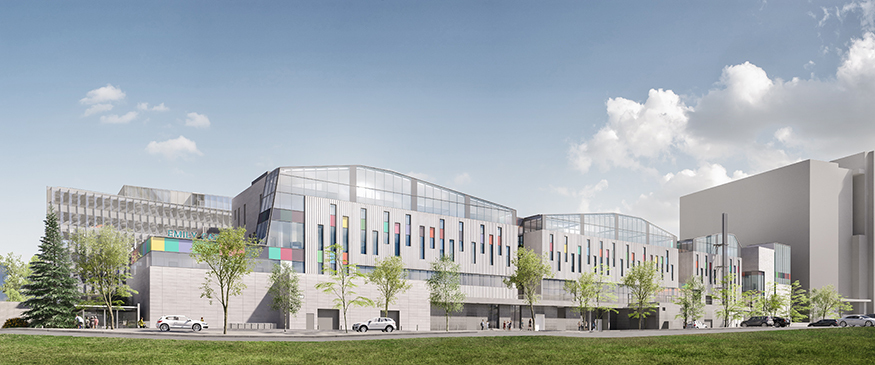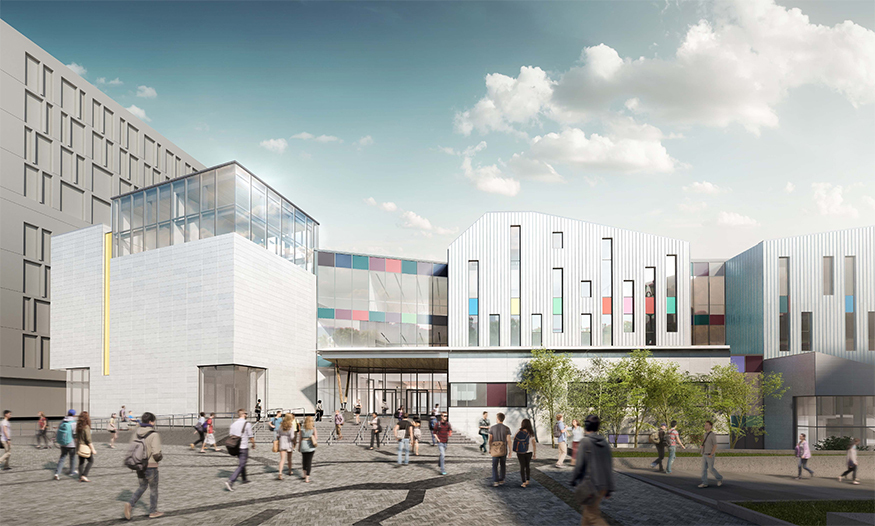 You can now donate your Aeroplan Miles!