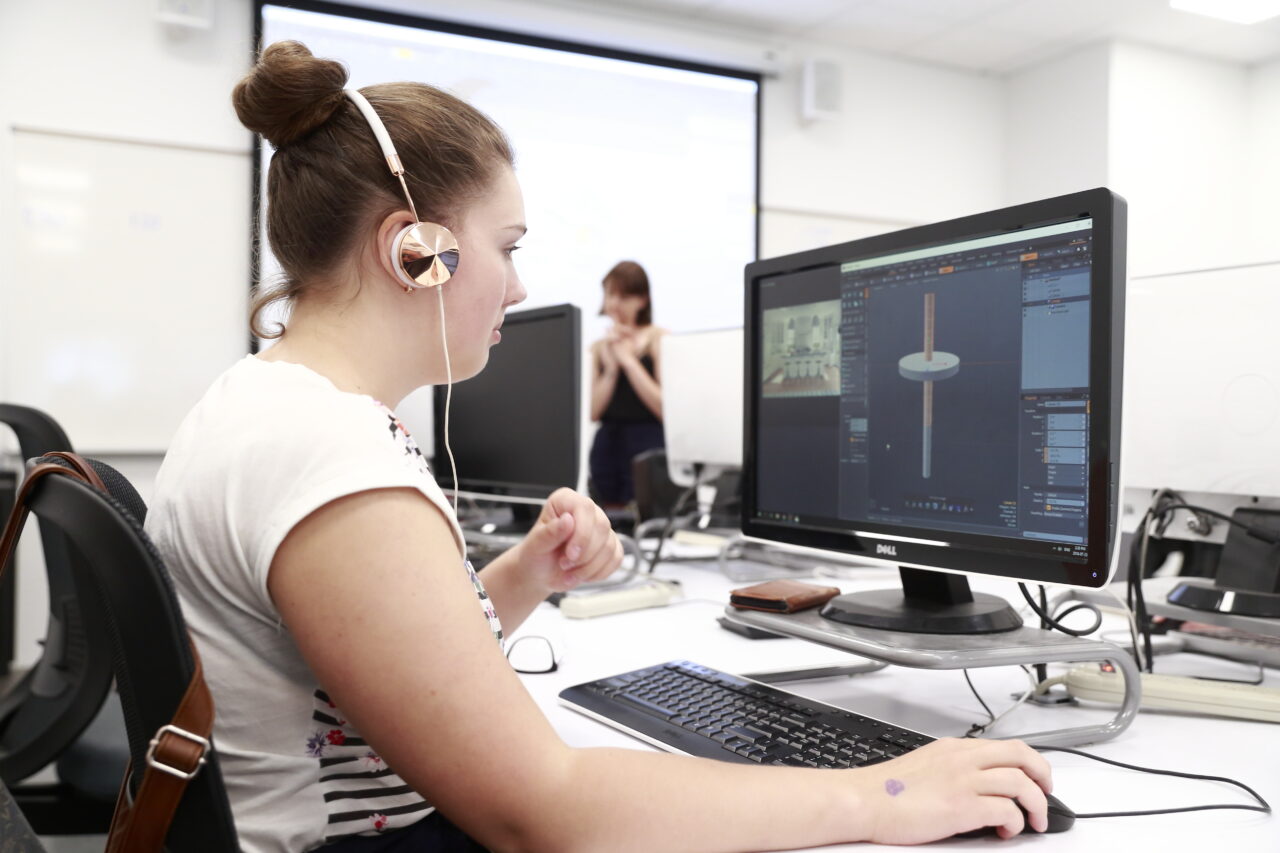 Take your animation skills to the next level! Learn basic 3D character animation techniques, starting from simple objects to more complex characters. You will become familiar with the 3D animation production process and learn modeling basics, how to animate objects and apply textures. Through various exercises, you will broaden your understanding of movement, posing, timing and acting as they relate to body mechanics. By the end of the course, students will have created a portfolio of pieces leading to a walk cycle, and acquired a solid foundation on which to build on towards creating compelling 3D character animations.
The 3D Animation studio runs online July 5-30, 2021, Monday, Tuesday, Thursday and Friday, from 9am-4pm (Pacific Daylight Time, GMT -7). This studio is offered through the Summer Institute for Teens 2021. Please visit the Summer Institute for Teens main page to learn more about the program and download the registration forms.
Learning outcomes
Through successful completion of this studio, you will be able to:
Employ professional vocabulary related to animation principles and techniques
Develop the creative process of conceptualizing and translating ideas to moving image projects
Demonstrate an understanding of the production pipeline and practices used to produce 3D animations
Apply basic modelling, animation and texturing methods and techniques to create convincing 3D animated characters
Develop a foundational understanding of body mechanics
Assess animated works critically and engage in peer critique processes
Materials & Resources
Students participating in SIT will be required to have their own access to the required hardware and supplies for their registered studio.

Estimate cost of supplies: $40-50

Required software: Foundry Modo, Adobe Photoshop

Required hardware:
Smartphone, tablet or camera with video recording capability.
Headphones and microphone
External mouse with right, left, and center click options.
Computer with webcam. Computers should meet the following minimum requirements to run Modo as well as the following requirements to run Adobe Photoshop.
Optional: Graphic tablet (Wacom, Huion or similar).
About the instructor
Thomas Groppi is a Lecturer in Industrial Design at Emily Carr University.
Additionally, he teaches Kinetic Architecture courses for the University of
Oregon.

As a consultant in 3D Thomas has worked for: Amanat Architect, Ruf Project Architects, Exhibau, Nuytco Research, Electronic Arts, Phantagram Games, Troublemaker Studio, Turner Studio, Robert McNeel & Associates and Wiivv Wearables.

He has worked for Rainmaker as well at Softimage, a company best known for developing software used by Industrial Light and Magic to create the visual effects for movies such as Jurassic Park and Bjork's music videos.

Thomas was Technical Director for "The Bear", a 3D stereoscopic film
produced in Paris for a museum.