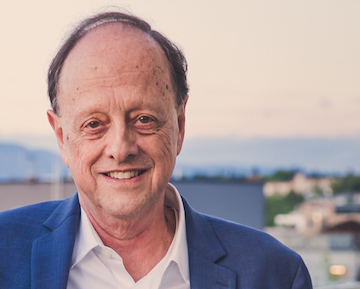 Order of Canada, OBC, Chevalier de l'ordre des arts et de lettres, RCA
President Emeritus, Emily Carr University of Art +Design
Dr. Ron Burnett is the past President + Vice-Chancellor of Emily Carr University of Art + Design. In this position he served the University for 22 years, from 1996 to 2018. In 2013, Dr. Burnett received the Order of Canada and in 2015, he received the Order of British Columbia. He was awarded the Chevalier de l'Ordre des Arts et des Lettres by the French government in 2010 and received the International Digital Media and Arts Association Outstanding Leadership Award. He received his BA, MA and PhD from McGill University in the areas of media arts, communications and cultural studies. Dr. Burnett began his career as a post-secondary professor and administrator at Vanier College in Montreal where he founded the Creative Arts Department. He went on to work at LaTrobe University in Melbourne, Australia and then became the Director of the Graduate Program in Communications at McGill University.

In a career spanning forty years, Dr. Burnett has published three books; book chapters and reviews; over 150 articles; as well as two monographs. Internationally known for his work in media and distance education, he served on an "eminent persons panel" at UNESCO in Paris to advise on the development of Internet resources for the Third World. He was the Chair of the BC Association of Institutes and Universities (BCAIU) and a member of the Executive Committee and Board of the Association of Independent Colleges of Art and Design(AICAD). He was also amember of the Learning Development Institute Board, the BCNet Board, and was formerly the Board Chair of the Knowledge Network.
In 2012, Dr. Burnett received the Queen's Diamond Jubilee Media in honour of his significant contributions and achievements and in 2002, he received the Queen's Golden Jubilee Medal for service to Canada and Canadians. He was inducted into the Royal Canadian Academy of Art in 2003 and was voted Educator of the Year by the Canadian New Media Association in 2005. Dr. Burnett is an Adjunct Professor in the Graduate Program in Film and Video at York University, Toronto. He is the William Evans Fellow at the University of Otago in New Zealand and is a Burda Scholarat Ben Gurion University, Israel.
Website | @ronburnett | LinkedIn
Wikipedia page | Emily Carr President Ron Burnett on his knighthood, parents, and the ideal school
Q&A with Ron Burnett | Order of British Columbia | B.C. Academic to get French honours | How Images Think