Emily Carr University of Art + Design is a globally-recognized centre for creativity and innovation. We are committed to cultivating creative thinkers who can solve challenging problems through art and design.
Creativity generates ideas. Through exploration and guided process, these ideas take on form. Forms communicate, evoke and provoke.

Graphic Standards Manual
Download the Complete Graphic Standards Manual

The Emily Carr University of Art + Design Logo
The University logo, unveiled in January 2017, gives visual expression to our spirit and values.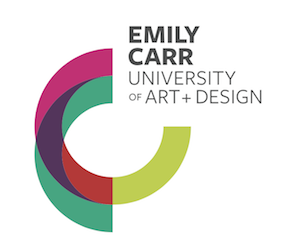 Its layered form derives from the transformative process of learning – a complex, organic layering of accumulated understanding.
The progression of study and self-expressive experimentation offered at Emily Carr results in a rich process of evolution for each student, as their own idiosyncratic creative talent emerges through their course of study with us.
The youthful and dynamic multi-toned, multi-layered surfaces of the logo depict the energy, the transformative progress and the joy of expression found in learning at our University.
The logo's layered design also pays homage to how we approach creative instruction, recognizing the vast range of mediums employed by our students, and the many disciplines encompassed by our diverse faculties.
We have developed a handy toolkit to make it easy. External users should contact us directly for permission to use the logo and elements.
Brand Guidelines
Logo files and how to use them
Downloadable files and tips for making the logo look as great as possible.
Typography
What to use for professional-looking materials that have an impact.
Colour
Our palette, for all different occasions.
Photography
Suggestions for images that relate and resonate.
Design Elements
Advice for professional designers.
Name and Writing Style
What name/initials we use, and tips for tone and style.
If you can't find what you need here, contact the Communications Department at communications@ecuad.ca