The role of the President and Vice-Chancellor is to provide leadership for the University in accomplishing its strategic and operational goals; to ensure alignment with the policies and directives established by the University's Board of Governors and Senate; and to clearly convey the University's vision and values to all stakeholders.
Dr. Gillian Siddall is the tenth President of Emily Carr University of Art + Design.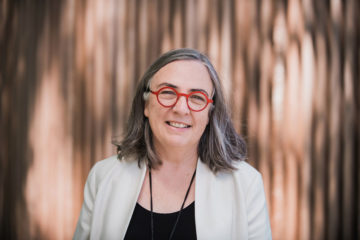 Dr. Gillian Siddall was appointed President + Vice-Chancellor of Emily Carr in 2018, following a long career in academic leadership and the performing arts. She holds an Honours BA and MA in English from the University of Guelph and a PhD in English from the University of Western Ontario. She is also a jazz vocalist and co-founder of the Guelph Jazz Festival.
Gillian began her career as a sessional lecturer at the University of Guelph, accepting a tenure-track appointment at Lakehead University in 1998, where she went on to become the founding Director of the teaching and learning centre, and then Dean of the Faculty of Social Sciences and Humanities for six years. Her research area is Canadian literature, and she has published extensively on the subject of musical improvisation, both within and outside a literary context.
Prior to joining Emily Carr, Gillian served as Vice-President Academic and Provost at the Ontario College of Art and Design University (OCAD U) where she led the academic planning process. Gillian is an advocate of Indigenization and decolonization within the university sector.
---