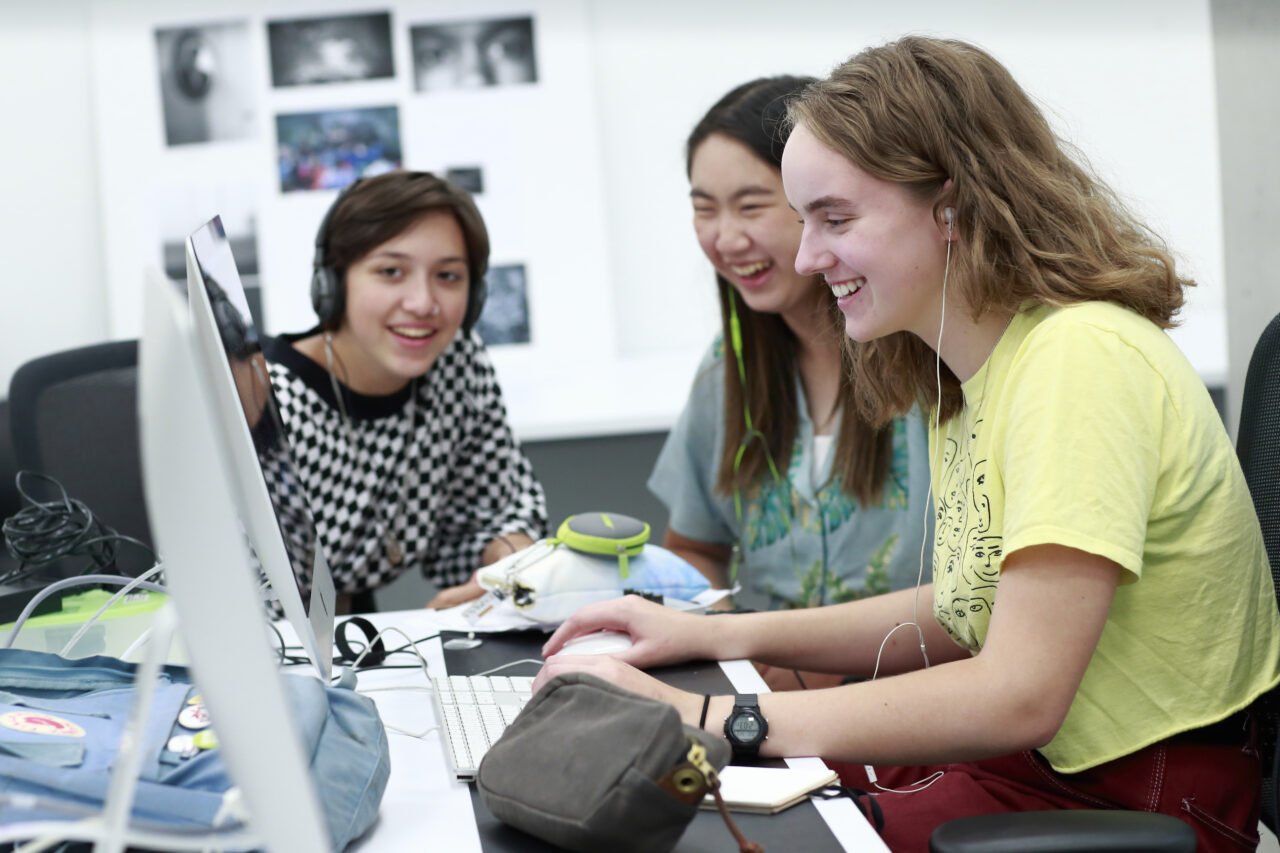 Explore narrative and visual storytelling as you shoot, edit and produce a range of work both individually and collaboratively. Learn the basics of screenwriting, storyboarding and directing as well as technical production skills. Discussions will focus on how video has evolved with new technology, audiences and platforms as well as the influence of society and culture.
The Digital Filmmaking studio runs on campus July 4-29, 2022, Monday, Tuesday, Thursday and Friday, from 9am-4pm (Pacific Daylight Time, GMT -7). This studio is offered through the Summer Institute for Teens 2022. Please visit the Summer Institute for Teens main page to learn more about the program and access the registration webforms.
Learning outcomes:
Through completion of this studio, you will be able to:
Acquire knowledge of how to operate video and audio recording equipment, as well as video and sound editing software.
Gain experience of the entire process of video production, from concept development to the final edit.
Gain an understanding of the history of cinema, film language and contemporary media practices
Develop the ability to critically discuss aesthetics, form and meaning
Acquire knowledge and gain technical skills in scriptwriting, storyboarding, cinematography and camera shots, lighting, and sound
Materials & Resources
Students participating in SIT will need to source their own supplies for their registered studio.
Estimate cost of supplies: $70-$100
Required software:
Adobe Photoshop*
Adobe Premiere*
Adobe Audition*
*ECU will provide access to the required softwares.
About the instructor:
Josh Hite's work is concerned with tactics for documentation and human movement through local spaces. He creates reorganized archives of particular spaces and behaviors either through recordings he makes himself or by appropriating content through sites like YouTube.
He is a member of the Vancouver Soundwalk Collective and part of Ten Fifteen Maple, a two-year artist residency exploring multiple waterfront parks in Vancouver. He also regularly collaborates with theatre and dance companies. Josh has a BA in Philosophy, an MFA in Visual Art and teaches photography and media arts at the University of British Columbia, performance studies at Capilano University and photography with continuing studies at Emily Carr University of Art + Design.