Never Precious: Anonymous Design in Canada | Charles H. Scott Gallery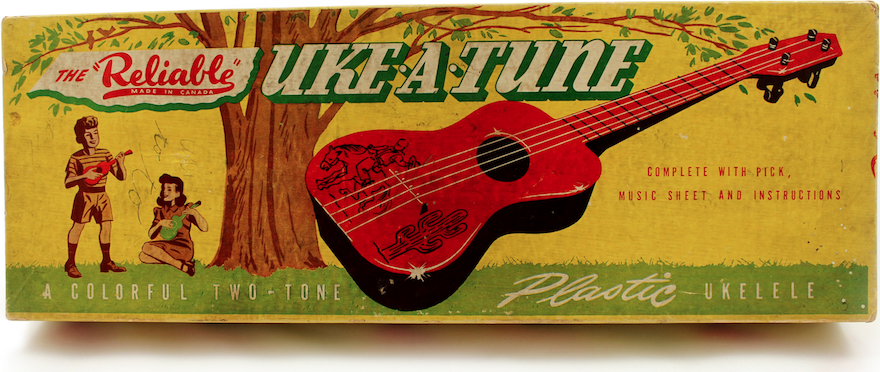 Tuesday, Jun 06, 2017 - 12:00 PM - Sunday, Jul 02, 2017 - 5:00 PM
Opening Reception | Tuesday, June 13, 7:30pm
Charles H. Scott Gallery
Join us for a panel discussion, June 29th, 7-9pm!
Guest Curated by ECU's Vice-President Academic + Provost Bonne Zabolotney
Never Precious is an exhibition of vernacular Canadian design from the early to mid-twentieth century. The exhibition pivots on the Eaton's catalogue, which was published by the department store retailer from 1884-1976.
The catalogue is an example of a designed publication that relied on systems of illustration and product design to have a major impact on Canadian material and visual culture. Other objects on exhibit include a Canadian Cycle and Motor Co bicycle, a Robbins & Myers Oscillating Fan, dishware from Medicine Hat Potteries, a projector from Bell & Howell, a Reliable Plastics Uke-a-Tune as well as a selection of items such as games and toys, and ephemera such as hotel and travel brochures.
While individually many of these everyday objects and ephemeral works may be considered banal and unremarkable, presented together in this exhibition they create an ecology that tells of Canada's design history—a history that has been inconsistently recorded and discussed. This inconsistency stems from the circumstances around the design and production of goods, mainly that throughout the twentieth century, the majority of Canadian designers were known to have followed or borrowed aesthetic principles from the USA and Europe and their design work was produced anonymously. This has limited the information available to historians as they attempt to define Canadian design.
Never Precious engages with this historical problem of identity within Canadian design and aims to demonstrate the richness, the wide range and prolific scale of Canadian design.