Opus Art Supplies ECU Pop-Up Shop
This event is in the past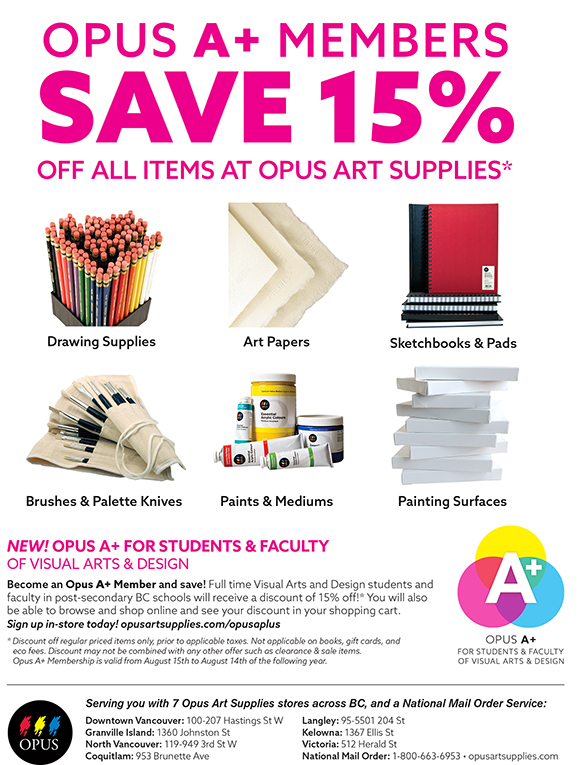 On Level 1 of Emily Carr University, from 9am - 5pm through Sept. 13
Hello Students, and welcome to the start of the new school year!
Stop by and visit Opus Art Supplies' Pop-Up Shop to see the curated selection of art supplies and special offers in-store.

This limited-time-only ECU location is open until Sept. 13, from 9:00am to 5:00pm, Monday through Friday.
This year, Opus Art Supplies is pleased to introduce the Opus A+ Membership Program for Students & Faculty of Visual Arts & Design. Apply to become an Opus A+ Member and you will get the same great 15% discount at the Opus Pop-Up Shop that you will get when you shop as a member at any Opus Art Supplies location.
Our pop-up shop is stocked with essential items selected to help you get started on a productive year, from drawing materials to painting supplies. The Opus Foundation Studio Kit (containing items specified by ECU) is filled with the essentials needed for first-year students, and is priced at $151.05 – we are offering it at a special price to ECUAD students so you are able to purchase it for only $97.14!* (*The ECUAD student price is not reflected online - please shop for this product at the Opus Pop-Up Shop, at an Opus Art Supplies store near you, or by phoning 604-435-9991 ext.1 to receive this special ECU student price.)
In addition to the items available in the Opus Pop-Up Shop, a full selection of fine art supplies, and our knowledgeable staff are available at all Opus Art Supplies retail stores, including locations in Granville Island, Downtown Vancouver, Coquitlam, North Vancouver, and Langley. Our National Mail Order team is available to help with phone orders at 604-435-9991 ext.1, and our online store, opusartsupplies.com, is open 24 hours a day.
We look forward to meeting you, and to helping you get going with the supplies you will need to achieve great success in the year ahead.
The Opus Team