Skill-Up! Workshops
This event is in the past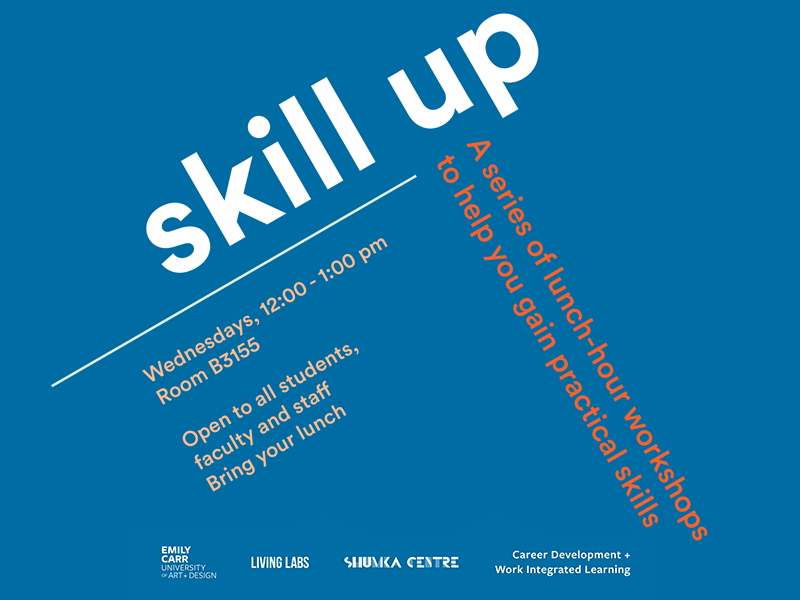 Skill-Ups are weekly lunch hour sessions to help you boost a specific skill that will complement your practice.
Location
On Campus
Room B3155, Emily Carr University of Art + Design
520 E 1st Ave, Vancouver, BC, V5T 0H2 See on Map
Designed to answer questions such as File Size: What is Big and What is Normal? and How do I Price my Work? Skill-Up topics have been selected to introduce technical hands-on skills within an hour. Skill-Up sessions will be delivered by Emily Carr faculty, staff, students, and industry experts, and are organized by the Career Development + Work Integrated Learning and the Shumka Centre for Creative Entrepreneurship.
Every Wednesday, 12:00 – 1:00 PM | Room B3155
Open to all!

Fall 2019 Schedule:
Wednesday, Sep 18: Make Your Tech Look Effortless

File Size: What is Big and What is Normal?
Getting your slides on the projector: media for presentations
How to change the size and type of your file
File storing and naming conventions
Wednesday, Sep 25: Community in Building Your Practice

Finding your people
Forming a collective
Cultivating a network
Wednesday, Oct 2: Peer-Led Open Session


Wednesday, Oct 9: How to Self-Publish

What are catalogues, artist books, multiples?
When is it ok to self-publish?
Print-on-Demand and how it works
Wednesday, Oct 16: Peer-Led Open Session


Wednesday, Oct 23: How to Quick-Finish Fabric

Wednesday, Oct 30: Where to Find Materials for Free or Cheap

Wednesday, Nov 6: Models for Selling Something You Make (Part 1)

When and how to focus on e-commerce
Getting your thing in a store
What are fairs and do you need them?
Wednesday, Nov 13: How to Price Your Work


Tips for calculating artist fees and pricing
How to appropriately price your work throughout your caree


Wednesday, Nov 20: How to Apply to Grad School

Tools and strategies for researching and applying for different graduate program
Introduction to Emily Carr's graduate programs and admission requirements

Wednesday, Nov 27: Peer-Led Open Session


Wednesday, Dec 4: How to Frame Your Work

Framing techniques
Considerations for different types of work
Emily Carr Students!

Do you have a skill you'd like to share with your peers? Sign up to lead a peer-to-peer learning session on the poster in Room B3155 or e-mail one of the programming offices: shumka@ecuad.ca | coop@ecuad.ca
Skill-Ups are co-hosted and co-produced by Career Development + Work Integrated Learning and the Shumka Centre for Creative Entrepreneurship with the generous support of the Ministry of Advanced Education, Skills & Training