The Legendary Student Art Sale
This event is in the past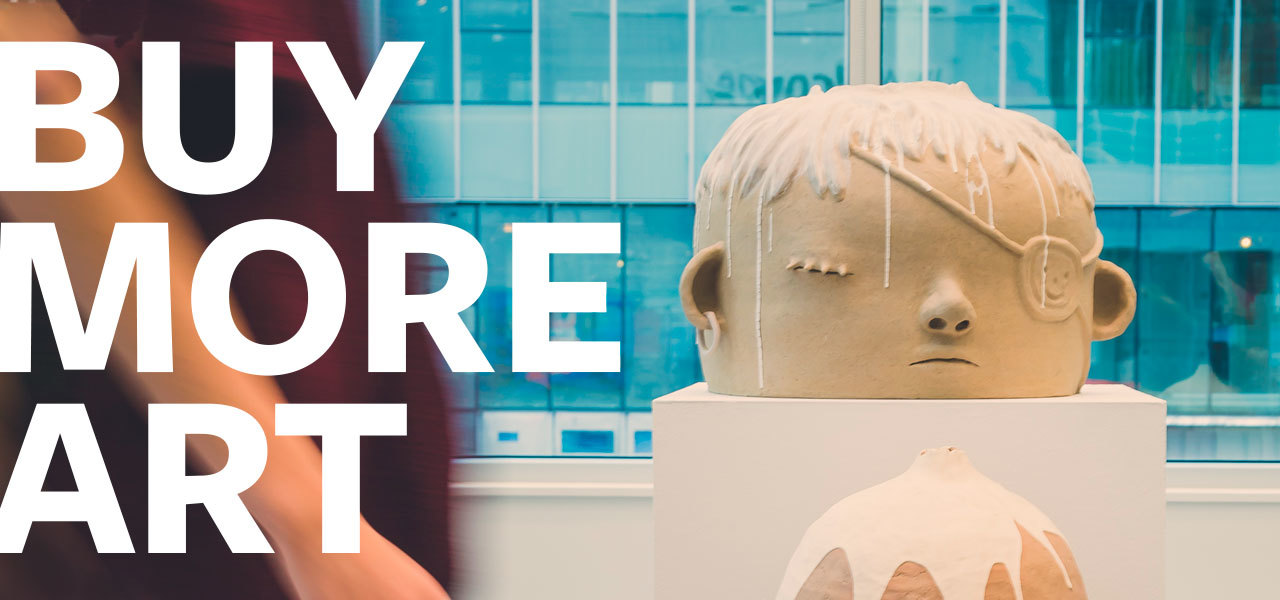 The sale runs from noon to 8pm on Friday Nov. 29, and from noon until 5pm on Saturday Nov. 30 and Sunday Dec. 1.
Location
On Campus
Michael O'Brian Exhibition Commons at Emily Carr University of Art + Design
520 E 1st Ave, Vancouver, BC, V5T 0H2 See on Map
The Student Art Sale (SAS) is your chance to own an artwork from some of Vancouver's finest emerging artists.
This year's sale includes artwork from close to 200 students, which means there is something for everyone! Purchasers can select from a wide assortment of disciplines including original paintings, photographs, prints, ceramics, sculptures, wearable works, housewares and more.

Collectors, art lovers and the art-curious stand shoulder-to-shoulder as they view the offerings of art by up-and-coming students. Last year more than 4,000 individuals came to Emily Carr University for the SAS.
As should be expected, the motto Buy More Art is taken quite seriously by participants of the SAS, as they peruse artworks filled floor to ceiling in our Concourse Gallery. Over the years, this is what has made the sale legendary.
The sale's current popularity, however, belies humble beginnings. It was first imagined by ceramics and printmaking students as the Print and Pot Sale, which students organized entirely on their own.
By the mid-90s, Emily Carr administration approached the students with the idea of being more inclusive (a number of requests from painting students and others indicated students from all areas of the school were eager to participate). This idea was at first met with resistance until, as a compromise, Advancement (then Foundation + Development) agreed to take over organization of the event to accommodate students from all disciplines.
During this time, there were between 100 and 120 students who participated in the sale each year, and every participant was obliged to help set-up, take-down and volunteer during the sale. The same rule remains to this day, as each participating student must be involved with the sale beyond just selling their work. This also means the sale has always been a student-run event, and this year is no exception.
Of course, trying to make each year more successful than the last means students need to become more resourceful and creative during a time that is already hectic, both inside and out of school. And they can't wait to share what they've been up to!
Kilns are running, paint and ink is flying, and objects of all description are being produced, mounted and packaged. So come see what's on offer!
Hungry? Need a snack?

Along with our resident food service provider, The Caf, we'll have Japadog onsite from 12-5pm both Saturday and Sunday. Find them on the pedestrian spine near the East entrance adjacent to the Wilson Plaza. You can also check out Kafka's Coffee located across the street in the Centre for Digital Media.
Admission to the sale is free! So, please join us in the Michael O'Brian Exhibition Commons at the end of November each year when the sale runs from noon to 8pm on Friday, and from noon until 5pm on Saturday and Sunday.