Program Alumna Returns for Interaction Design Certificate Industry Event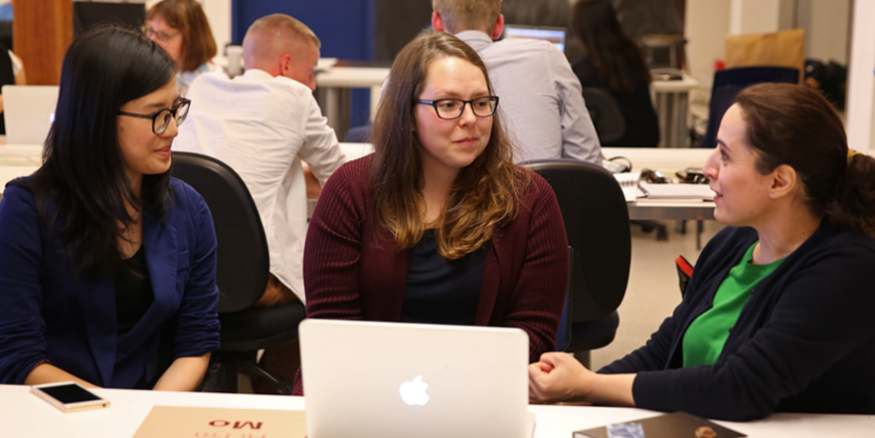 Posted on October 26, 2016 | Updated August 06, 2019, 9:06AM
Katrina Heschel ('15) returns to share her secrets to success in the world of UX design.
This September, one of the UX industry professionals in attendance at Industry Night for our Interaction Design Certificate students was also an alumna of the program: Katrina Heschel ('15), now a Senior User Experience Consultant at Vancity.
"I enjoyed meeting students at Industry Night, because I remember being in their shoes, excited to start my career," she says. "Some of the projects I saw were very interesting."
Her advice to students who are just graduating or entering the program would be to go to hackathons and meet-ups, to stay up-to-date on industry news through blogs and podcasts and to keep revising their portfolios.
"You get out what you put in," she says. "If you work hard and engage with the industry, that can have a huge impact."
As a student, Katrina competed in local hackathons and her team's win at Protohack Vancouver led her to an accelerator program at UBC and a feature article on ecuad.ca.
"I learned a lot in the program," says Katrina. "The environment was collaborative and supportive, but our instructors held us to a high standard in terms of final projects."
When she was graduating from the Interaction Design Certificate program and attending Industry Night, Katrina had an opportunity to meet a representative from Vancity, who was impressed with both her portfolio and background. The connection ultimately led her to her current role.
"My decision to work for Vancity was partially because of the impact I could have," says Katrina, who also holds a bachelor's degree in economics. "I respect and value what they do in the community."
As Senior User Experience Consultant, Katrina focuses on how to improve the member experience both online and on the mobile app, evaluating new features through a UX lens.
"It would have been really difficult to make this career transition without the program," says Katrina. "My time at Emily Carr gave me a great foundation in the essence of what UX is and the problems it is meant to solve."
Our six-month Interaction Design Certificate starts in April + September. Join us for an info session or visit essentials.ecuad.ca/interaction.