'I Need to Talk To You' Journal Launched by MFA Cohort 2022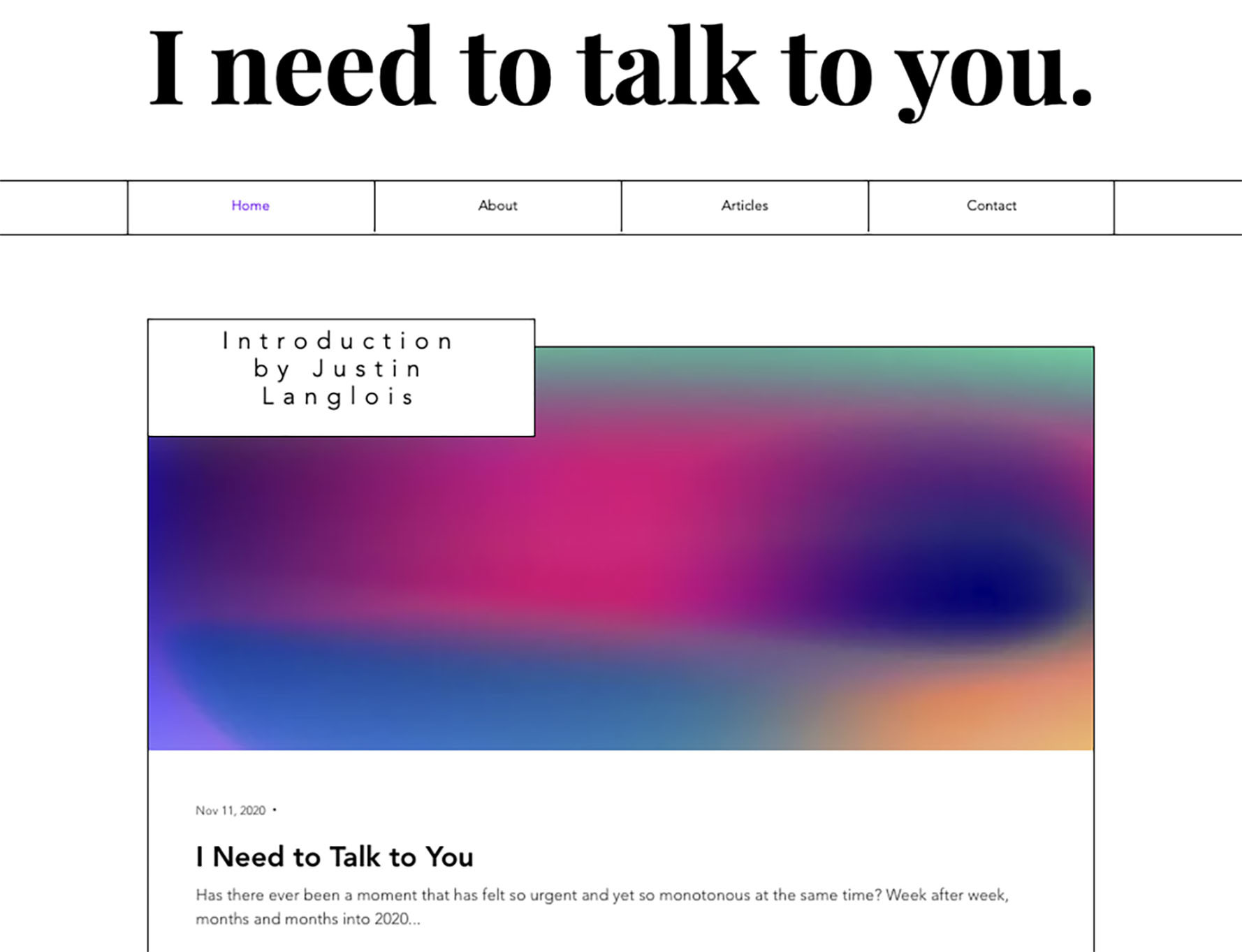 Posted on January 25, 2021 | Updated January 25, 2021, 9:33am
The brand new MFA graduate study Seminar Journal I Need to Talk to You is now available for free in the ECU Graduate Studio area and viewable online.
Has there ever been a moment that has felt so urgent and yet so monotonous at the same time?

Week after week, months and months into 2020, time seems to have compressed around everyday life in ways we could have never expected. All the while, thinking, making, doing, researching, cooking, living, sleeping, and not sleeping have leaked out of their previously tidy containers into one continuous, lovely, exhausting drone of virtual togetherness and social distancing.

To observe that it's a strange time seems quaint, yet that sense of strangeness still pervades. And, perhaps it's for the better that it still feels strange (for it would certainly be stranger still if this all became normal), yet there is, nonetheless, an urge to make things feel familiar once again, to find a semblance of "the before times."
However, in searching for that semblance of something we once knew, we risk overlooking what is happening in front of us. We risk glossing over what is worth thinking about and writing about and talking about and making about now. For, right now, there are truths to be told, societal relationships to reconsider and arrhythmitize, Indigenous futurisms to demand, artifices and datasets to interrogate, witchcraft and orgasms to harness, surveillances to unravel, writing to unwrite and overwrite, science fiction to invent, memories and guilt to untangle, magic and time to grab hold of, vulnerabilities to attend to, beauty to satirize, technologies of fullness and emptiness to meditate on, shadows and softness to spend time with, and biologies and mysticisms to daydream about.
There are so many things that we need to talk about, and there are so many ways to talk about them.
For the past four months, I've had the pleasure of working with 18 artists in a graduate seminar at Emily Carr University of Art + Design, as they've worked together across disciplinary interests, research trajectories, and timezones and distances to build insights and reflections that are both boundless and incisive. They created conversations that I could have never anticipated and found ways to weave together complex, joyful, and forward-looking moments of understanding and insight.

This journal presents a number of echoes, distillations, and projections of many of those moments that in writing are remarkably plural and efficacious. I Need to Talk to You serves as the most appropriate title for these collected essays, poems, reflections, fictions, spells, and arguments.
In closing, I want to express my deep gratitude for the opportunity to work with such a bright, engaged, and generous group of graduate students: Siyi An, Jordan Baraniecki, Laura Bucci, Stephanie Buer, Chris Carruth, Julia Chang, Gigi Charlebois, Xinwei Che, Gemma Crowe, Matty Flader, Kyla Gilbert-Heaney, Heidi Holmes, Tommy Li, Kaitlyn Roberts, Guillaume Saur, Nova Weipert, Lacey-Jane Wilburn, and Patrick Wong.

And my congratulations on the launch of this journal to those who have contributed their writing. And, a very warm, if socially distanced, high five and eventual round on me, to Laura, Chris, Kyla, Guillaume, and Julia for taking the lead in making this journal come alive in print and online.

--

By Justin Langlois.