The Office of the Vice-President Academic + Provost provides educational leadership to all academic faculties, as well as the Ron Burnett Library and Learning Commons, Continuing Studies and the Libby Leshgold Gallery. The office oversees policies and procedures relating to academic affairs, instructional affairs, and faculty roles and activities.
About the Provost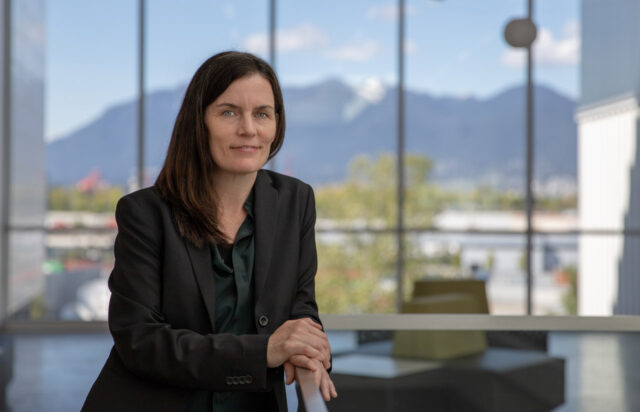 Dr. Trish Kelly was appointed as Vice-President Academic and Provost on June 1, 2019. She joined Emily Carr as an Associate Professor in the Faculty of Culture and Community in 2011, and served as Assistant Dean of the faculty from 2012 to 2015. She has taught from first-year undergraduate courses through to graduate studies, and received the Ian Wallace Teaching Award in 2016, which recognizes excellence and innovation in teaching.
Trish holds a BFA from the Rhode Island School of Design and an MA from Tufts University, after beginning her graduate work at Harvard University. She went on to obtain a PhD in art history from the University of British Columbia and then join the Faculty of Arts and Sciences at DePaul University in Chicago, an institution known for its commitment to social justice and open-access education. She worked in the Department of History of Art and Architecture and in the Honours program, where she remained until joining Emily Carr.
---
Academic Administration
Dr. Trish Kelly (she/her)
VP Academic + Provost
(604) 844-3839
trishkelly@ecuad.ca
Office: D2320

Mahsa Salehi (she/her)
Executive Assistant to Vice-President Academic + Provost
(604) 844-3865
msalehi@ecuad.ca
Danny Benda (she/her)
Scheduling Coordinator, Community + External Bookings
(604) 630-4550
dbenda@ecuad.ca
Catherine Horan (she/her)
Scheduling Coordinator, Academic Affairs
(604) 844-3805
choran@ecuad.ca
Chelsea Hug (she/her)
Manager, Strategic Projects + Analysis
(604) 844-3849
chelsea@ecuad.ca
Faculties + Areas