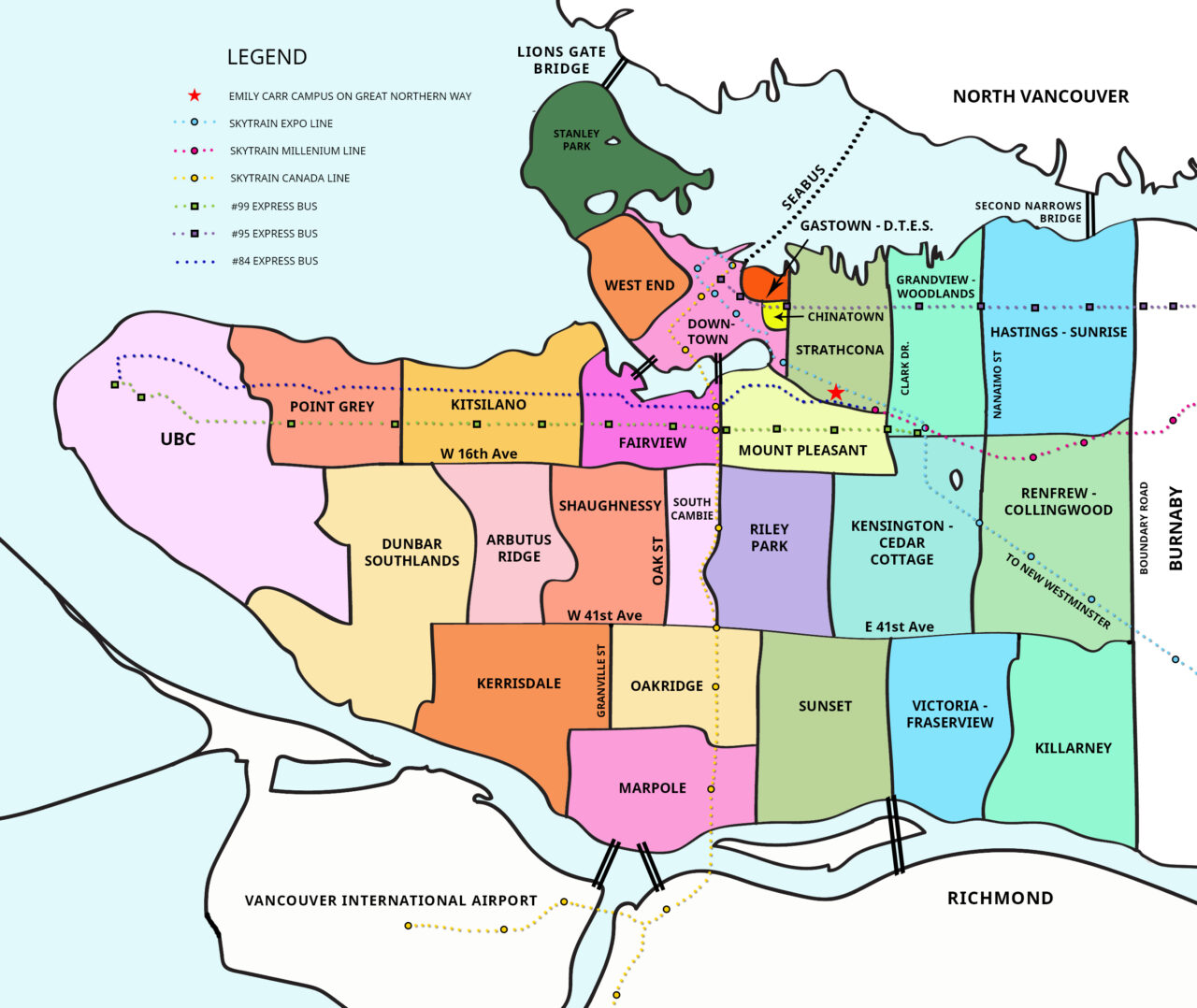 Around Campus
Mount Pleasant/Riley Park/Little Mountain: is east of Cambie Street, stretching out to Commercial Drive. Some areas of Mount Pleasant, particularly around Fraser and Kingsway can be a little less secure, but generally, this area is just fine. Main Street, between Terminal and 30th Avenue, is popular with creatives thanks to its artist-run galleries, independent shops and cafes. There are also excellent thrift shops in this strip, plus a wide variety of restaurants and grocery stores. There are many shared houses, apartments and basement suites. Prices get lower the farther east you go, but they typically average $1200+ for a basement bachelor suite to $1300+ for a one bedroom and $1800+ for two bedrooms.
Strathcona: is located just east of Chinatown. It is bordered by Wall Street, Prior Street, Terminal Avenue, Clark Drive and Main Street and is the home to several local artists. Many ECU students live in this neighbourhood in shared houses. Although the popularity of this neighbourhood has driven the rent prices up in the last few years there are still good deals to be found. The preferred living area is south of Hastings Street, not north towards Powell Street. Theft is a problem in this area, so it is recommended to find secure accommodation. The area between East Hastings and Powell Street is generally not a recommended living area for students.
Vancouver West Side
Anything west of Main Street.
Kitsilano: is just west of Granville Island. It is a trendy area close to the beach. There is a stretch of coffee shops and small eateries along Cornwall Avenue, and 4th Avenue hosts a wide selection of boutiques, sports shops and restaurants. This can be an expensive neighbourhood to live in. Kitsilano used to be one of the more affordable areas of Vancouver, but that has pretty much passed.
Bachelor, basement and one-bedroom apartments are usually more than $1700. Two-bedroom apartments are more than $2000+. Rooms in a shared house will be less. If money is not a problem, there is a wide selection of luxury suites and condos available. The #84 Express bus is a fast way to get from Kits to the campus on Great Northern Way.
Kerrisdale, Shaughnessy, Dunbar, Point Grey, UBC: are the areas south of Kitsilano that stretch west across to the University of British Columbia. These are residential neighbourhoods with many expensive homes. One is usually able to find small basement suites here. This area is popular with UBC students, hence places for September are often hard to come by. Average prices here range from $1200+ for a bachelor or one-bedroom and $2200+ for two bedrooms.
Marpole: west of Main Street and south of 41st Avenue to Marine Drive. Houses, apartments and basement suites are all available here. Rental rates in this area are more reasonable, ranging from $1200+ for a bachelor suite, $1500+ for one bedroom, although sometimes better deals can be found.
West End: this area is downtown between Granville Street and Stanley Park. It consists mainly of high and low-rise apartment buildings. There are many students who share one-bedroom apartments (you really have to like the other person!) and two-bedroom apartments here. Studio apartments average about $1700+. If the rates advertised are very low, the apartment in question is probably very small. If you live here, Robson and Denman Streets are nearby trendy shopping/eating areas. Stanley Park is also nearby and the beach can be reached from almost any street (20-30 minute bus commute or 10 min across the water to Granville Island via Aquabus).

Yaletown: in the heart of downtown. People with one or two-bedroom apartments are often looking for a roommate. Some will partition off a portion of the living room and rent it out as a semi-private bedroom. Be wary of 'sun rooms', which are basically encased balconies. We have seen people try to pass these as bedrooms and rent them out, even though it is illegal to do so. You would also quickly find out that they get insanely hot in the summer, and freezing in the winter! Yaletown is one of the most expensive neighbourhoods in Vancouver, so plan a generous budget if you want to live here.
Fairview Slopes: stretches between Granville and Main Streets south of False Creek to King Edward Avenue. It is a very popular living area with many apartment buildings, basement suites and some shared houses. One bedroom apartments usually go for $1500+, one-bedroom apartments for $1000+ and two bedrooms for $2000+.
Vancouver East Side
Anything east of Main Street is referred to as East Vancouver or East Van.

Commercial Drive: runs down the centre of the Grandview Woodlands area. It is a funky and hip area that is very popular with the alternative and student crowd. Commonly referred to as "the Drive", it hosts a stretch of coffee shops, cheap produce stores, organic markets, boutiques and an odd assortment of alternative stores. There are many affordable areas here for students. Housing comes in the form of shared houses, apartments, and basement suites.
Hastings-Sunrise: is located east of Nanaimo Street and North of Broadway. In this area, especially in the North, you find well-maintained apartment buildings and usually 1-2 bedroom apartments to rent. Usually, prices range from $1300+ for a one-bedroom apartment and $1700+ for a two-bedroom. The area is well connected with the downtown area through bus routes that operate very regularly. Many restaurants, cafes, drug stores and grocery stores can be found on Hastings St. This neighbourhoods' proximity to Second Narrows bridge makes it ideal for students who like to go hiking or skiing on the North Shore.