Library Services for Faculty, Fall 2021
Posted on August 23, 2021 | Updated August 23, 2021, 2:16PM
Filed in Faculty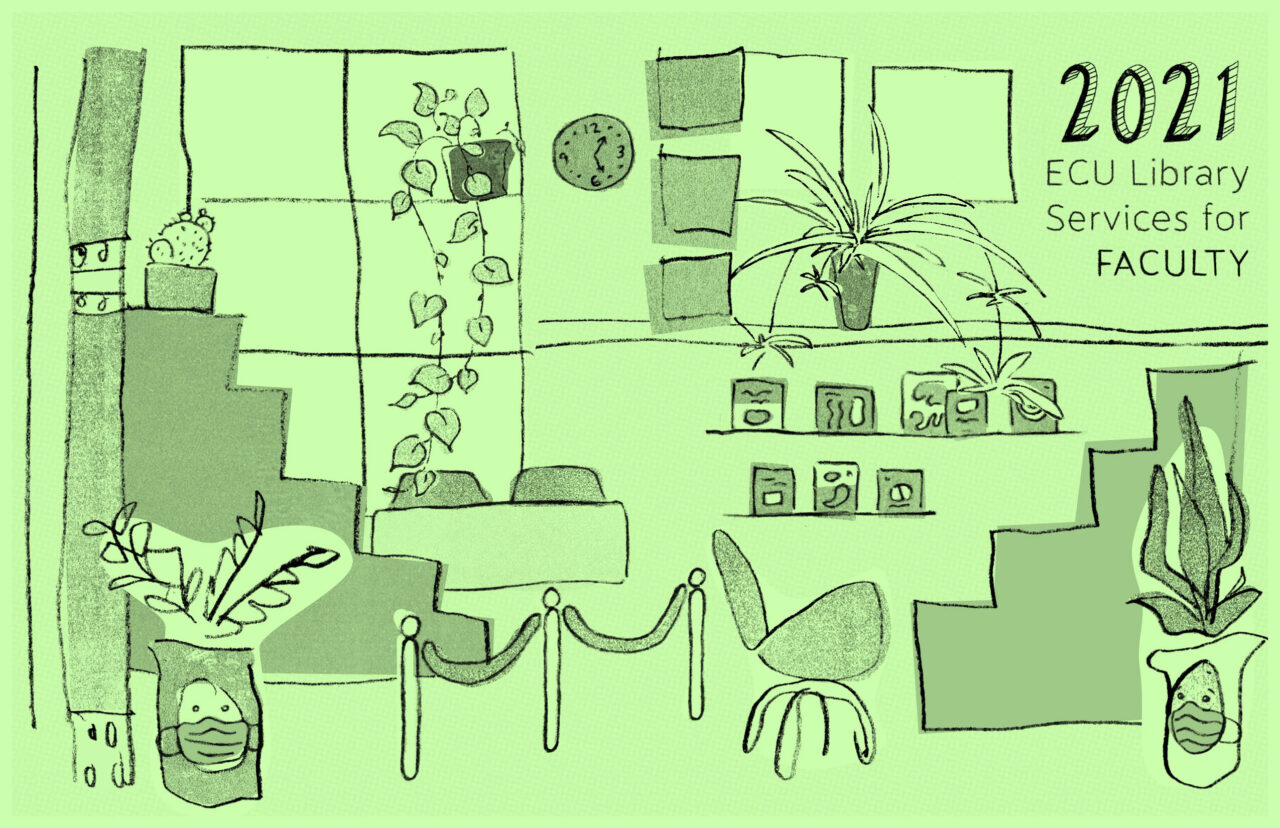 Welcome back to campus! We look forward to seeing you back in the library and online.
Below is some information about library services that we will be providing to faculty and students in the fall semester. We will be returning to extended open hours starting September 7. Our hours will be:

Monday - Thursday 8am - 8pm
Friday 8am - 6pm
Saturday - Sunday 1 - 5pm
For the most up-to-date information on Library and Archives services and resources visit our website: ecuad.ca/library
Collection Access
Our collections are fully accessible and you no longer need to place holds or book a browsing appointment to access items in the collection.
If you would like to suggest the library purchase new material for the collection to support your course content, please email Ana Diab.
Scanning requests
Faculty are encouraged to scan their own materials. But if you require scanned items from the Library print collection to use as course materials and are unable to access the on-campus scanner, please fill out the scanning request form.
Please allow staff one week to fulfill scanning requests.
Digital Collection Access
Use the Databases A-Z list to find our complete digital collection, including eBooks, online journals and magazine articles, abstract and index databases, digital image collections, streaming video, and eCollections. You can also use the General Search feature on the library home page to search multiple databases at once.
Course Reserves
Instructors can place books, eBooks, videos and streaming media on reserve for a specific course. Students are able to view a list of online reserve items for their course on the Reserves List page. We are only able to place certain items on reserve lists; if you are looking to provide specific articles to your students, it is better to supply them with a permanent link on Moodle.
Visit the faculty reserves page for more information on course reserves and to place a request through our online reserves form.
You can also email your list to reserves@ecuad.ca.
Please note that reserve items may not be immediately available to students, as processing time may be up to a week during peak periods throughout each term. Faculty are encouraged to submit reserve requests early to ensure they will be processed and available to students at the start of term.
Interlibrary Loans and Media Bookings
You may request an interlibrary loan for material not owned by the Emily Carr University Library. Books and journal articles will be borrowed by the Emily Carr University Library on your behalf from other BC post-secondary libraries.
Interlibrary loans should be requested through the online ILL form.
If you would like to show a film to your class you can also make a media booking. Please plan ahead whenever possible and request your bookings well in advance of your proposed screening dates. A minimum of two weeks' notice is required in order to guarantee your bookings will be available, though requests are taken at any time. Faculty are encouraged to submit screening schedules for the semester in advance of the start of semester to allow the Media Booking Department ample time to confirm requests. Please note: due to the rush at the start of each semester, it may take longer for the Media Booking Department to process your requests.
To make a media booking request fill out the online Media Booking Form.
Please submit semester-long screening schedules and direct any media booking questions to ill@ecuad.ca.
Artists' Books
Emily Carr has a growing collection of over 1,800 artists' books that reflect the diversity of publishing practices in contemporary art. Established with a donation from Ian Wallace, the collection builds upon some exemplary samples of early avant-garde, conceptual artist's books. Viewed as a teaching collection, the Library encourages faculty across all disciplines to explore different ways of integrating artists' books into their curriculum.
For more information, visit: guides.ecuad.ca/artistsbooks or contact library@ecuad.ca.
Archives
Emily Carr University's archival collection contains photographs, college calendars, student newspapers, posters and other memorabilia related to the history of the university back to its founding in 1925. It also includes the Wosk Master Print Collection and the Sam Carter Canadian Design History Collection. For digitized archival photographs, academic calendars, historical student publications, the Wosk Masterworks Print Collection and more visit our eCollections: ecuad.arcabc.ca.
If you would like assistance with accessing online archival material for research or curriculum delivery, or have questions about how to do archival research, please contact Kristy Waller, ECU Archivist.
Library + Archives Research Instruction Services
If you would like a librarian to provide an in-person or online library or archival research tutorial, please contact the liaison librarian for your area to discuss. We can also create a research guide for your course to connect students to a range of resources related to your course topics.
For general online library research instruction, feel free to direct students to the Online Research Tutorial.
Email a Librarian to schedule a session.
Research Help
We will be providing research help services to faculty and students at the library research help desk (Monday-Friday 11:30am - 1:30pm and 4 - 5pm), on Zoom, or our online research help chat service AskAway. For details, visit our Research Help page.
You are also welcome to book a scheduled research help appointment with a Library staff member by emailing us at library@ecuad.ca.
Copyright
Faculty are responsible for ensuring that their teaching practices are copyright compliant, that means using legally obtained resources and abiding by vendor licenses and Canadian copyright legislation. For detailed copyright information please review the ECU copyright guide. Contact Suzanne Rackover, University Librarian, if you have additional copyright questions.
Contact Your Liaison Librarian
Design and Dynamic Media, Master of Design: Vanessa Kam
Art, Master of Fine Art: Ana Diab
Culture and Community, Continuing Studies: Hillary Webb
Copyright: Suzanne Rackover
Archives: Kristy Waller