Bring your career dreams into focus
Animation

Pursue new opportunities in a fast-growing industry

Each course helps you build the creative, technical and collaborative skills you need to forge a successful career.

<

Study Animation

>

Game Dev

Build skills for a thriving career

We worked with industry leaders to uncover the skills needed to thrive in the game dev industry today—then crafted courses to meet those demands.

<

Study Game Dev

>

Visual FX

Gain hands-on experience from industry pros

Walk away feeling confident and empowered to use Maya, Houdini, Blender, Unity and more.

<

Study Visual FX

>
Meet our Instructors
Nida Fatima

Continuing Studies Instructor

Courses Taught

Christopher Hempel

Sessional Faculty

Courses Taught

Anaïsa Visser

Continuing Studies Instructor, Sessional Faculty

Courses Taught

Xiwen Zhang

Continuing Studies Instructor

Courses Taught
Sign up for our email list >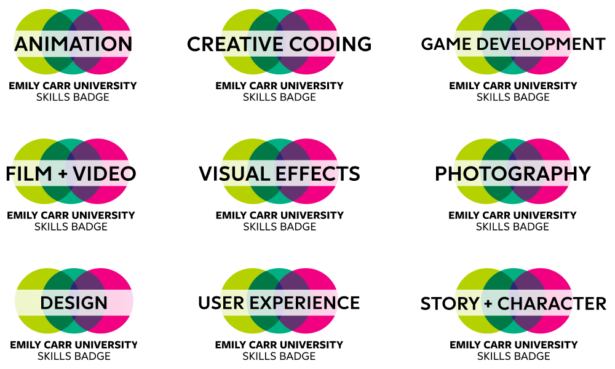 Add new skills to your toolkit
Micro-credentials are short-term courses and programs designed to help you develop focused, job-ready skills. Our Creative Tech micro-credential courses provide skills training in high-demand areas of work to support your job goals.
What our students are saying
I managed to work through some the anxiety I have around my work (getting started, feeling limited by my technical skills). Through discussion and exposure to the techniques we covered in the course, I feel my work is freer and more representative of me.

ECU Continuing Studies student
I felt like the information provided was very real and industry based. It gave me a clear insight on how companies run and how I would fit into that system.

ECU Continuing Studies student
Taking Continuing Studies courses online has changed my life, and my art. I've enjoyed each course I've taken and I can't wait to take more in the future.

ECU Continuing Studies student
Really opened my mind to seeing art and experiencing the world around me differently. I especially enjoyed now being able to visualize and draw what I experience with the senses.

ECU Continuing Studies student
New perspectives on art practice allowing more freedom in exploration and broader understanding of connections between theories, life, and the art.

ECU Continuing Studies student
Frequently asked questions
What is a micro-credential?

Micro-credentials are short-term courses and programs designed to help you develop focused, job-ready skills. Our micro-credential courses provide skills training in high-demand areas of work to support your job goals.

Do you need to apply to take courses?

Students can register for courses and start learning with us at any time. If you need to speak to someone about what courses or program best suits your needs, please contact us.

My course is online. How do I access it?

The learning management system used by ECU is Moodle. Your Moodle course will contain reference materials and information to support your learning. This is where you will be able to communicate with your instructor, classmates, find links to your virtual classroom, course outline, syllabus, access to reading materials, video content and other content related to your course.

We recommend you have reliable, high-speed internet access to support your online course activities.

Can I take my online course whenever I want, or do I need to login at a specific time?

Our courses are live! You will be joining a dynamic group of students online, joining from across Canada and abroad. To attend classes, you can refer to your registration statement for class times and login to join.

What software and materials are required for my course?

Materials and software specific to your course can be found by visiting the CS Materials List webpage to download the PDF.

How are courses graded or assessed?

Our goal is to provide students with an excellent learning experience to gain valuable, in-demand skills. Using the Pass/Fail system, you will be assessed by your instructor and given individualized evaluations and feedback based on the assignments, projects, and in class activities.

What do I get once I've completed the course?

When you successfully complete a course, you earn a digital Skills Badge. This badge can be shared on your social media (like LinkedIn) to signal your skills to employers, setting you apart from the crowd.

I'm interested in a course, but it's not available yet. What can I do to find out more?

Our micro-credential programs are always evolving to keep up with demands in the industry. Sign up today to be the first to know about new courses and upcoming registration dates.

How do I register for CS courses?

There are three ways to register.


Register Online

Find the course on the CS webpage you are interested in and click on it,

Select the section if multiple sections of the course is offered,

Click 'Register For This Course' which appears in the yellow box under the course description,

You will then be taken to myEC registration portal and be prompted to complete your registration.

Alternatively, if you already have a myEC account, login through myEC. In the Registration panel, click "Register and Pay for Continuing Studies Classes". Use the search fields displayed to find your course of interest and continue with the registration process as prompted by the screens.

Register by Phone

604-844-3810 (Monday to Friday 8:30am-4:30pm)

Register in Person

Monday to Friday, 8:30am-4:30pm
Student Commons
520 E 1st Ave, Vancouver, BC V5T 0H2

Contact us if you need assistance with registration.

Where can I buy materials and supplies, and how much will they cost?

Most Continuing Studies courses require that students purchase supplies. A list of required and recommended items can be found on the CS Material List webpage. In general, students should expect to spend between $50-$200 on supplies for each course.

Opus Art Supplies offers a 10% discount to ECU Continuing Studies students when you present your Student Statement (registration confirmation receipt) and the material list at one of their retail locations (discount not available for online purchases.

Are Continuing Studies courses eligible for Financial Aid or Student Loans?

With the exception of our Full Time Certificate programs, part-time Continuing Studies courses and programs are not eligible for Student Loan funding. Students may be eligible for financial support through WorkBC or other funding sources, however the Continuing Studies department is unable to provide advising or information related to applications for financial aid.