Future of Education Project Launch + Exhibition Opening
This event is in the past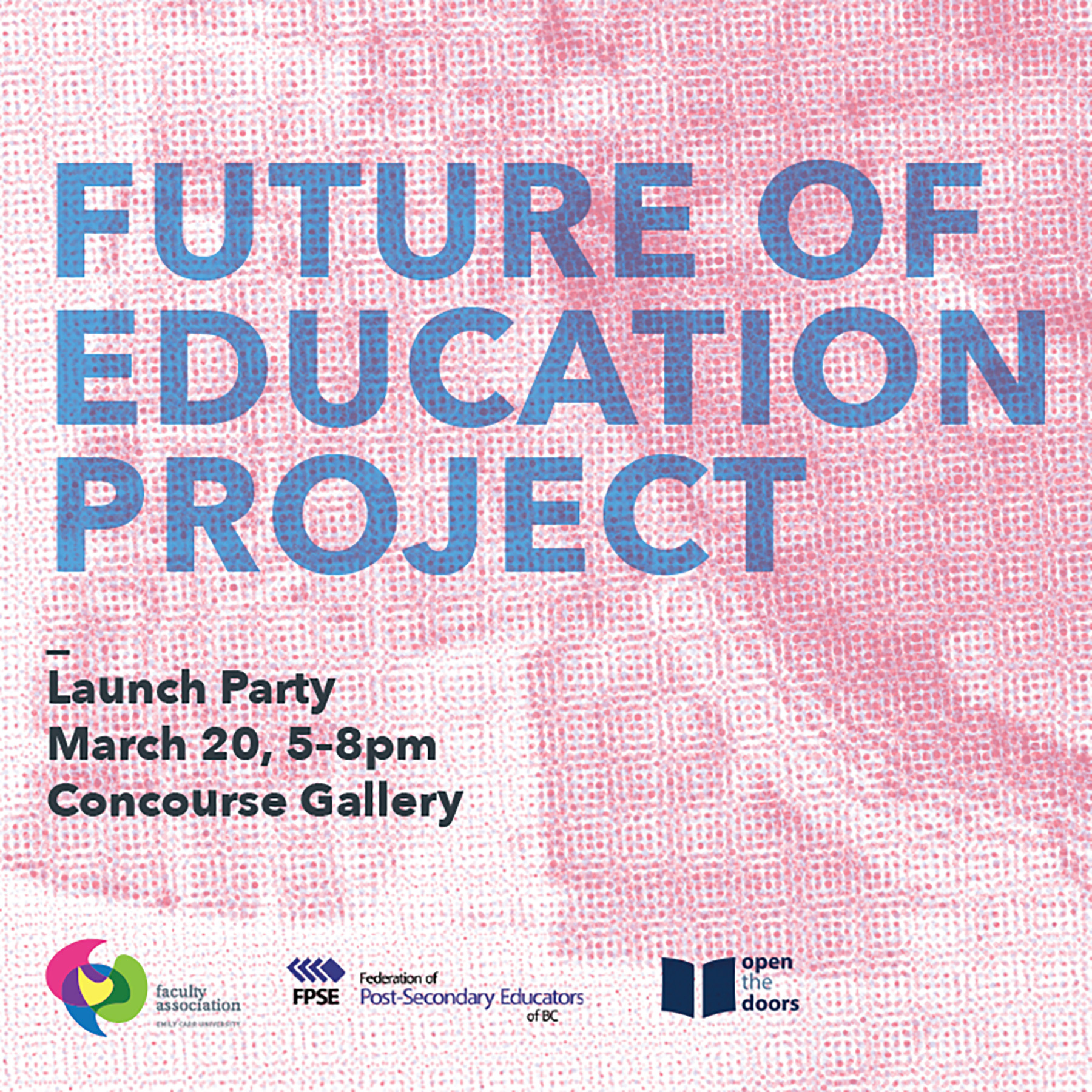 One night only! The Future of Education Project is a showcase of student art/design works that, together, help us envision the possible futures of post-secondary education in BC.
Join us in the Concourse Gallery for the official unveiling of the works created by the 10 winners of the Future of Education Project competition!
The Future of Education Project invited Emily Carr students from all disciplines to propose artworks that could describe personal stories of struggle and/or triumph, fictional scenarios, systemic critiques, wild ideas and dreams for a society that values affordable and accessible higher education for all. $10,000 in project funding was distributed among ten finalists to execute their concepts, with the ultimate goal of making Post-Secondary Education a central issue leading up to BC Provincial election on May 9, 2017.
Why is this important? Because, over the past 15 years in BC, post-secondary tuition has more than doubled, while per-student funding has declined by 20%. This has resulted in a massive rise of student debt, larger class sizes as well as overworked and under-resourced faculty, staff and students. Unless we do something fast, BC is going to be a place where only the rich can afford to go to College and University.
Featured artists and designers include:

Mimi Gonzalez and Nani Gonzalez - "Framing Reality"
Yuriy Kyrzov, Bri Kim and Jingjing Wang - "TRAPPED"
INTD 319 Making Data Interactive - "Past, Present and Future of Education"
Mo Qutob, Mona Fani and Samuel Sum - "Hello, My Student Debt Is..."
Theunis Snyman & Julie Van Oyen - "The Prison of our Mind!"
Emily Smith - "Random Acts of Making"
Shabnam Nag - "School, Work, Bills"
Adan Lemus - "Who Will Pay?
Genki Ferguson - "Box Man"
Jen O'Connor - "Guide"