Leftovers: Topographies of Chance | TRAPP Projects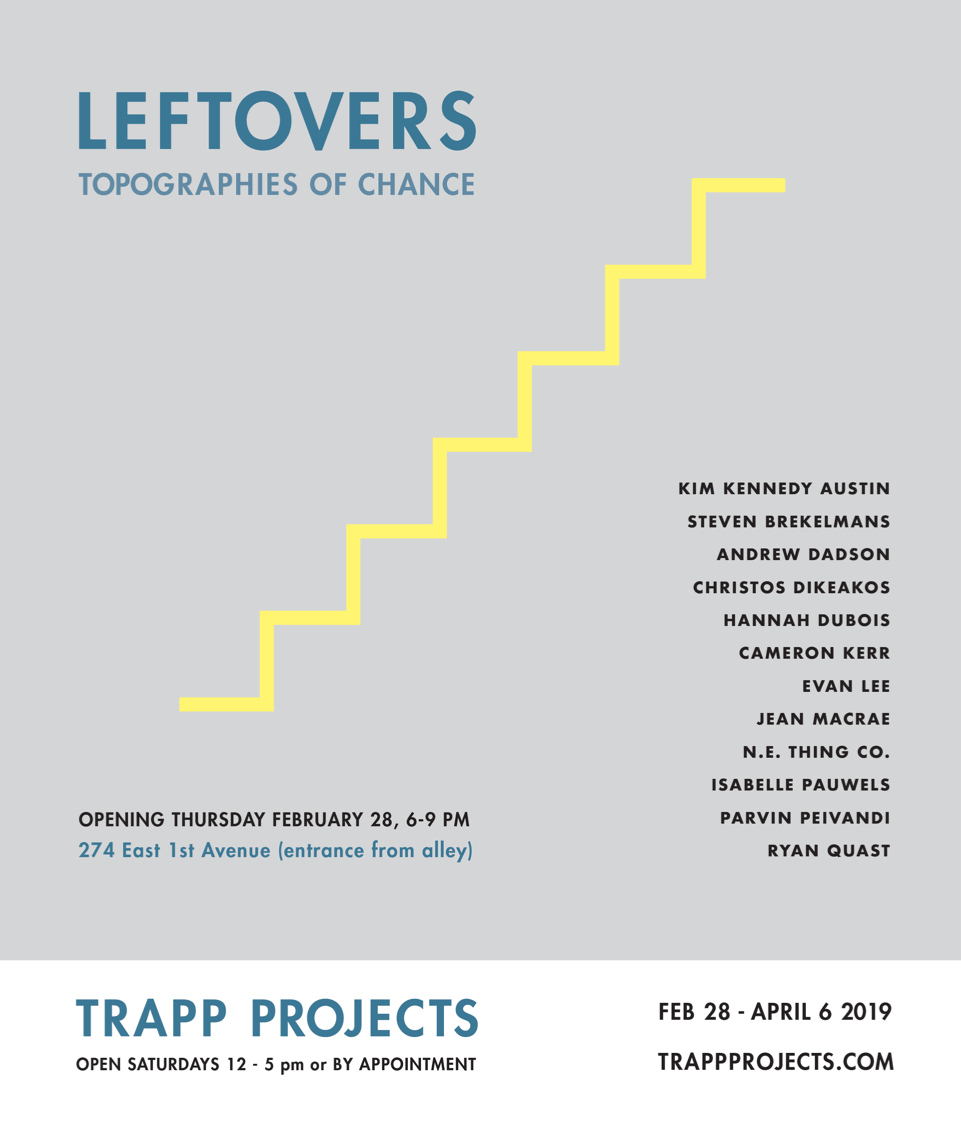 Thursday, Feb 28, 2019 - Saturday, Apr 06, 2019
Opening Reception | February 28, 6:00-9:00pm
TRAPP Projects| 724 E 1st Ave
Housed in a leftover space, this exhibition gives a nod to the shifting, gentrifying elements of the building and neighbourhood, and fits nicely into the serendipity inherent in the mandate of TRAPP Projects. Curated by Emily Carr faculty member Patrik Andersson.
Since its inception in 1997, TRAPP Projects has been inspired by the Snare Pictures of the Romanian/Swiss artist Daniel Spoerri who, in 1959, began trapping the leftovers from breakfasts, lunches and dinners to make his own psycho-geographic reading of everyday life. Similarly, this exhibition maps out a series of relations between social, economic, political and aesthetic interests. Leftovers is also a term meant to evoke material and intellectual concerns of the artists shown. From Ryan Quast's meticulous documentation of the leftovers of his artistic production, to Parvin Peivandi's mobilization of tattered Kurdish rugs that occupy the leftover spaces of the gallery, the exhibition traces art production that has been glanced over, left behind, or in a variety of ways address the very idea of leftovers.
Not unlike Daniel Spoerri's book An Anecdoted Topography of Chance (1962), this exhibition is organized to be experienced like a stroll taken in every direction at once. Or, like Robert Smithson once said about the space between his Sites and Nonsites, it may open up a space where "one may lapse into places of little organization and no direction."
Included in this exhibition are works by Kim Kennedy Austin, Steven Brekelmans, Andrew Dadson, Christos Dikeakos, Hannah Dubois, Cameron Kerr, Evan Lee, Jean MacRae, N.E. Thing Co., Isabelle Pauwels, Parvin Peivandi and Ryan Quast.
Leftovers: Topographies of Chance has been made possible by the generous support of Ian Penn and Sandy Penn Whitehouse as well as Judith Steedman and Chernoff Fine Arts.