Lucy Skaer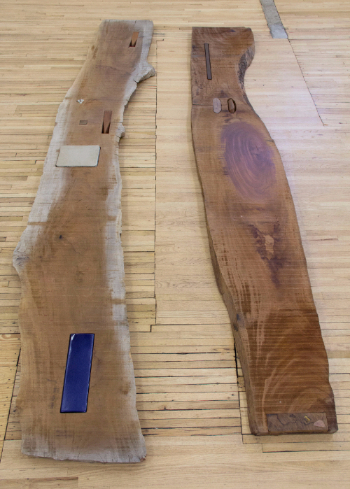 Tuesday, Sep 01, 2015 - Thursday, Dec 31, 2015
Primarily working with sculpture and drawing, Skaer's practice encompasses a wide variety of materials and methods. Engaging with both traditional and contemporary manufacturing processes, her sculptures evoke the sense of a half-remembered history still present in the world around us. Deeply engaged with the materiality and providence of objects, Skaer's work hovers between recognizable forms and abstracted symbols, drawing the viewer into unravelling narrative associations.

Skaer studied at the Glasgow School of Art, graduating in 1997. Her work has been exhibited widely, with shows at the Fruitmarket Gallery, Edinburgh; Kunsthalle Basel; and Centre Pompidou, Paris. She represented Scotland at the 52nd Venice Biennale in 2007 and was nominated for the Turner Prize in 2009. Skaer produces film and photography alongside artist Rosalind Nashashibi under the name Nashashibi/Skaer and is part of the collective Henry VIII's Wives.

The Audain Distinguished Artist-in-Residence program, established in 2013, is generously funded by the Audain Foundation for the Visual Arts. The Residency's mandate is to bring renowned contemporary artists to Vancouver, to create curriculum specific to each individual visiting artist, and to support the creation of new works. Guest artists and visiting lecturers are an integral part of the Emily Carr community. They complement students' education and work with existing faculty, bringing new opportunities for collaboration and engagement.
Search this website for Lucy Skaer to see all relevant events, news, and showcase features.

Image: Lucy Skaer, Sticks & Stones, 2015, Installation. Courtesy of Murray Guy, New York.