Emily Cares
Help us help students.
Thank you to everyone who has supported students this year! Your generosity has allowed us to help more students beyond the scholarships and awards we offer.
The Emily Cares Student Emergency Fund launched in the spring of this year to help students in an innovative way. Imagine you're a student who has to choose between buying food and paying rent; new to Vancouver without your usual cohort of support; a falling out with a friend or partner has you depressed and unable to focus on your studies. Every day our students face stressful situations like this and the Emily Cares program has allowed us to address the growing need for mental health support.
With your donations, we are now able to distribute grocery vouchers to grateful students who are experiencing unexpected crises. Emily Cares funding also supports active student wellness programming including:
Weekly meditation and dog therapy sessions being attended by dozens of students
Wellness themed events, such as Stations of Resilience where over 250 students participated. These events combine social interaction, wellness programming, and a nourishing meal. They also foster compassion and self-care, and provide students with a positive community-building activity that helps alleviate social isolation.
The Oasis Wellness Garden which provides a safe and tranquil place for students to meditate, study, or socialize. The garden also allows for an opportunity for students to experience gardening as a therapeutic activity through growing flowers, herbs and other plants. Since being implemented by Counselling, Wellness & Accessibility with support from Victory Gardens and VanDusen Botanical Garden, the garden has continued to grow in popularity among students. The gardening club on campus has over 80 members.
Here's how you can help us help students even more.
For as little as a latte or a movie ticket, you can change a student's life.
Your monthly gift of $5 will provide mental health care packages to four students over the course of a year. A $10 monthly gift will provide up to five emergency grocery vouchers, and a $25 monthly gift will purchase a gravity blanket for all students to use. A $50 monthly gift will help expand our wellness program, sustain our dog therapy program, and provide students with resources that were never before offered at Emily Carr University.
Your gift of any size is greatly appreciated!
Sign up today through CanadaHelps to become a monthly donor or complete and return the Donation Form to make a one-time gift.
As a further incentive, monthly donations to Emily Cares will be matched in 2018, so you can double your impact on a student's life and help make this a permanent support program at Emily Carr University. Your gift today to the Emily Cares Student Emergency Fund is an investment in a student and a valuable contribution to their creative future.
Help us help students. Make a difference by becoming a donor today.
Are you a student?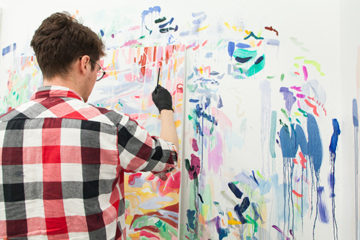 If you're a student inquiring about the Emily Cares program, please begin by booking an intake appointment with Counselling where they can share information and additional resources with you.

If your emergency is financial, Emily Carr also offers a short-term loan program which you can learn more about through Financial Aid & Awards.