An Evening of Conversations and Presentations | Jagdeep Raina, Amia Yokoyama, and Yui Kugimiya
This event is in the past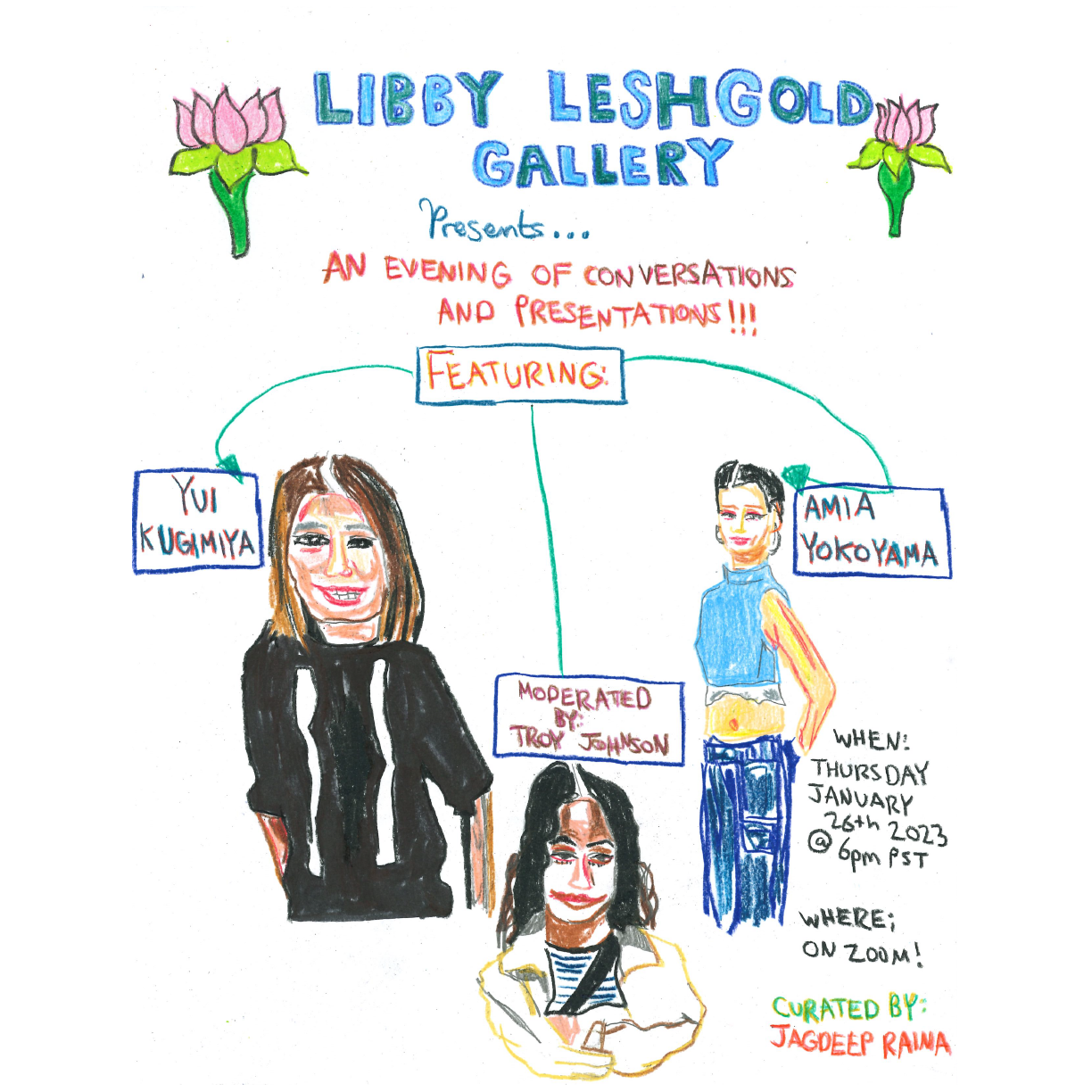 Please join us for an evening of conversations and presentations from artists Jagdeep Raina, Amia Yokoyama, and Yui Kugimiya.
Location
Online Attendance
This online conversation is presented in conjunction with Jagdeep's exhibition everything left unsaid and moderated by the show's curator, Troy Johnson.

Amia Yokoyama is a multimedia Los Angeles-based artist and educator who works across experimental animation, video, sculpture, and installation. She received her MFA in Experimental Animation from CalArts and attended the Skowhegan School of Painting and Sculpture in 2017. She has exhibited her work at Sebastian Gladstone Gallery, In Lieu Gallery, The Japanese American Cultural Center, and The Brand library and Art Center in Los Angeles, as well as Jeffrey Deitch Projects, The Drawing Center, Anthology Film Archive in New York City.

Jagdeep Raina is an interdisciplinary artist and writer from Guelph, Ontario. He holds an MFA from the Rhode Island School of Design and was a 2021 Paul Mellon Fellow at Yale University. Raina currently lives and works in Houston, Texas.

Yui Kugimiya is a painter currently living and working in Brooklyn, New York. She received her MFA from Yale University School of Art in painting/printmaking. Her BFA is from Massachusetts College of Art, Boston, MA, and she attended the Skowhegan School of Painting and Sculpture. Kugimiya has held solo exhibitions at the Everson Museum of Art (Syracuse), Galeria Enrique Guerrero (Mexico City), Taymour Grahne Gallery, (New York City), Marlborough Broome Street (New York City), PAGE (New York City), Kunsthall Stavanger (Stavanger), Taka Ishii Gallery (Kyoto), Horton Gallery (New York City), and Carroll and Sons (Boston), amongst others. Group exhibitions include Margot Samel (New York City), curated screening at The 13th Yebisu International Festival for Art and Alternative Visions (Tokyo), Galerie Sebastien Bertrand (Geneva), Bluecoat (Liverpool), ATM Gallery (New York City), Suzanne Tarasieve (Paris), Regina Rex (New York City), the Journal Gallery (New York City), NoMiNIMO (Guayaquil), Gasser & Grunert (New York City), and Creative Time curated her work in the StandART Video Program at The Standard Hotel, shown in multiple locations. Her work is held in various collections including the Museum of Modern Art (New York City), Everson Museum of Art (Syracuse), The Bass Museum of Art (Miami), Allentown Art Museum (Allentown) and The New York Presbyterian Hospital (New York City).

Troy Johnson is an emerging curator and occasional writer with a Bachelor of Arts in Art History from the University of British Columbia. She has held positions at Rennie Museum and West Vancouver Art Museum. She currently works at Libby Leshgold Gallery as Curatorial Assistant.

Please contact the gallery for more information on this event as well as other programming related to the exhibition. everything left unsaid is on view at the Libby Leshgold Gallery until February 26th, 2023.