Artist Talk | Patricia Michaels & Tantoo Cardinal
This event is in the past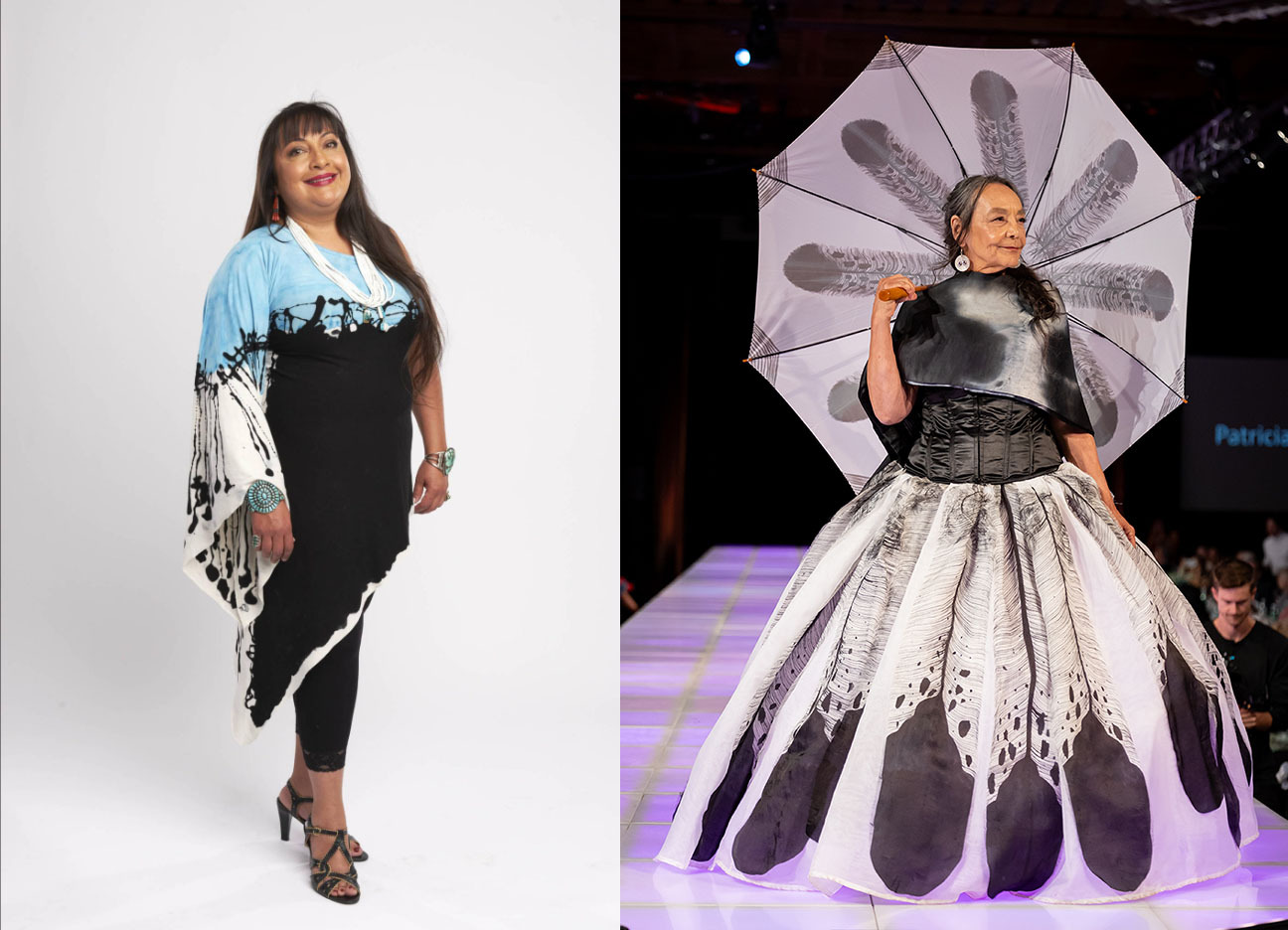 Join us for a conversation with Indigenous Designer, Patricia Michaels and her recent design practice which includes the esteemed actor, Tantoo Cardinal.
Location
On Campus
Reliance Theatre
520 East 1st Avenue See on Map
Tantoo Cardinal, wore a gasp-inducing, silk feather dress, custom-made by the Pueblo Designer for the international movie premiere of the highly anticipated Osage drama, "Killers of the Flower Moon," in Cannes, France.
Patricia Michaels, of Taos Pueblo is a world-renowned Fashion and Textile Designer. She has studied at the Institute of American Indian Arts, 4 years independent studies at Chicago Art Institute, with Nick Cave as her mentor. Worked at Santa Fe Opera in the costume department and with Italian tailors in Milan, Italy. Recently she designed costumes for Opera Lafayette, and for the opera Silvain opening at the Kennedy Center. Her jewelry, silk scarves and bomber jackets can be purchased at the Metropolitan Museum in NY. Her new costumes designed for Dana Tai Soon Burgess Company are on view at UNM Albuquerque, LACMA West CA, and National Portrait Gallery in Washington DC. Her gown "Recollections of My Journey To Blue Lake" was purchased for the Peabody Essex Museum's permeant collection after being included in the "Contemporary Taos Art Show" at the Harwood Museum in Taos, NM. The Cristal Bridges Museum of American Art has an image and written statement about her fashion and textiles in book "Fashioning of America." Other publications include "Native Fashion Now" and "Remarkable Woman of Taos".
Patricia is the first Native American designer for Season 11's Project Runway where she was runner up. She went on to Project Runway Allstars. The Smithsonian's National Museum of American Indian awarded her the first inaugural "Arts and Design Award" in NYC, she was a speaker at the Bill & Melinda Gates Scholar Foundations. Her works as a Native CEO of the PMWATERLILY LLC, takes her to places around the world, having shown in, New Zealand, South Africa, Canada, Europe, Asia and at least twice a year for NY for fashion week to do fashion, lectures, presentations, workshops, fundraisers, artists in residencies and inspirational speeches.
https://www.waterlilyfashion.com/
Tantoo Cardinal is an award-winning actress of Indigenous descent who stars alongside Robert DeNiro and Leonardo DiCaprio in Martin Scorsese's newest feature, Killers of the Flower Moon. Series regular roles on the ABC Television Network series Stumptown as well as on the series 3 Pines opposite Alfred Molina, produced by the same producers of The Crown. She is a new marvel character coming out January of 2024 on the new series Echo.
A trail blazing actress, she has appeared in over 120 film and television projects over the course of her 50-year career. She is Multi award winning performer, including the Earle Grey Award (a lifetime achievement award by the Canadian Screen Awards),inducted into the Order of Canada as well as the CBC/Playback Hall of Fame, a recipient of the 2020 Governor Generals Artistic Achievement Award– Broadcasting and Film. She has Honorary Doctorates from 5 Universities and is being honored with a star on Canada's Walk of Fame in December of 2023.