Beyond Ordinary Sight
This event is in the past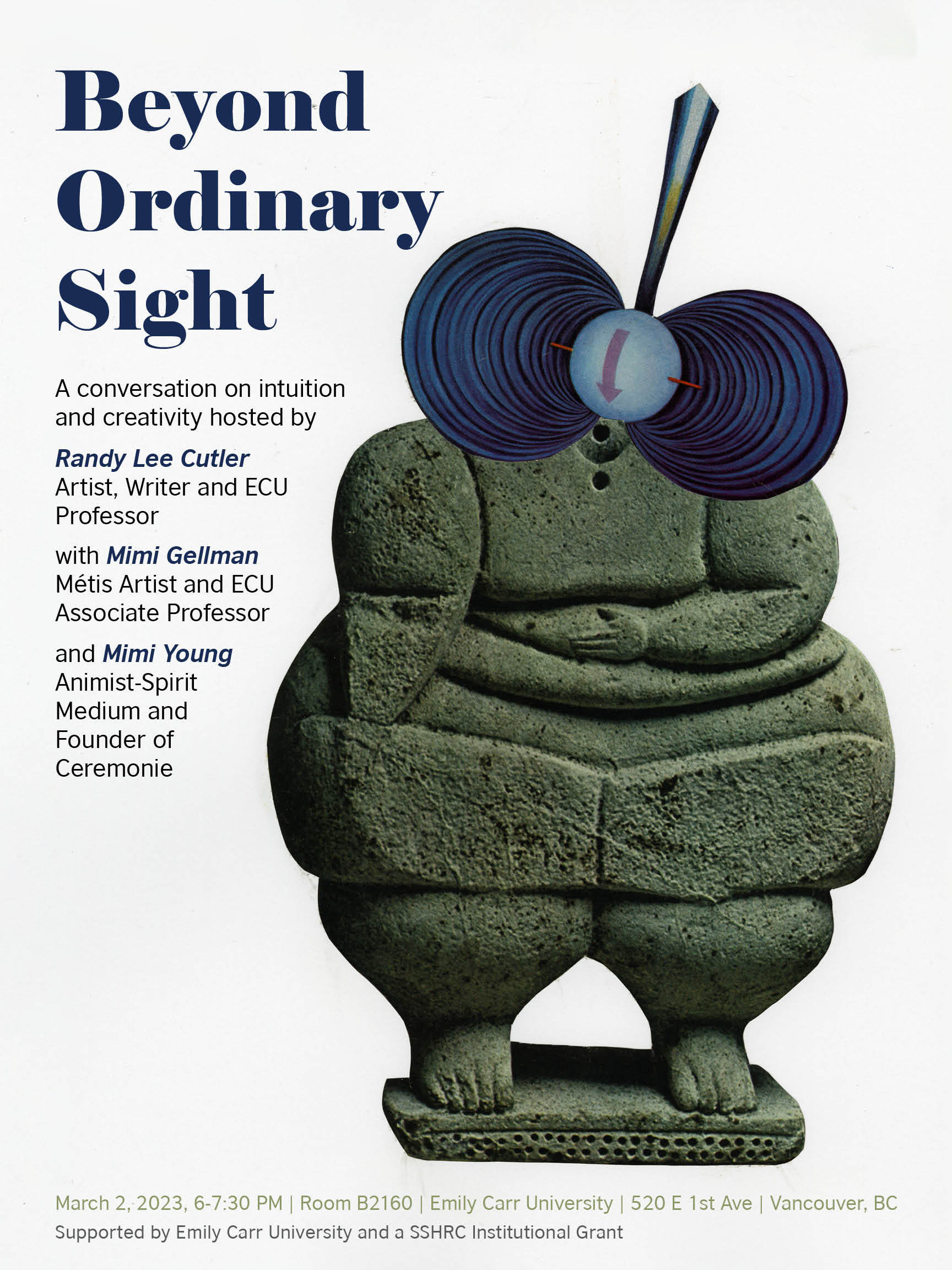 Beyond Ordinary Sight is part of a research creation project that explores diverse approaches to invisible and intuitive worlds through art. Please join us for a conversation about intuition, creativity and invisible forces.
Location
On Campus
Room B2160
520 E 1st Ave, Vancouver, BC, V5T 0H2 See on Map
Taking the form of artist books, collage, performance, printed matter, sound, video, and creative/critical writing, Randy Lee Cutler's practice weaves together themes of collaboration, materiality, and intuition. Her hybrid projects include artist books such as Invisible Forces 2022, OTOH 2022 and An Elementary Typology 2019. She shows work locally, nationally, and internationally, with exhibitions at Into Nature: Time Horizons 2023, Wil Aballe Art Projects 2021, Biennale of Sydney NIRIN 2020, Belkin Art Gallery 2019 (UBC Outdoor Artwork), 7a*11d International Performance Art Festival 2016, among others. Randy is a professor at Emily Carr University on the unceded Coast Salish territories also known as Vancouver, Canada.
Mimi Gellman is an Ashkenazi, Anishinaabe/Métis visual artist and educator with a multi-streamed practice in architectural glass, drawing, painting and conceptual installation. Mimi's interdisciplinary work explores phenomenology and technologies of intuition through an embodied practice of walking and mapping, with installations that point to the animacy and agency of objects. Her Anishinaabe /Métis worldview and the language that expresses it, predisposes her to the reality of the spirit and life of objects and their ability to communicate across diverse thresholds. She exhibits internationally, with exhibitions in France, Germany and Tokyo, and was included in the seminal exhibition, "On Line" at MoMa in New York City. Her work can be found in the collections of Price-Waterhouse, Kraft/General Foods Corp, the Toronto Transit Commission and Rogers Stadium.
Mimi Young is a Taiwanese Canadian animist spirit medium and the founder of Ceremonie, an esoteric brand focused on conversations around sharpening intuition, intersectional supernatural gifts, and practical ancient wisdom so folks can actively receive support from spirits, break negative patterns, and celebrate their path. Mimi works at the intersection of animism and wu shamanism, practical magick, dream work, and other Chinese mystic practices to communicate with the Unseen, offering private readings, education and mentorship, and made-to-order skin and aura care. Mimi has held space globally in her Mystery Mentorship program and retreats, as well as collaboratively with brands including Goop, Almost 30, Spirit House Collective, and Tokyo Smoke.