Christoph Brunner | Critical Practitioner in Residence, Spring 2020
This event is in the past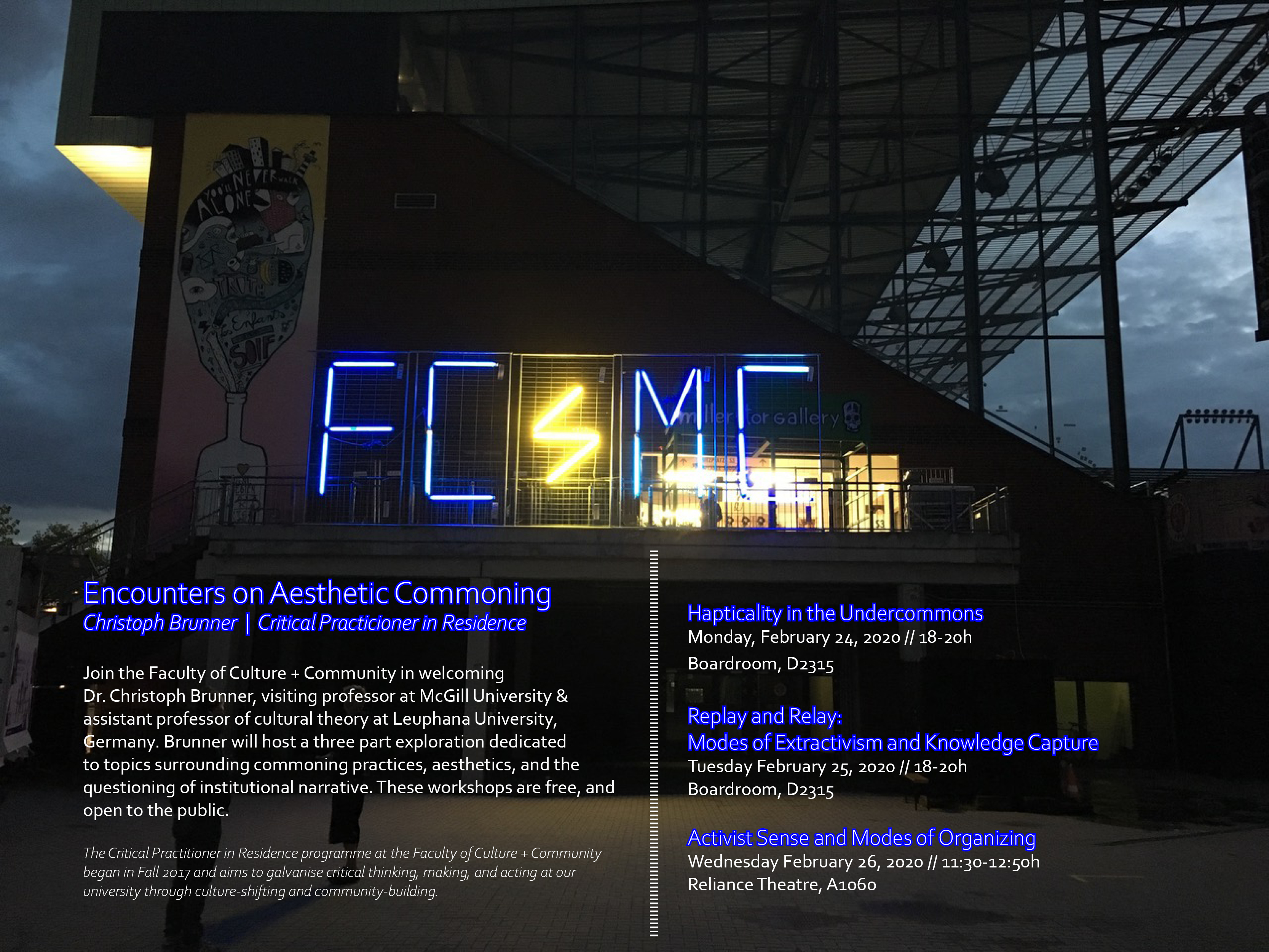 Join the Faculty of Culture + Community in welcoming Dr. Christoph Brunner, Visiting Research Fellow at McGill University and Assistant Professor of Cultural Theory at Leuphana University. Christoph will guide workshops and a lecture this February.
Location
On Campus
ECUAD
520 East 1st Avenue See on Map
Encounters on Aesthetic Commoning
Christoph Brunner | Critical Practitioner in Residence, Spring 2020
ECU welcomes Dr. Christoph Brunner to guide a three-part exploration of the aesthetics of commoning practices, activist sense, and institutional narratives at Emily Carr University of Art + Design over evening workshops on 24 and 25 February and a lunchtime lecture on 26 February.
These activities are free, with light refreshments served, and open to all members of the Emily Carr community, as well as to our friends and neighbours. Spread the word and create some action!

View the schedule below and click for more info:

Workshop | Hapticality in the Undercommons
Monday, February 24, 2020 // 18-20h
Boardroom, D2315
Workshop | Replay and Relay: Modes of Extractivism and Knowledge Capture
Tuesday February 25, 2020 // 18-20h
Boardroom, D2315
Lecture | Activist Sense and Modes of Organizing
Wednesday February 26, 2020 // 11:30-12:50h
Reliance Theatre, A1060

Christoph Brunner works at Leuphana University in Germany. His research lives in the intersections of media, affect and aesthetic politics. He focuses on contemporary social movements and their use of aesthetic techniques and strategies. Recipient of the Canada Council of the Art's prestigious John G. Diefenbaker Postdoctoral Award, Christoph is hosted at McGill University's English Department in Montréal, Quebec, this academic year. During his stay in Canada, he is working on his book project entitled Activist Sense: Towards an Aesthetic Politics of Experience. In Luneburg, he directs the ArchipelagoLab for Transversal Practices and participates in SenseLab and the European Institute for Progressive Cultural Policies. His writings have appeared in Third Text, Inflexions, transversal, Journal for Aesthetics & Culture, Conjunctions and fibreculture amongst others.

The Critical Practitioner in Residence program at the Faculty of Culture + Community launched in Fall 2017 and aims to galvanize critical thinking, making, and acting at our university through culture-shifting and community-building.