High/Low
This event is in the past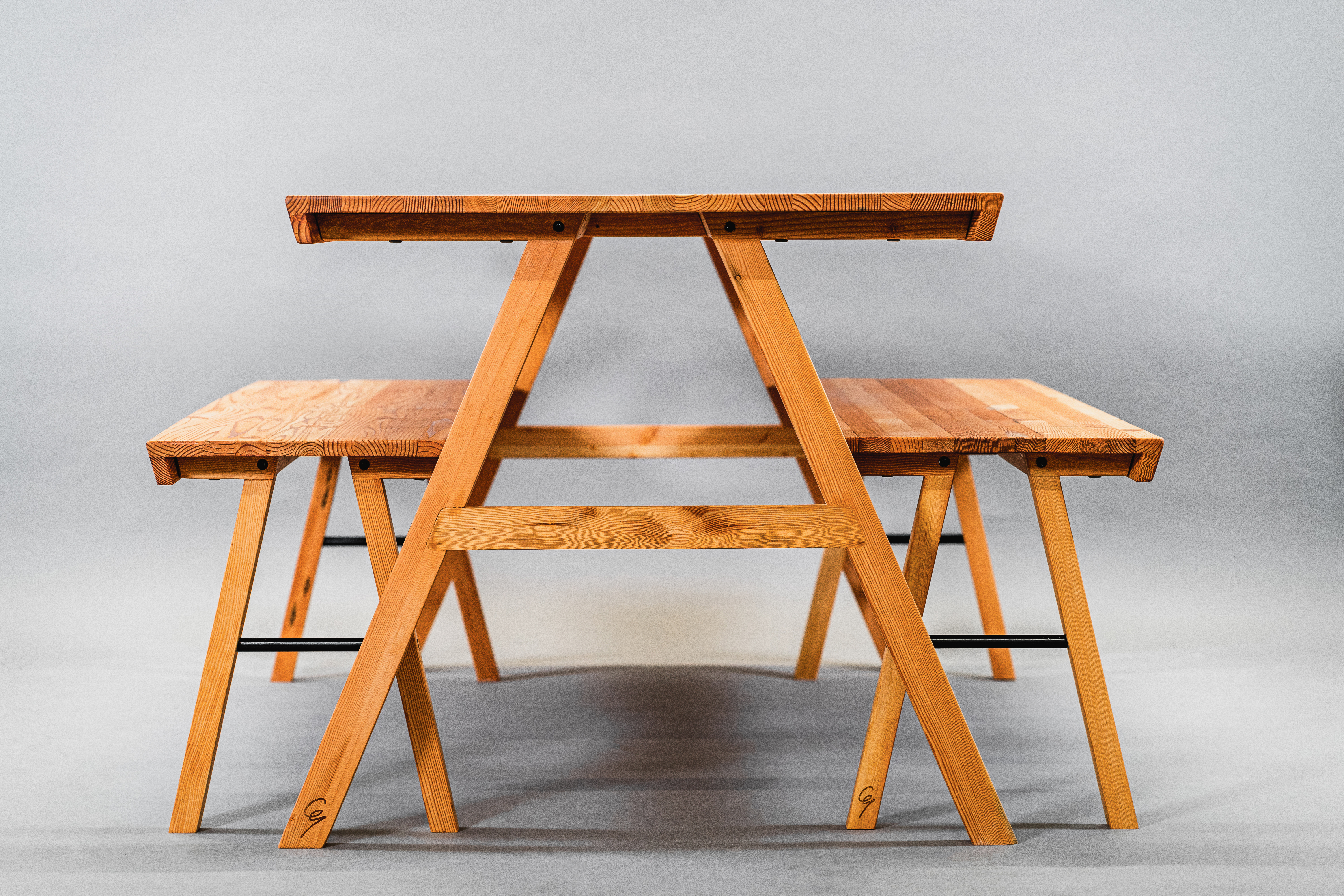 We often take the natural materials around us for granted. High/Low is a collection of bespoke tables and benches made from reclaimed Douglas fir, that aims to draw awareness to the value of old-growth trees and the stories they hold.
Location
On Campus
Beside the Aboriginal Gathering Space
520 E 1st Ave, Vancouver, BC V5T 1E1 See on Map
MU 木
Cloud9 - Angela Cheng, Gigi Lui & Peter An
Through mirroring the structure of old lumber houses, MU strives to spark conversations around sustainability and upcycling in the lumber industry. This table and bench set is handcrafted out of reclaimed old growth douglas fir wood and imperfections such as nail marks were embraced in accordance to the philosophy of wabi sabi.
MU is designed with simplicity and ease of assembly in mind through its intuitive RTA (ready to assemble) joinery. Our goal is to enhance the perfection in the imperfection in order to invoke a fascination towards nature.
FIR
Altitude - Aaron Lin & Bear Fraser
For this project, our team has been given the opportunity to design a table and a bench out of old reclaimed wood that has been taken from old houses in the 1970s. Our goal is to build furniture out of reclaimed wood and create daily objects that push innovation for a sustainable future.
We want our design to focus on the story of the wood, with a minimal design, and to feature the wooden texture. We aim to create a high table and a low bench expressing the story and history of the wood, while considering minimalistic and sustainable design.
RETURN
Tree to Tale - Ara Rattan, Sahali Tsang & Vivian Tran
Tree to Tale embodies stories in reclaimed wood to give a unique and tactile piece of Vancouver history to a new home. The Re•turn table and benches challenge the material of wood by going against it's natural rigidity and making a product with a round and fluid structure. The motif of curves encapsulates the circular lifespan of the Douglas Fir. From tree, to house, to furniture, these trees have served us
STILOK
The Ancestors - Jiahui (Michelle) Li, Paula Torres & Nidhi Hira
With our design, we strive to preserve the narrative of the materials along with finding its value in the idea of renewal. We have focused on experimenting with contrasting materials. The cord's tensile flexibility as joinery for the wooden parts Stitches and Locks the wood in place. The cord zig-zag's through the high table, holding its structure. The low table stands stable on it's T-shaped legs.
The STILOK modules are easy to (re)assemble, continually changing and evolving, taking into consideration the versatility of the material, movement and space.
LITHO
Willow - Nhu Nguyen , Shelby Sixsmith & Clementine Chang
Willow creates the shift that merges the functionality of furniture with the fluidity of sculpture.
Allowing visual tension to influence our perceptions of how a material can be used to uncover the hidden value of underutilized material
Having a building torn down can be an emotional event for a community. Unbuilders ensure that the stories of these structures are respected and celebrated. They save these histories by giving material a new life