Race Memory Data | Talk
This event is in the past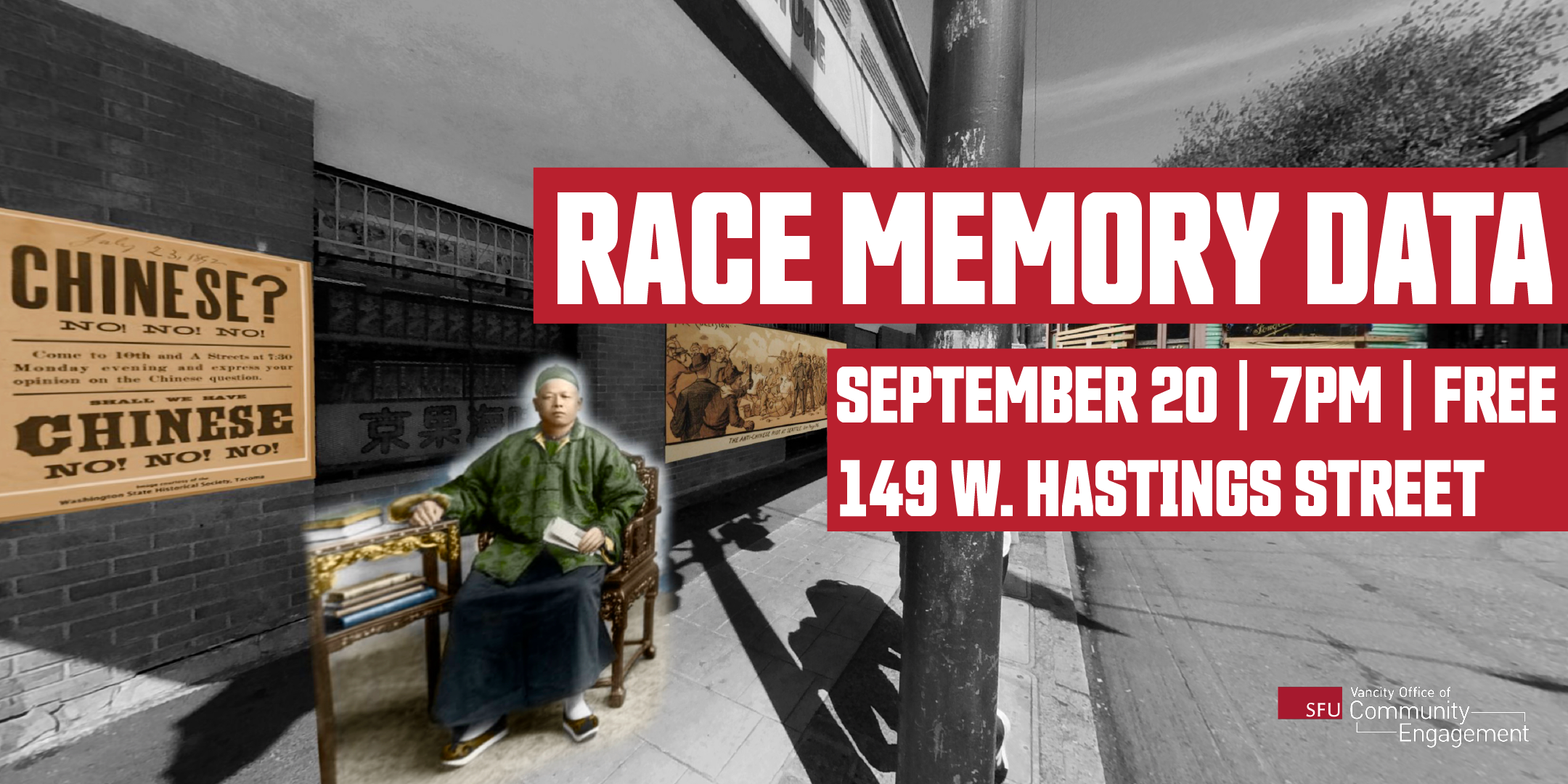 A conversation about using data and archives to counter restrictive narratives involving race and memory.
Location
Off Campus
SFU Goldcorp Centre for the Arts
Djavad Mowafaghian Cinema
149 West Hastings Street, Vancouver See on Map
Join artist Henry Tsang, historian Jack (John Kuo Wei) Tchen, urban planner Andy Yan as they talk about their approach to the use of data and archives to counter master narratives that have defined and restricted conversations around race and memory. Moderated by Melissa Karmen Lee, CEO of the Chinese Canadian Museum, they will also discuss and reflect on Henry Tsang's recent book, WHITE RIOT: The 1907 Anti-Asian Riots in Vancouver, based on the 360 video walking tour, 360 Riot Walk, whichreveals the yet unresolved histories of racialized communities targeted through legislation as well as physical acts of exclusion and violence.
The talk will be followed by a reception where book sales and signing will take place. Books will be available for purchase via debit or credit, no cash purchase will be available.
Presented by SFU's Vancity Office of Community Engagement, Emily Carr University of Art + Design, SFU's City Program, Arsenal Pulp Press, and Massy Books.
PANELISTS
Jack (John Kuo Wei) Tchen is a historian, curator, dumpster-diver, and teacher surfacing the disappeared stories othered by systems of power and wealth. Dr. Tchen is the Clement A. Price Professor of Public History & Humanities and Director of the Price Institute on Ethnicity, Cultures, and the Modern Experience at Rutgers University - Newark. His ten-years of work on anti-Asian xenophobia, a two-hour PBS documentary on the "Chinese Exclusion Act," and exhibition at the New-York Historical Society led him to focus on intersectional history of American eugenics. He has been working with the Munsee Lunaape Elders and honoring enslaved in the region by documenting, sharing, and decolonizing the history of Newark and the larger bioregion. He is the founding director of the A/P/A (Asian/Pacific/American) Studies Program and Institute at New York University, NYU. In 1980, he co-founded the New York Chinatown History project, now the Museum of Chinese in America with Charles Lai.
Andy Yan is the director of The City Program at Simon Fraser University where he is an adjunct professor of Urban Studies. Prior to his SFU appointment, Andy has worked extensively in the non-profit and private urban planning sectors with projects in the metropolitan regions of Vancouver, San Francisco, New York City, Los Angeles and New Orleans. Andy holds a Masters of Urban Planning from the University of California – Los Angeles and a Bachelor of Arts with First Class Honours distinctions in Geography and Political Science from Simon Fraser University.
Henry Tsang is an artist and occasional curator who explores the spatial politics of history, cultural translation, community-building, the mobility of people, capital, values, desires, and food in relationship to place. His recent book, WHITE RIOT: The 1907 Anti-Asian Riots in Vancouver (Arsenal Pulp Press, 2023), explores the conditions leading up to and the impact of a demonstration and parade in Vancouver, Canada, organized by the Asiatic Exclusion League and the ensuing mob attack on the city's Chinese Canadian and Japanese Canadian communities.
His art projects employ video, photography, interactive media, convivial events, and language, in particular, Chinook Jargon, the North American west coast trade language. Presentations take the form of gallery exhibitions, pop-up street food offerings, 360 video walking tours, curated dinners, ephemeral and permanent public art. Henry is a past recipient of the VIVA Award and is an Associate Dean at Emily Carr University of Art and Design.
MODERATOR
Dr. Melissa Karmen Lee (Ph.D) 李林嘉敏 is a visual arts and literature scholar, curator, archivist and storyteller with research interests in public art and social engagement. She currently holds the appointment of Chief Executive Officer (CEO) at the Chinese Canadian Museum, in British Columbia, Vancouver. From 2019-2022, she was the Director of Education and Public Programs at the Vancouver Art Gallery. From 2016-2019 she was the education and public programs curator for Tai Kwun Centre for Heritage and Art. She holds degrees from McGill, Canterbury and Lancaster Universities.