ECU Writing Centre Reading Sessions: "Skim, Dive, Surface"
This event is in the past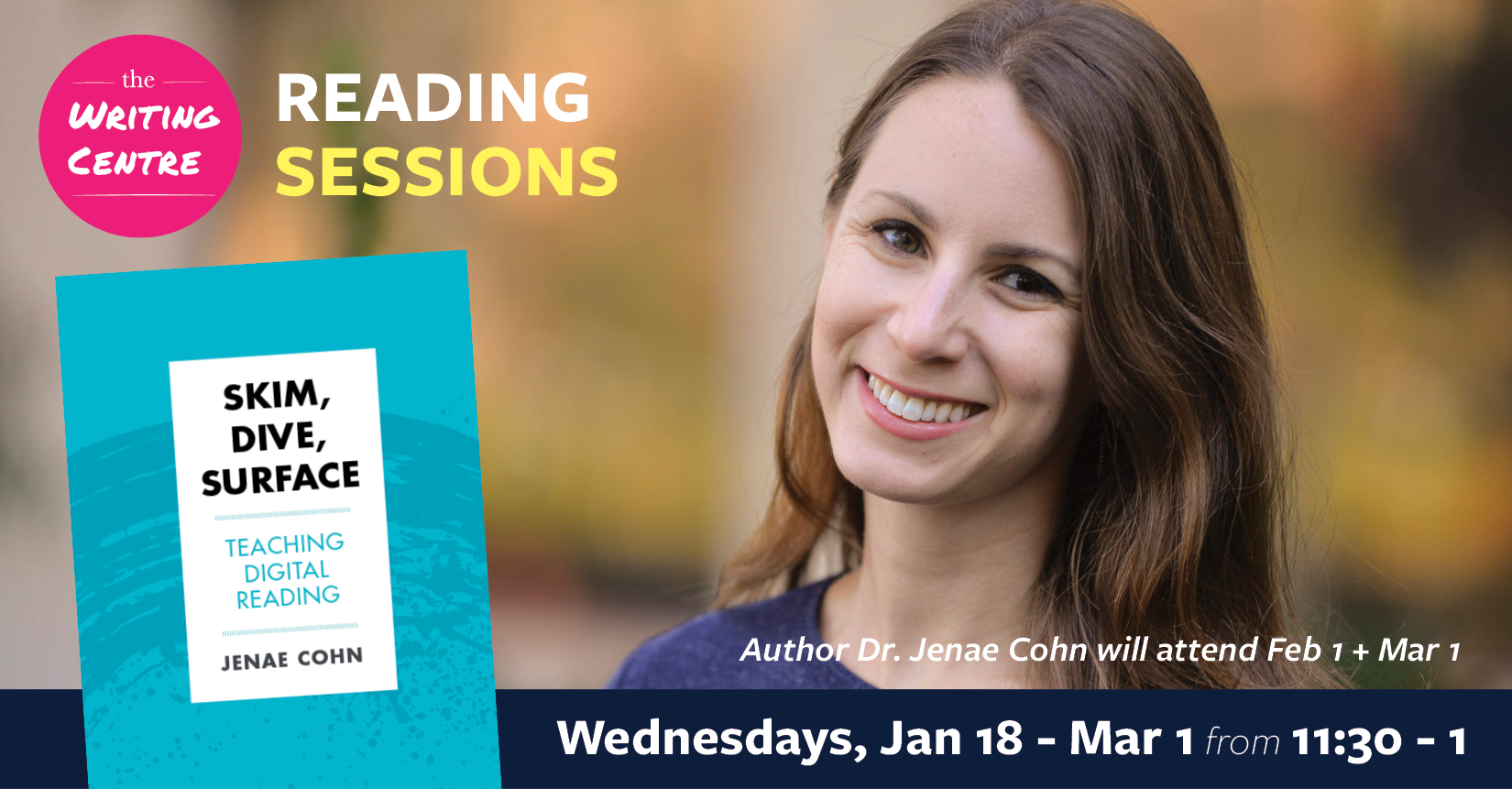 Join us for this series where we will read Skim, Dive, Surface and meet online to discuss the book together. The author will attend two sessions.
Location
Online Attendance
How does digital reading shape the way + what we learn?
"Smartphones, laptops, tablets: college students are reading on-screen all the time, and digital devices shape students' understanding of and experiences with reading. In higher education, however, teachers rarely consider how digital reading experiences may have an impact on learning abilities, unless they're lamenting students' attention spans or the distractions available to students when they're learning online.
Skim, Dive, Surface offers a corrective to these conversations—an invitation to focus not on losses to student learning but on the spectrum of affordances available within digital learning environments. It is designed to help college instructors across the curriculum teach digital reading in their classes, whether they teach face-to-face, fully online, or somewhere in between." [From: West Virginia University Press]

Join us for this series where we will read Skim, Dive, Surface by Jenae Cohn and meet online to discuss the book together.

Session Meetings:
Wednesdays, Jan 18 - Mar 1, 2023 (no session reading break)
11:30am - 1pm PST
Register to attend on Zoom

Schedule

Week 1, January 18th -- Previewing: Overview of the text and the topic "Why Digital Reading" focusing on the introduction and conclusion
Week 2, January 25th -- Skim: Understanding Historical, Affective, and Neurological Perspectives on Reading Technologies
Week 3, February 1st -- Jenae Cohn speaks to the group
Week 4, February 8th -- Dive: Exploring the Digital Reading Framework to Promote Deep Reading Practices (with a discussion of practical classroom activities)
Week 5, February 15th -- Surface: Critically Approaching the Adoption and Use of Digital Reading Technologies (including ethical considerations)
Week 6, March 1st -- Q&A with Jenae Cohn
Visit jenaecohn.net for more information on Dr. Cohn's work.