Tahira Karim + Sandra Murillo | eNOugh
This event is in the past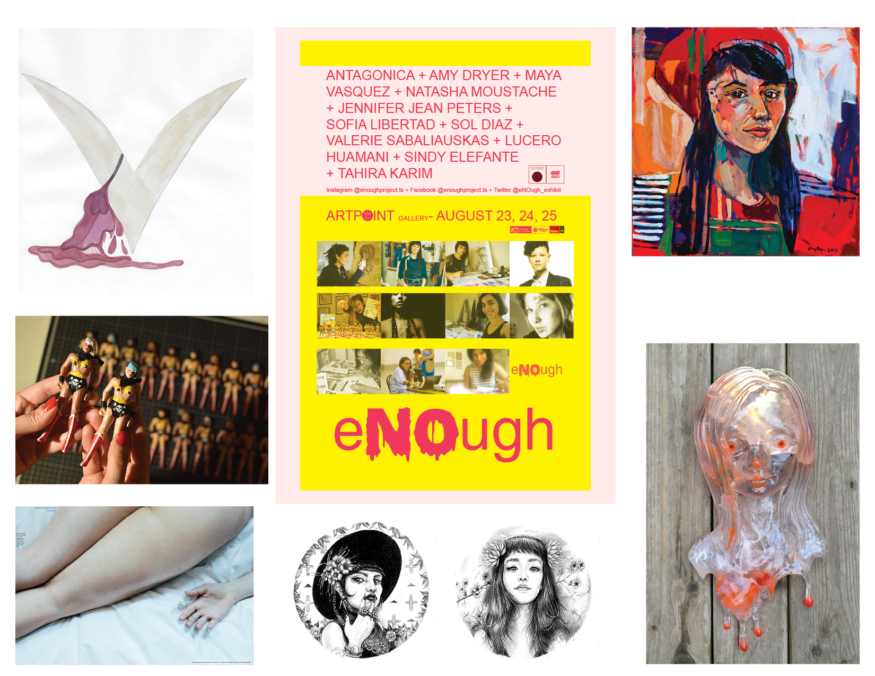 Sandra Murillo & Tahira Karim present "eNOugh" an international exhibit exploring world wide violence against women, and women's strength, on view at ARTPOINT Gallery in Calgary.
Opening Reception | Friday, August 24, 6-9pm
Sandra Murillo and ECU alumna Tahira Karim, with the support of ARTPOINT Gallery, are pleased to present "eNOugh" an exhibit which looks at the worldwide violence that women face and women's strength. The exhibit features the works of 11 international artists spanning North and South America who explore these themes from various perspectives and utilizing various media.
Within this exhibition, our featured artists are working across multi-mediums from painting and illustration to animation and sculptures. Our artists include cultural artists, experimental animators, sculptors, teachers, painters, and illustrators. Each of us know people that have been affected by this problem. Each of us wants to contribute to this dialogue and expand it.
Featured artists: Natasha Moustache, Amy Dryer, SofiLi, Sol Diaz, Maya Vasquez, Jennifer Peters, Valerie Sabaliauskas, Sindy Elefante, Lucero Huamani, Sandra Murillo, and Tahira Karim.
About Tahira Karim + Sandra Murillo