4th Year Student Kuan Lee Takes Home the People's Choice Award at Vancouver U/X Awards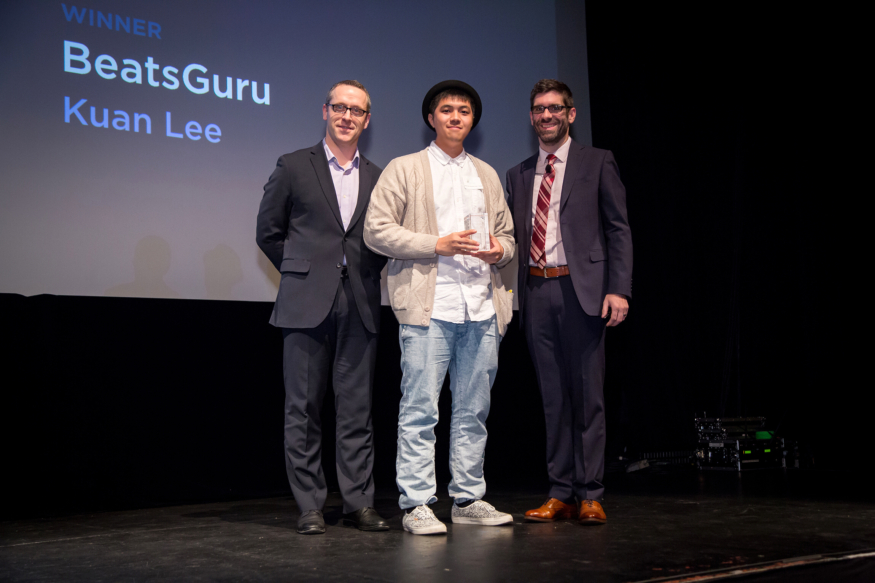 Posted on December 02, 2015 | Updated August 06, 2019, 9:05AM
BeatsGuru voted best UX this year by the Vancouver User Experience Community
Please join us in congratulating 4th year Interaction Design major Kuan Lee, winner of the People's Choice Award for his sound sampling app, BeatsGuru, at the Vancouver User Experience (UX) Awards. Lee was also a finalist in the Student Awards category.
Sampling is the act of taking a portion, or sample, of one recording and reusing it as segment in another piece of music. For 30 years sampling has become a popular technique used to create music. Creators should be able to sample anything and everything, but most importantly they should know where these samples are from. BeatsGuru will alter the power and process of sampling.
The awards were presented at a gala that took place December 1, 2015. Interaction Design Professor Haig Armen spoke at the gala as a member of the design jury, and many of our talented students were there as volunteers.
Lee is currently in talks with developers but notes, "My grad project remains my top priority at this point." Stay tuned!
---
The Vancouver User Experience Group is a diverse community of professionals and students who are passionate about building better experiences and advancing their skills. VanUE was founded in 2003 and has since grown to 1,729 members. They host monthly meet-up events from September–June each year, with a variety of speakers at venues around the city, including their capstone award event.