Alumna Kelly Austin to Receive Carter Wosk BC Creative Achievement Award

Posted on November 16, 2015 | Updated August 06, 2019, 9:05AM
Celebrating creativity in British Columbia.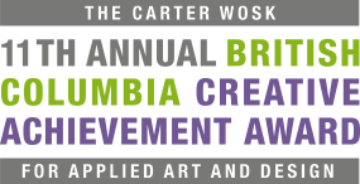 Emily Carr University of Art + Design is pleased to announce that alumna Kelly Austin is a recipient of the 2015 Carter Wosk BC Creative Achievement Award for her work in Ceramics.
Kelly Austin is an emerging ceramic artist from Vancouver, BC who has had an active creative practice since 2007. A 2011 graduate of ECU, she is currently working on her Masters of Philosophy in Ceramics at the Australia National University in Canberra. Kelly's work ranges from the directly functional object - used in restaurants, cafés and the home - to engagement with conceptual ideas of relationships between objects, still life and architecture. Her practice investigates form, surface, colour and systems of relationships to reconsider the wheelthrown ceramic vessel.
The awards will be presented at a ceremony in late November at Shaw Studios in Vancouver.
---
The 2015 jury includes Sam Carter, Professor Emeritus at Emily Carr University of Art and Design; Angelika Werth, renowned fashion artist and 2007 BC Creative Achievement Award winner; Ron Kong, manager of Circle Craft Co-operative Shop & Gallery and former curator, Canadian Craft Museum; and Rob Johnston, alumnus and principle designer and founder, Tangram Design and 2009 BC Creative Achievement Award winner.