UX Professionals and New Graduates Connect at Industry Night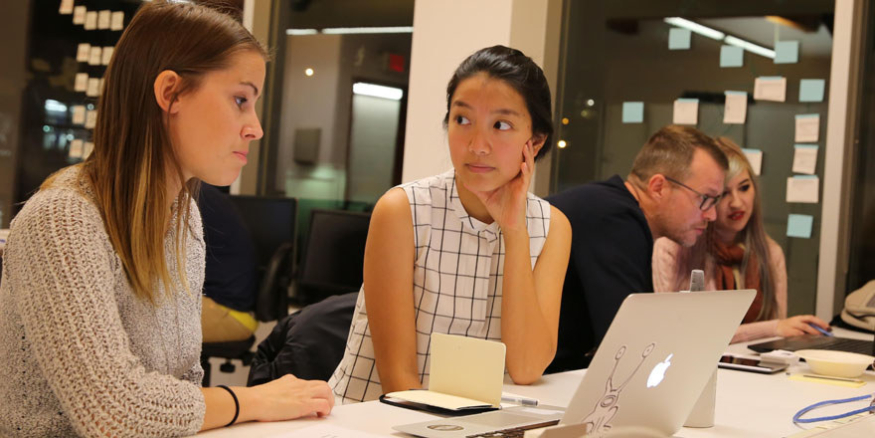 Posted on October 28, 2015 | Updated August 06, 2019, 9:05AM
Our newest Interaction Design certificate graduates met one-on-one with a range of UX professionals for feedback on their final portfolios.
After an intensive six-month program, our Interaction Design graduates had the opportunity to show off their work to several working professionals in the UX community at Industry Night.
"Industry Night is where we pair up our graduates with experienced interaction designers to get feedback on their portfolios and websites," says Laurel Terlesky, who oversees the program as Program Advisor, Design + Transition. "Hearing from a range of people working in the industry really helps students take their work to the next level."
Industry representatives came from a range of local and international companies including game developers Electronic Arts and Kabam, local design agencies Pound + Grain and Two Tall Totems, customer intelligence firm Vision Critical, creative agency DDB Canada and Telus.
"The work showed a very wide range," says Sung Hong '00, now working as a Lead UI Artist at Kabam. "You tend to see very similar portfolios, but I found that many students focused on their strengths, which made their work unique and stand out more."
Hong has worked in many different types of interaction design, including website design, mobile apps, broadcasting design, animation, console games and mobile games. In his current role, he works closely with game designers to create a satisfying user experience.
"I found speaking to people from the industry one-on-one and showing them my work provided a lot of insight," says Denise Leung, one of the Interaction Design graduates presenting their work. "The main thing I learned was to make your work as obvious as possible - the user should be able to get everything at the outset."
Leung presented two major projects at Industry Night: a branding project for a bakery and a charity app called Bonobo, which aims to simply giving by allowing users to rate, browse, and donate to charities from their mobile devices. On her website, you can see Bonobo's evolution from initial sketches to high fidelity prototypes.
"The program has really prepared us by covering the entire, end-to-end process, from research and user testing through to visual design and front-end development," she says. Leung hopes her work will land her a job at either a large tech firm or a start-up (such as Airbnb), where the UX roles are more holistic.
Our next Interaction Design Essentials program starts in April 2016. Applications are now open. Interested in joining our next Industry Night as a UX professional? Email essentials@ecuad.ca.