Meet Our Spring 2016 Continuing Studies Course Calendar Cover Artist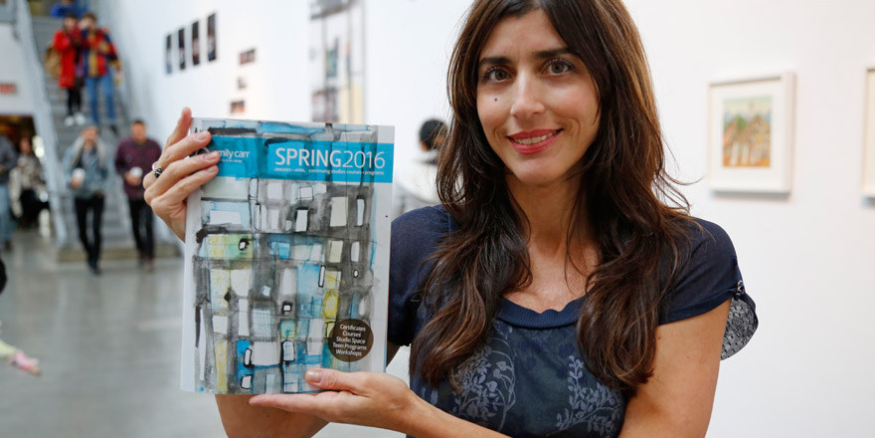 Posted on November 19, 2015 | Updated August 06, 2019, 9:05AM
Continuing Studies student and featured artist Nola Accili discusses her Vestiges series and the connection between literature and fine art.
If you've seen the Spring 2016 Continuing Studies course calendar, you've seen the work of Nola Accili. Her cover piece Dark Façade: Maison came from a series of paintings of buildings entitled and was included in the Making Marks show last May.
"I really wanted to work with colour and get into the bones of the buildings," says Accili of the series, which was inspired by the architecture of Paris. "For me, using a pen and a brush brings writing and visual expression together. I feel like I am composing a message with tools that can also be used to write, and that speaks to my passion for literature."
Accili, who teaches English and French to Grades 8-12 in Surrey, completed her Master's degree in French literature and linguistics. In high school, she was an avid drawer and painter but chose a different path for university. "Literature and fine arts go really well together," she says. "They complement each other."
Since her first Continuing Studies class five years ago, Accili has gone from painting to life drawing to working in pen and ink, where she is currently enrolled in her third class with instructor Stan Hunc.
"It's a very meditative medium," says Accili. She finds it requires patience and forces her to delve deeper into the structures of her subjects. "It's the thinking and conceptualizing that stills me."
She brings her interest in art into her teaching and plans to show her students the cover as an example of how personal growth and education can continue into adulthood. "'It's social and it's serious," she says of her experience in Continuing Studies. "The instructors have all been great and, as a teacher myself, I value the opportunity to see different teaching styles and a range of artistic practices."
Now completing her PhD in Early Modern Drama at UBC, Accili hopes to bring visual arts into her doctoral studies while continuing to enroll in courses at Emily Carr.
"I love art – it's part of who I am," she says. "I don't think I can stop."