2nd Year Student Paige Bowman Featured in the Adobe x Colossal World's 'Biggest' Student Art Show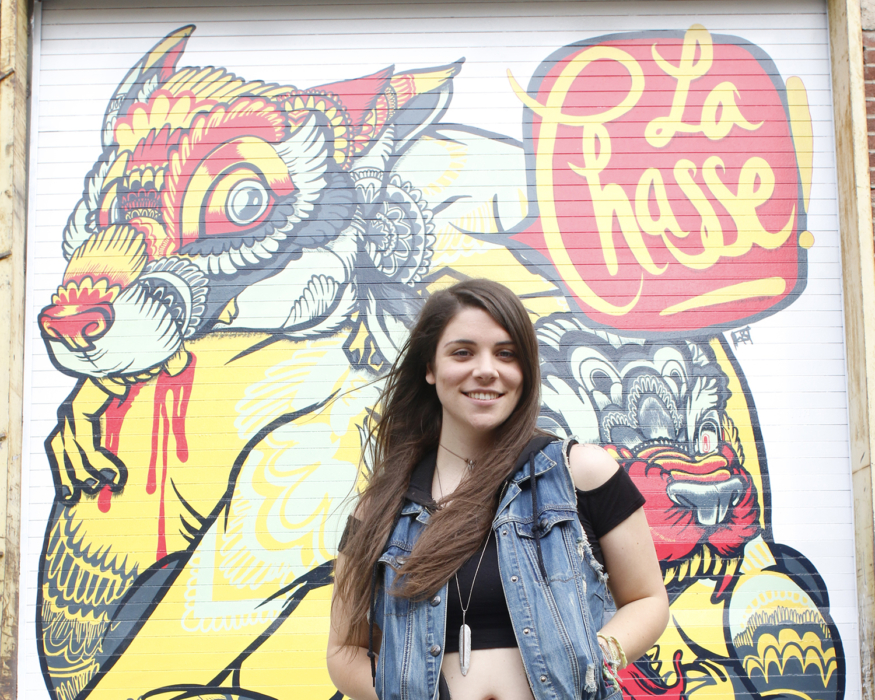 Posted on October 21, 2015 | Updated August 06, 2019, 9:05AM
Paige is one of 10 female students selected from around the world.
Meet Paige Bowman, a second year Illustration major who works in both digital form and pen and ink. Paige was recently selected as one of 10 women from around the world to have her work featured in the Adobe x Colossal World's Biggest Student Art Show .
Through the online portfolio site, Behance, students tagged their works for inclusion in the competition. Adobe and Colossal representatives then had the difficult task of narrowing it down to just 10 winners. Finalists were given the option of submitting an existing or new work, and then the team from Colossal got busy recreating the pieces. The resulting exhibition features each of the 10 works created on giant walls in Brooklyn NY, forming the 'largest' student art show ever. Recipients were flown out to see the install during the last week of September, where they also had the opportunity to take part in events put on by Adobe and Colossal.
For Paige, making the cut was a bit difficult to believe at first, and she's found the experience to be extremely humbling. "It's one thing to be encouraged by your peers, but it's an entirely other thing to have hundreds of people you don't know, encouraging you as well," she says.
Since contributing to a mural project during her high school art class days, murals have been a side passion. Paige first visited New York 10 years ago, and like many of us, fell in love. The possibility of having her art become a part of the city she adored was too big of an opportunity to pass up. And not only did it pay off, her story gets better. On top of the trip to NY and a cash prize, Paige has been invited back to attend the 3% Conference, whose mandate is to highlight the lack of women in creative leadership roles the world over. Adobe will be presenting the mural project finalists at the conference which takes place at the end of October.
Interview: Paige Bowman shares her inspirations
10 Questions with Paige Bowman