See Los Angeles' VR Village through expert eyes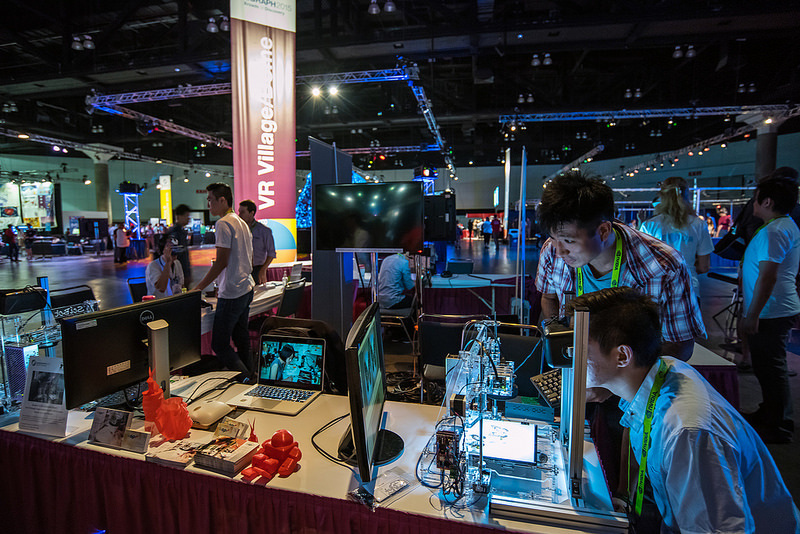 Posted on September 30, 2015 | Updated August 06, 2019, 9:05am
THE event to see and be seen at during SIGGRAPH 2015's major exposition in Los Angeles, Emily Carr's own Denise Quesnel Co-Chaired this year's SIGGRAPH 2015 Virtual Reality Village.
SIGGRAPH 2015 is THE annual interdisciplinary education experience and conference on the latest computer graphics and interactive techniques.
Our very own Denise Quesnel, Adjunct Research Associate co-Chaired the 2015 VR Village together with Ed Lantz.
Featuring real-time immersion in the latest virtual and augmented realities, programming was curated to include a wide range of content from major studios and game developers and non-profit institutions, including research labs and planetariums.
The VR Village had:
74 independent presenters registered
51 Sit-Down/Stand-Up Head-Mounted Display (HMD) Experiences
6 wirelessly untethered displays using the Nomadic Arena
1 display using an automobile
26 Fulldome pieces with nearly 4 hours of content, including four Art Reels and one SciVis reel
4 panelists in a VR Village Talk with a moderator
9 Presentations in the dome on 'the making of' immersive content
---
With plenty of visual media in this article, be sure to read all the details of this exciting experience in Denise's own words further below.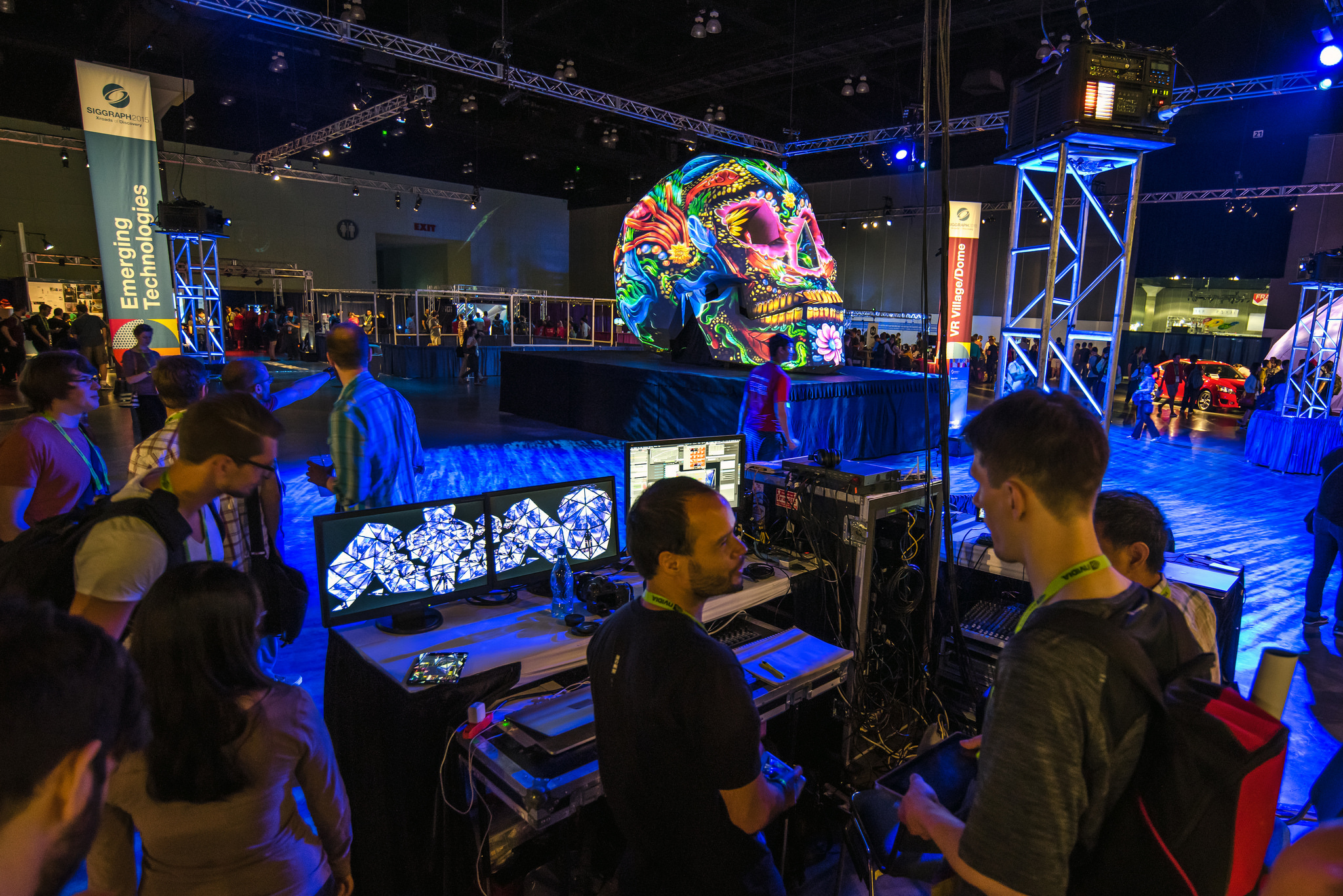 Emerging Technologies on display at SIGGRAPH 2015
The 42nd annual SIGGRAPH Conference took place 9-13 August 2015 at the Los Angeles Convention Center in Los Angeles, CA, and gave attendees a chance to explore the fascinating potential of Virtual Reality, Augmented Reality and Immersive Environments as a means for telling stories, engaging audiences, and powering real-world applications in health, education, design, and gaming.
"Virtual Reality, Augmented Reality and Immersive Environments are part of a fast-growing, emerging market," said Ed Lantz, SIGGRAPH 2015 VR Village Program Co-Chair. "As it grows, there's room for alternative and independent producers, developers, distributors, and manufacturers to make important and original contributions to consumer products and programming. For the debut of SIGGRAPH's VR Village, my co-chair Denise Quesnel and I wanted to ensure that attendees have the chance to see amazing applications that have been developed by the world's best programmers, cinematographers, artists, and game developers that are currently out there. We also hope to inspire and bring together the larger VR community."
---
Watch the Interview
Learn about the displays at SIGGRAPH 2015
---
From our own correspondent - Denise Quesnel on VR Village
In the autumn of 2014, I was appointed Immersive Imaging Liaison for SIGGRAPH 2016's Conference where VR is intended to be part of a strong focus area. In December of 2014, I was contacted by 2015's Conference Chair Marc Barr to see if I would like to create VR Village one year early. He had Ed Lantz of Vortex Immersion Media on board, and the VR Village had been supported directly by Jeff Jortner, ACM SIGGRAPH's President. Ed and I were then appointed Program Co-Chairs of VR Village. Having such a high level of support was integral in making this program happen, as we had only 7 months to do what usually takes 18 months of planning. I had been organizing stereoscopic 3D, VR and immersive themed events since 2011 through Emily Carr, Spark CG Society and VanVR in the form of meetups, classes, large conferences and festivals, mainly because I wanted there to be a place for those working in immersive realities to connect and be inspired. There was a shortage of opportunities to try out immersive experiences and VR in public, so these events were meant to fill this gap.
It may be surprising to learn that SIGGRAPH has been the place to try out and be educated on all things VR for a while. The 1991 SIGGRAPH Conference had a venue called Tomorrow's Reality Gallery, which is considered by many to be the very first juried exhibition of VR technology. One of the things I really enjoyed this year with SIGGRAPH was working directly with pioneers in VR who participated in that 1991 exhibition. Not only did they serve as mentors, they also provided a constant link to the research, innovations and artistic developments from VR's earliest days. In VR Village, we had a true mix of experiences brought by some of these early pioneers, and also by people who are now experiencing their first year as a VR creator or developer. It was incredibly eclectic. We had no shortage of content to place in VR Village; there were more contributors to the program than space, so we utilized a rotating schedule in VR Village where content changed daily. This meant that by not demonstrating everyday for several days in a row, we didn't exhaust contributors, and attendees had something new to see every day.

We had experiences from the following (but not limited to!): Sony PlayStation's Magic Lab and Project Morpheus; WEVR with Steam VR and HTC Vive; immersive journalism experiences from Nonny de le Pena; a car crash by Australia's Digital Arts Network and Fin Design; films by JauntVR; Dr. Ken Perlin and students from NYU; experiences from the Institute for Creative Technologies at USC; Artanim Interactive's Real Virtuality; films from Kite & Lightning; C.a.p.e thetarical style VR by CREW_EricJoris; dragon riding with DreamWorks VR lab; Epic Games with VR gameplay; short narrative films by InnerspaceVR; fulldome content from the California Academy of Sciences, NASA, SAT in Montreal, and more. We also had a great representation by BC-based IM360/Immersive Media, Archiact Interactive, National Film Board of Canada, with other Vancouver-based researchers and startups providing assistance and content to both the VR Village and Emerging Technologies programs. A full list of demonstrations is here: http://s2015.siggraph.org/attendees/vr-village. I also organized a talk that featured Mark Mine of Walt Disney Inagineering, Richard Marks of PlayStation Magic Lab, Nonny de la Pena of Emblematic Group, and Grant Anderson of Jaunt Studios. We did nine talks in the VR Village fulldome with some of the first fulldome and VR creators, together with artists showcasing their first works.
Next year SIGGRAPH is in Anaheim, California and I am working with the Conference Chair Mona Kasra and the Program Chairs to grow opportunities for interactivity and creativity in the conference. VR content is now going to be processed through our Unified Jury, so I encourage anyone interested in participating in SIGGRAPH 2016 to check the website in October when a Call for Submissions and program details will emerge. We are planning to have more demonstrations, a special area for VR exhibitions, Talks, Panels, Courses and more next year.
Some final thoughts on where we are going with VR:
It is going to be really important to get VR in the hands of as many people as possible, and keep it as a warm, welcoming community. Sometimes I meet people that describe themselves as 'imposters' in the VR community, who either come from other industries other than gaming or haven't worked on a VR project yet. Truthfully, we've all been beginners and the best thing for those curious about VR is to get online, grab some tutorials and start creating. We still don't have a lot of best practices and workflows in VR, so I think there will be more curriculum in Universities/Colleges (and hopefully also primary schools) covering VR, and workshops targeting industry once people become confident in the VR creation process.
At VR Village, we demonstrated physical, embodied VR in really large spaces. In one case, C.a.p.e by CREW_EricJoris actually had attendees walking around the entire hall while inside an Immersion (an experience that involves wearing an HMD and being guided by someone through an environment). The reaction of other attendees was brilliant! They'd turn around after looking at an exhibit and see someone just meandering on by inside a head mounted display and headphones. The ability to be so mobile in VR is really new. People are going to be able to turn their rooms into a VR environment without moving furniture away, and with minimal preamble. Right now most people can only experience VR in conferences, meetups and academic institutions, so it is hard to really imagine what our future one year from now will look like.
"I do think it is going to be a very mobile future, where sitting in chairs gets banished from most VR experiences!"
About Denise Quesnel, Adjunct Research Associate, S3D Centre, Emily Carr University