Augmented: Emergence of Virtual Space | An international collaboration with Hongik University, South Korea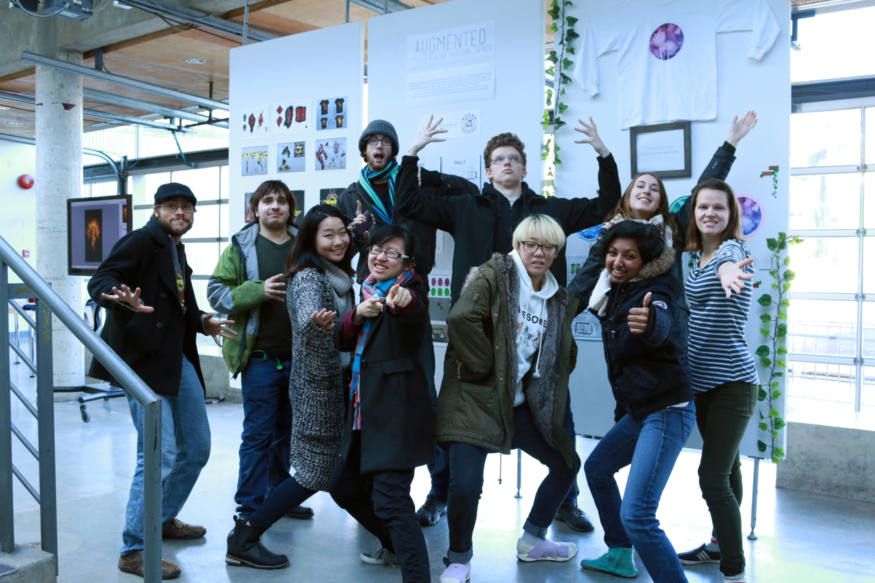 Posted on February 25, 2016 | Updated August 06, 2019, 9:05AM
Augmented Reality (AR) technology is poised to transform the future of digital media creation.
Last Fall, a Collaborative Animation course provided students with a unique opportunity to explore the concept of Augmented Reality (AR), including its elements, processes and technology, while gaining hands-on animation production experience.
Students joined forces with Master of Design students at the renowned Hongik University International Design School for Advanced Studies (South Korea) to bring a new dimension to the artistic expression of character animation using AR technology.
The group explored the emerging digital space of AR, and a new mode of character representation that allows for a momentary escape from the two dimensional space of the screen. Essentially, students created an interactive and engaging AR experience that transformed two-dimensional images into live or 3D animations utilizing the camera lens of a user's phone or device. As a result of the collaboration, students were able to showcase their work in an exhibition entitled Augmented: Emergence of Virtual Space.
The course was designed to provide students with the opportunity to delve into a realistic animation production situation, which included idea exploration, concept art creation, character design, animation testing, unity conversion, troubleshooting, prototype production, and exhibition set-up. Throughout the project, students developed a work ethic and critical thinking process to match the demands of the animation industry, while exercising skills in problem-solving, practical communication and collaboration, time management, work efficiency, technical development, and team building.
As a veteran of the animation industry, Woonam firmly believes that the best way to learn animation production is through a project/team-based and collaboration-oriented approach. He notes that this project has been a great example of experimenting with creativity and critical thinking, while utilizing emerging technology.

"It was a real pleasure for me to work with students who were so diligent and determined to problem-solve as a team. Most of all, I was pleased to watch the students develop a sense of passion and collegiality, and see them grow together as artists."
"This project really emphasized peer-to-peer learning to a much higher degree than what I have experienced before," says fourth year student Chanthi Vijayapala. "Getting to work on an international scale was a great learning experience and quite rewarding when we arrived at a prototype product."
Chanthi goes on to say that the collaborative project opened her eyes to other career options within the field that she had not yet considered, and that she had gained a new interest in.
Fourth year student Lauren Bourgeois says that what made the class unique was the opportunity for more project management tasks for senior students, leaving time for the third year students to build their art skills.
"I hadn't had the opportunity to do anything like that outside of this class so far, so it was really valuable to get a sense of what it might be like to manage tasks, people, and communication in the future of my practice/employment," says Lauren.
The experience of working with students so far away was challenging at times. The time difference, language barrier, differences in skill sets and glitches in the testing of new technology and software led to some late nights and lengthy trouble-shooting. But the group bonded, particularly so as the culmination of the course led to an in-person visit from students at Hongik University.
Says Lauren, "This type of experience was a great model that gave myself and my classmates an idea of what it can be like to work in a market that is becoming increasing global."