Continuing Studies Instructor Honoured with BCATA Award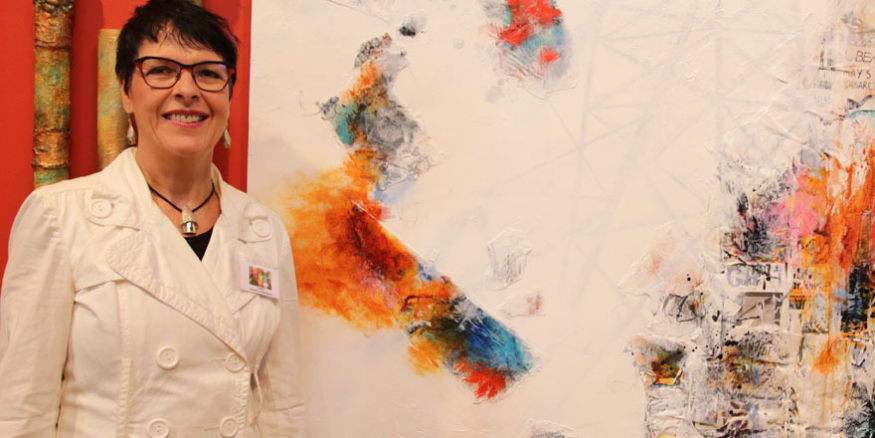 Posted on December 06, 2016 | Updated August 06, 2019, 9:06AM
Painting instructor Jeanne Krabbendam received the Post-Secondary Award for Excellence in the teaching of Visual Arts.

In October, the British Columbia Art Teachers' Association (BCATA) recognized Continuing Studies instructor Jeanne Krabbendam with the Post-Secondary Award for Excellence in the teaching of Visual Arts for her work in the community and at Emily Carr University.
"To see people find their own way of putting down paint, using colour, discovering their own voice - it's very rewarding," says Jeanne, who has taught at Emily Carr University for 11 years.
Describing herself as "a mixed-media artist at heart," Jeanne teaches several CS courses that cover abstract work and layering techniques, for both emerging and established artists. CEPN 365 Open Studio Layering Techniques, which she teaches this January, is designed for experienced artists with a goal in mind.
"The Open Studio is for motivated students - it's very self-directed," says Jeanne. Students may be working on a portfolio for undergraduate admission or building a series of work for a gallery showing. "We analyse the work but we also leave time for creation," she says.
In introductory courses, such as CEPN 165 The Built Surface and CEPN 190 Anything But the Brush, Jeanne encourages students to take risks and not to fear mistakes.
"Anything But the Brush is a great course for anyone intimidated by working in large-scale," she says. "It really opens people up and encourages them to work with completely different tools."
In the classroom, Jeanne draws frequently on her own experiences, including techniques she's developed. She's seen students from her CS courses go on to undergraduate or master's degrees at Emily Carr or find their place in Vancouver's art community.
"A real community develops between students," she says. "They challenge each other and sometimes stay in touch after the course, even exhibiting work together."
Outside of Emily Carr, Jeanne volunteers her art education skills at Coast Mental Health and leads small groups of students on personal painting tours by boat through her native Holland.
In her own practice, Jeanne is currently working on a series of abstract pieces based on lines from The Little Prince. The series will debut at Studio 13 in March 2017.
Learn more about Jeanne or find her upcoming courses on CONNECT. Registration for Spring 2017 Continuing Studies courses, running January through April, is now open.