MDes Alumnus Brings Glass Casting and CAD Together in New CS Course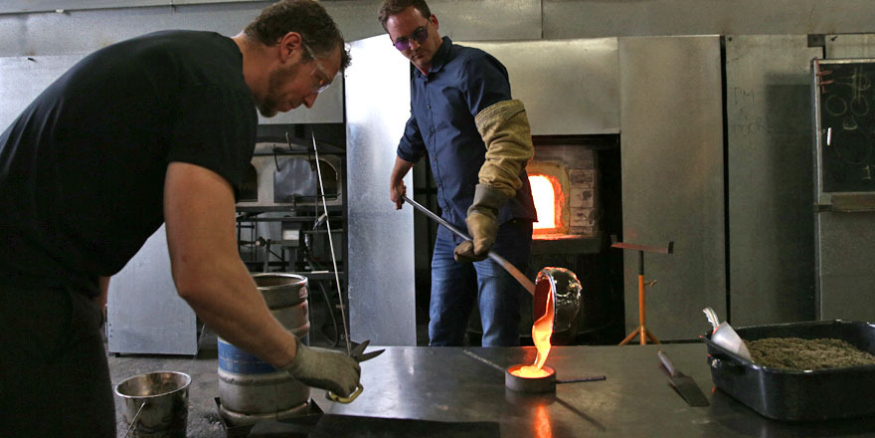 Posted on August 22, 2016 | Updated August 06, 2019, 9:06AM
Continuing Studies at ECU has partnered with Terminal City Glass Co-op to offer a new course.
Continuing Studies at ECU has partnered with Terminal City Glass Co-op to offer a new course that combines hot glass casting and digital production. One of three instructors, Aaron Oussoren ('15), recently graduated with his MDes and the foundation of the course ties deeply into his own research and thesis.
"I wanted to do my master's here because I want to look at the connection points between a traditional materials and the digital lab," says Aaron, who felt he fit right in with the Material Matters Group at Emily Carr.
Glass Casting and Digital Production (CEID 100), the continuing studies course starting this September, was adapted from a course he taught to undergraduate students last year, which ran half in the digital lab at ECU and half in the glass studio at Terminal City.
"We didn't want to have all designers or all artists," says Aaron. The course wasn't restricted to a major - just third-year standing. "It was a way to balance the creative approach."
Aaron has made changes to the course based on his experience, but the basic process is unchanged - students produce a design using 3D modelling software Rhino, print the design using 3D printing and make a final version of their design using glass casting.
"At first glance, it may seem like two opposing approaches to producing – the hands-on, risk-riddled process of craft and the very linear, restricted work in CAD," says Aaron. "But there's a lot more to explore here and we're very interested in what's coming out of these courses."
No previous art or design experience is required for the CS course, but Aaron expects some students will come in with a related practice.
"I think we'll see people coming in from both the design side and the craft side," he says. "It's an exceptional opportunity for the right person."
Part of what makes the course exceptional is the facilities students will have access to as well as the three instructors they get to work with.
"We have one of the most skilled glass workers in the country (Brad Turner) and we have someone who knows digital manufacturing inside and out (Philip Robbins)," says Aaron. "This course couldn't run without these people and these facilities - we are incredibly lucky."
CEID 100 Glass Casting and Digital Production starts on September 10, 2016. Space is very limited - register early. Learn more at ecuad.ca/glass.