Studio Residents Contribute to The Commons, Library and ECU Community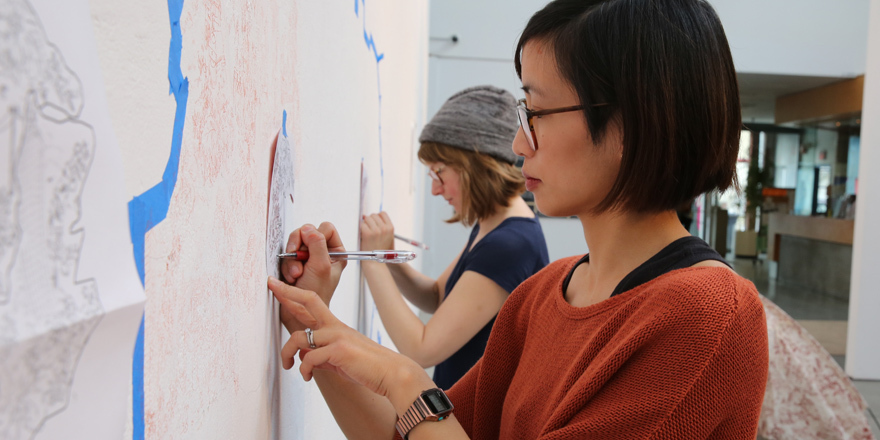 Posted on February 29, 2016 | Updated August 06, 2019, 9:05am
The Leeway studio residency attracts diverse artists - meet two of our latest recipients.
February brought a spotlight on the two most recent studio residency recipients at The Leeway, as our Fall resident, Amanda Wood, returned to install some of her work in the Library, and current studio resident Janet Wang, led students in a collaborative project in The Commons.
Since taking over from Amanda Wood in January, Wang has most enjoyed the studio for the chance to work relatively undisturbed and to make use of both digital equipment and physical space.
"I think this is something that's needed in Vancouver," says Wang, noting that artists looking for space to work come against the same constraints as people looking for housing: size and affordability. "It's an amazing place to work because you can create a large installation."
Wang has spent part of her time at The Leeway working on an installation for the Comox Valley Art Gallery, a series of wallpapers she's created by scanning in her own paintings to create a chinoiserie that combines new and traditional elements. Her project at The Commons followed this thread, allowing students to transfer traditional or modern and customized elements into an established framework.
"It's a play on pattern and existing motifs we can update to reflect our own time," says Wang, who saw both staff and students contribute work. "It's incredibly labour intensive, but I like to break things down and build them back up."
Our Fall resident Amanda Wood also contributed to the school community during her term. She led two workshops based on her Leeway work, one on her method for developing patterns and a second on indigo dyeing and resist patterns.
"I loved doing the community outreach piece of the residency as that's part of what I want to do with my art," says Wood, who frequently volunteers at local public schools. "I like to go out and show kids what they can make with their hands."
Wood has an active textile practice but her home studio lacked the space or facilities for large-scale dyeing. She knew she wanted to explore indigo, a natural vat dye, using cloth but approached her work with a process-driven methodology.
"I usually plan things out," says Wood, "but I wanted to leave it open in terms of the specifics of what I would create to allow for more exploration and growth."
Wood ended up finding inspiration both in and outside of the studio. Walking around Granville Island and the seawall taking photographs of whatever caught her eye led her to develop patterns based on her images. The patterns she created were later incorporated into a series of weavings, a collection of clothing pieces inspired by the idea of uniforms, and a large amount of dyed cloth for future projects.
"There are quite a lot of painters that work in The Leeway and I must have been subconsciously inspired by them," she says. "I enjoyed their perspectives on my work and inevitably their methods of working and the qualities of painting found their way in."
With her Commons project wrapped up, current resident Janet Wang returns to working in the studio until the end of her term in April. She plans to use the remainder of her time to document her installation work using the photo-doc station at the Leeway and begin a new series of portrait paintings.
Applications are now open for our summer residency at The Leeway. Apply by March 23, 2016.