Summer Institute for Teens Registration Now Open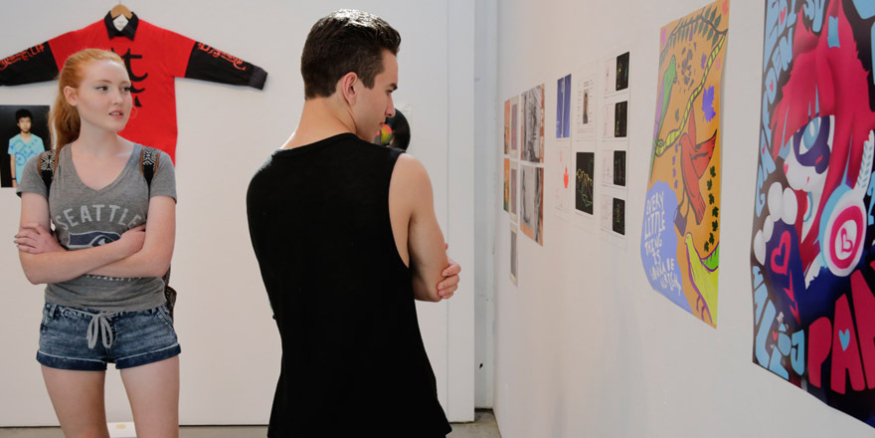 Posted on January 27, 2016 | Updated August 06, 2019, 9:05AM
See what's new for 2016 and find out why you should register early
The Summer Institute for Teens, ECU's month-long summer program for high school students returns this July and registration is open!
The popular program offers students a choice of 10 studios: animation, architecture + urban design, drawing, fashion + textiles, graphic design, illustration (traditional or digital), painting, photography and sculpture 3D.
"We limit each studio in size to ensure students receive one-to-one time with their instructors," explains Emily Ludington ('13), the Youth + Transition Program Coordinator. "Students who have their hearts set on a particular studio should register early as studios can fill up quickly."
One aspect of the Summer Institute that will be different in 2016 is more studio time – four days a week instead of three – in order to give students more time for skill and portfolio development in their chosen studio.
When it comes to studio selection, students can choose to fine-tune their skills or build up their body of work in an area they are familiar with, yet Ludington believes students can also benefit when they leave their comfort zone.
"Some students choose to work in their area of strength to create an admission portfolio," she says. However, working in a different medium can offer opportunities for growth. "It's great to see a painter take their composition skills into photography or see someone who is more comfortable working in pen and ink try their hand at sculpture."
While the program is designed to capture the post-secondary experience and give participants an edge in admissions at art + design universities around the world, Ludington stresses that anyone with a passion for art and design can benefit from and enjoy the Institute, even if they aren't sure of their university plans.
"To me, the Summer Institute is really about exploration," she says. "You're able to evolve as a creative person and try new things surrounded by peers and instructors who share your excitement about art."
The 2016 Summer Institute for Teens will run July 4-26, 2016. Learn more at teens.ecuad.ca.