Alumna Gabi Dao's Western Front Residency Culminates in Live Public Event
Posted on May 01, 2017 | Updated August 06, 2019, 9:06AM
2014 alumna Gabi Dao will produce a series of podcasts, which will culminate in a live public event in the fall of 2017.
Eija Jimenez, The Source
April 25, 2017
Gabi Dao is a Vancouver-based artist whose work in installations and sound has earned her a media residency at the Western Front. Over the next several months, Dao will produce a series of podcasts, which will culminate in a live public event in the fall of 2017.
Dao is a second generation Chinese-Vietnamese woman whose artistic passion was initially met with opposition. Growing up in a culture where art took a back seat to traditional studies like maths and sciences, Dao pursued other creative outlets such as classical piano before eventually dedicating herself to her art. With her parents' support, she studied contemporary art during her undergrad at the Emily Carr University of Art and Design. From there, her interests grew.
"I wanted to do something that frightened me," Dao explains. "I started to hit up sculpting classes, and after that, I wanted to do something even more challenging. I started taking sound classes as a way to revisit experiences I had playing classical music, but thinking about it in a way that wasn't following constructs."
Much of Dao's art has cultural motifs behind it, such as a prior project done at Artspeak where she created a shell sculpture and radio to represent the pirate radio broadcast she had done that was influenced by her mother's foreign accent improvement tapes. Despite being grounded in her culture, she's very careful with how she represents it.
"There's a conversation around ethical implication when using one's identity to make artwork," says Dao. "I'm very careful not to fetishize materials or history. I don't ever want to feel like I'm exploiting a familial history in order to produce content."
For Dao, her installations and sound experiences appear in a more general capacity so that there's a level of access that can be reached by all. She explains that with generality, viewers can tap into their own subjective musings and find their own particular meaning.
Residency
Dao's residency at the Western Front will be from the spring and summer of 2017 and will culminate in a live public event of her project in the fall. Stepping away from creation and sculptures, Dao is planning a series of podcasts that she refers to as a sonic space. The sonic space will highlight emerging artists, cultural producers, and other community members within Vancouver who will share talents and respond to the precarious nature of affordable housing and affordable studio spaces in downtown Vancouver.
"It's a space to promote conversation or discourse around emerging artists and producers," Dao says. "Conceptually, it's this idea of having a program as a space where people can talk about what they do and how their conditions and their surroundings in their cities affect their lives."
Currently, Dao has eight people lined up to speak on her podcast. The first in the lineup is Yu Su, an electronic music artist who immigrated to Canada from China only four years ago. Part of the podcast program will have Dao and Yu Su speaking about art spaces within the city, Yu Su's cultural transition from China to Vancouver, as well as doing a calisthenic workshop for invited guests. Like Dao's own work that incorporates both structure and sound, her podcasts will invite guests whose unique sounds are a contributing factor to their identity.
"I would definitely like to continue my podcast [after residency]. I'm trying to apply for funding to make a documentary on emerging music and cultural scenes in Southeast Asia, which stems from the podcast series," says Dao. "Second generation kids are doing things that wouldn't be a traditional part of their culture: like trying to be an artist."
For more information, please visit www.front.bc.ca.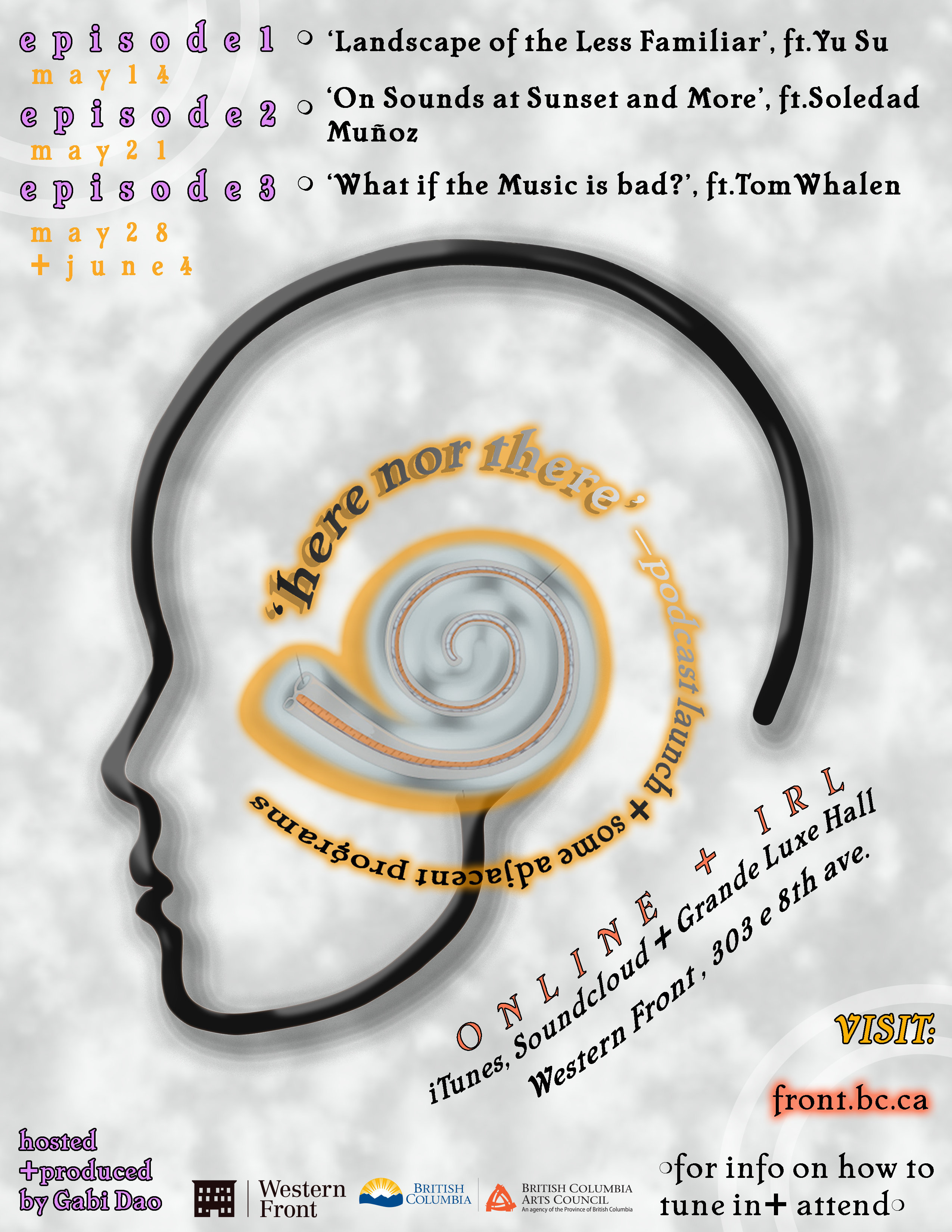 Here Nor There: on now at the Western Front