Generation to Generation | An Alumni Profile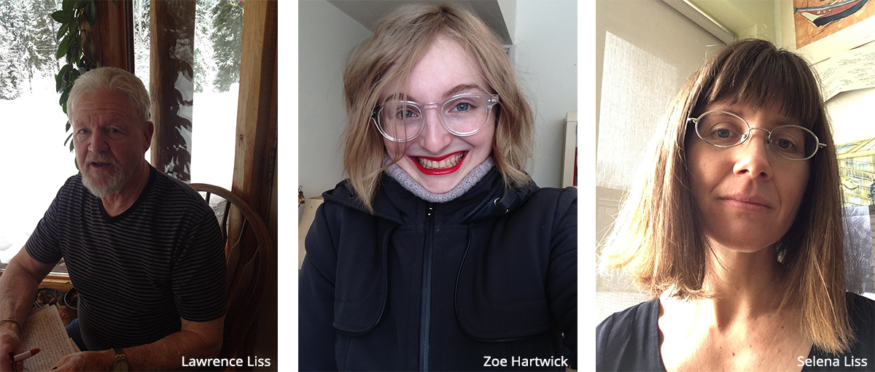 Posted on August 18, 2017 | Updated August 06, 2019, 9:06AM
Three generations of artists, one Emily Carr story.
From Vancouver School of Art to Emily Carr University of Art + Design, there is one family that experienced the transformation of the institution firsthand. Zoe Hartwick ('17), her aunt Selena Liss ('97), and her father Lawrence Liss ('67) all studied at Emily Carr, and each of them has a story to tell.
Zoe graduated in 2017 from the Visual Arts program with a primary focus on oil portraiture. Her work investigates themes of interpersonal connection, emotion, and humanity. Influenced by her aunt and grandfather, Zoe grew up knowing that she wanted to paint and "can't really remember a time that she didn't want to go to Emily Carr." After spending some time finding her artistic voice, she particularly enjoyed her 4th year of study when she had a chance to work closely with other artists in the studios who inspired each other with ideas. When asked about what the best piece of advice she has received, Zoe shared:
"Think about the reason why you are choosing a particular medium to make an artwork, why do a painting when you could take a photograph or a video, etc.? Think about what you are trying to say and use the most applicable medium."
A 1997 graduate, Selena grew up in a home surrounded by art and has always felt most at home with artwork around her. Her dad Lawrence Liss is a multi-talented artist and her mom, Jenny, is an excellent amateur photographer. Throughout her childhood and adolescence Selena made artworks surreptitiously, and it was only through a series of circumstances that she started pursuing art professionally. Along the way she also discovered a love for teaching, and for the past 11 years has been teaching Visual Art and Humanities at a college in Quebec.
Selena appreciates the encouragement and guidance she received from her teachers who continue to influence her work and career today. A few examples include seminars with Susan Stewart and Laurie Milner, Ken Wallace's human anatomy class, feedback from Lucy Hogg, and critiques with Landon Mackenzie.
Selena believes "This world desperately needs art and artists." She wants to thank artists for making work and advises them to continue, even if they feel like they aren't making anything of consequence. "Just keep making work."
How does she describe herself? "I've been surrounded by art since I was an infant and I will be until I shuffle off this earth. Lucky me."
Lawrence Liss
Lawrence Liss ('67) is the first one of the family to study at Emily Carr University of Art + Design, then Vancouver School of Art. An accomplished artist, he has exhibited his works at Vancouver Art Gallery, Victoria Art Gallery, and Seattle Art Museum, to name a few. He is also an entrepreneur and owner of sign businesses. While he experimented with a variety of art media, watercolour has remained his preferred choice.
His advice to current students and fellow alumni is to "find your essence and out of your being create the forms and language to offer the world the 'fruit of talent.' Humility and gratitude are great guidelines."
Zoe, Selena and Lawrence are more than just family, they are also an important part of the mosaic of passionate alumni who are the foundation of the Emily Carr community. We would not be surprised to welcome a future generation of their family to the school.