Geoffrey Farmer in Venice: A First Look by Canadian Art
Posted on May 11, 2017 | Updated August 06, 2019, 9:06AM
Alumnus Geoffrey Farmer's moving, personal installation at the Canada Pavilion confronts personal and national histories through the metaphor of water.
Farmer is a 1992 graduate of Emily Carr University.
Rosie Prata, Canadian Art
May 10, 2017
At the Canada Pavilion, everything is exposed: architecture, history and emotion. Artist Geoffrey Farmer and curator Kitty Scott have created a spectacular, layered and complex work. The Nautilus shell–shaped building is currently in the midst of a $3-million restoration, to be completed in 2018, and it has already been stripped of its facade, with all glass removed. What remains is its bare and twisted spiral skeleton, through which coruscating light scatters on an assortment of bronze sculptures.
A 30-foot geyser sporadically shoots out of a tiled fountain, kissing the green canopy of leaves above the roof before crashing down to drench the ground below and run down the sides of the pavilion. Timber planks, also of bronze, are placed willy-nilly in and around the fountain, like a spilled box of matches. Among the sculptures are a larger-than-life-size praying mantis reading a text, with a pair of scissors wedged into his carapace—a supposed avatar of Farmer himself. The insect wears another book on his head, like a hat.
Nearby, rivulets of water cascade from a grandfather clock that has been bludgeoned with an axe and burdened with various domestic objects, such as a bucket and a broom, and with various flora and fauna, such as a shell and mushrooms. A variety of orifices accent the space in the manner of a mystical babbling brook. Many "fountains" are alluded to here, from Rome's majestic Trevi Fountain to crying eyes. At the National Gallery of Canada dinner for Farmer on Tuesday evening, the artist played a series of clips of deluges, reminiscent of clips he has been posting on Instagram, from the epic sinking scene from The Poseidon Adventure, to Beyonce's "Formation" video.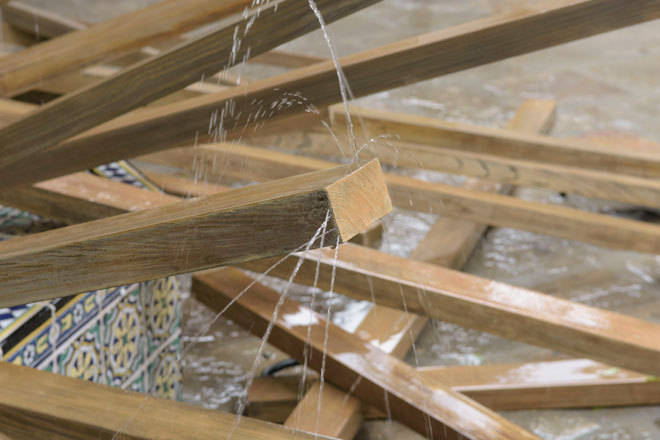 The pavilion officially opened to the media today. I spoke to Geoffrey Farmer about how this project is his most personal yet, how a car crash in 1955 that his grandfather was involved in inspired him to conflate global and personal histories, and how tragedy and devastation are written not just in books, but also on our bodies, and how we must process this trauma through emotion. Through tears.
Farmer explains that the title, A way out of the mirror, comes from a book by Allen Ginsberg, Kaddish and Other Poems 1958–1960. The Kaddish is a Jewish prayer often said for a deceased loved one. It was not allowed to be given to Ginsberg's mother, because she was in a mental hospital when she died—so he wrote his own. Farmer's installation effectively begins with a plaque quoting page 33 of Ginsberg's book. Some of the words are missing. In the passage, Ginsberg's hospitalized mother tells her son that "the key is in the sunlight."
"This project is about the death of my grandfather, whom I never knew," says Farmer. Farmer became posthumously acquainted with his grandfather only a year ago, when his sister Elizabeth showed him press photos of a truck accident his grandfather was involved in—a collision with a train—just months before his death from related causes.
"The work is about collisions, and colliding moments in time and objects together, in one place," says Farmer. At the NGC dinner, Farmer identified the photos as "the portrait of my birth as an artist."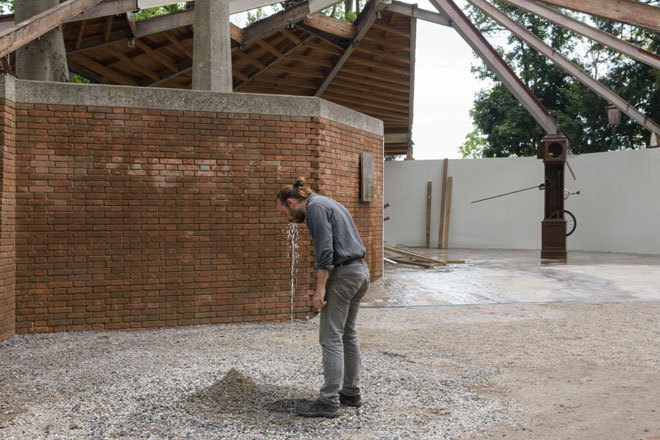 "[The installation] is also about the history of this place," Farmer told me, "and the ruins we are standing in." Napoleon tore down the Castello to make the Giardini, long-loathed by Venetians as a symbol of French occupation. "I also think about the rubble I stand on myself, as a Canadian, and the impact of what happened 150 years ago and how I am complicit in that," Farmer says.
The pavilion was built with war reparation money; it's in every brick. Farmer pays tribute to "the men and women who lost their lives during the Second World War, and also to the pavilion's architects," two of whom were interned in a concentration camp for being resistance fighters, and one of whom died in 1945.
"The building was always meant to be temporary," says Farmer. "The definition of a pavilion is that it's a temporary structure, but now that it is becoming designated as an architectural heritage site, I think [the new architects, descendants of the original architects] are very limited in terms of what they can do. It's such an important building in Italian architecture, one of the few examples in Venice of North American architectural influence.
"The water [circulating in the installation] comes from a river outside of Venice. There is a movement to get people to start drinking out of the fountains and to stop using plastic bottles, because it's become an environmental concern." Farmer relays a statistic that, each year in Venice, more than 20 million tourists consume 13 million bottles of water.
"We define water by its location," says Farmer, "but in itself it can be a river in one moment, tears the next; a dog can be drinking it; you could be washing your hair with it. That's the thing I like about the idea of water, how universal it is and how it transgresses boundaries, and also creates boundaries. It plays such an important role, politically as well.
"Canada was founded on rubble," said Farmer at Wednesday's press preview. In a moving text he wrote for the installation, located at the back of the pavilion, he speaks of his "struggle for the removal of the Canada sign" at the entrance: "If it is still on the front of pavilion, I lost." (The sign remains.)
"This project has made me understand that I am complicit in history and the events of the world," says Farmer, "in ways that those touched by them directly are not."
With files from David Balzer.