Jaymie Johnson | Symbiosis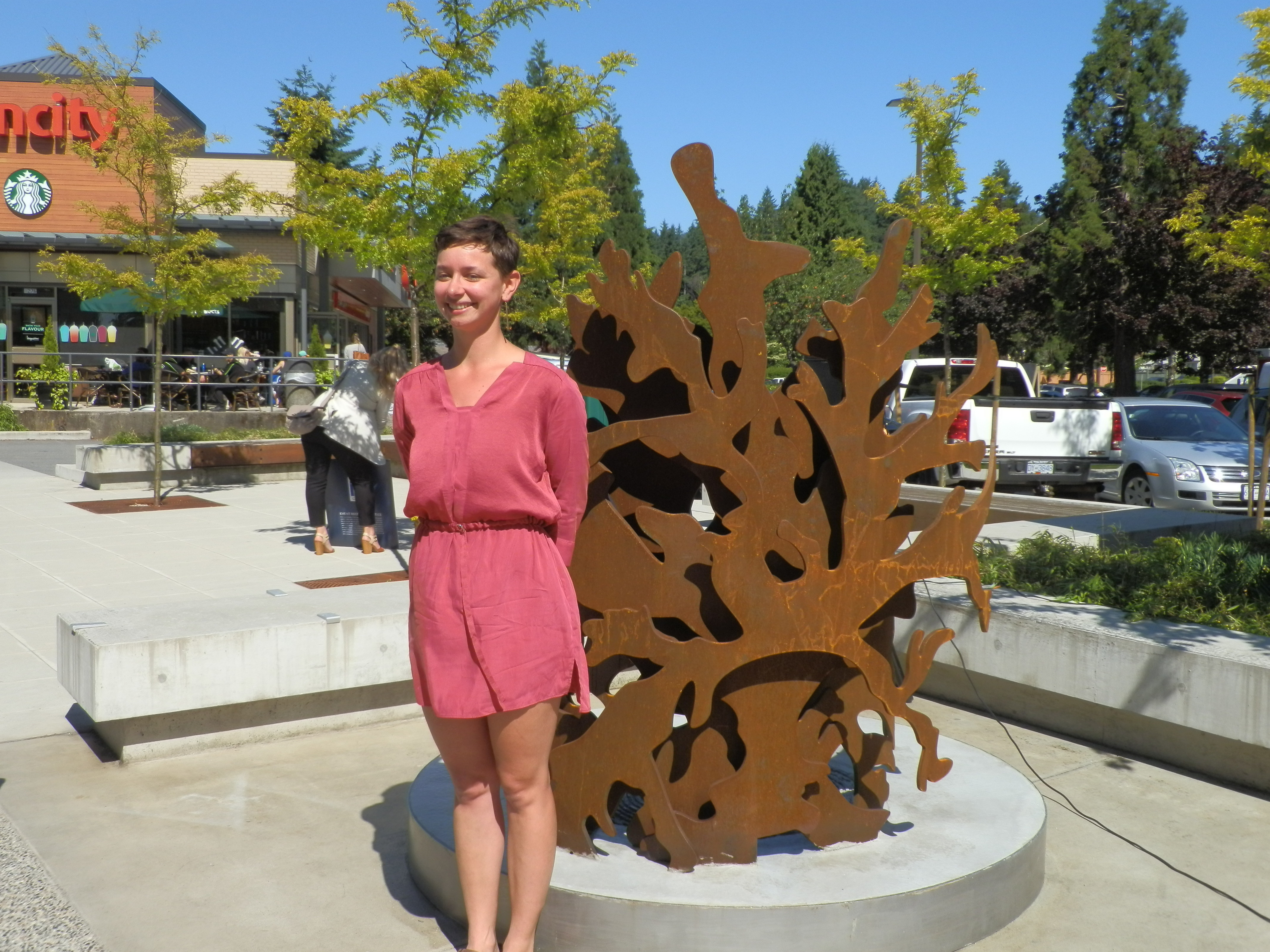 Posted on June 30, 2017 | Updated August 06, 2019, 9:06am
Jaymie Johnson (BFA '15) has her award winning piece, Symbiosis, unveiled.
On June 22, Jaymie Johnson's sculpture, Symbiosis, was unveiled at a ceremony at Pemberton Plaza in North Vancouver. Symbiosis was the winning proposal for the fourth year of the First Capital Realty Inc. Public Sculpture Competition at Emily Carr University of Art + Design.
Jaymie, who received her BFA from the University in 2015, was the winner of the 2016 competition. The unveiling was the culmination of an eighteen month life-changing journey and a milestone in her blossoming public art career.
In her speech, Jaymie spoke about her piece and shared her gratitude to First Capital Realty Inc. for the opportunity, mentor Ashley Guindon for guiding her through the process, and to her family and friends who supported her through the project. Sandra Levy, Vice President, People and Corporate Affairs, First Capital Realty Inc., Jim Hanson, Councilor for the City of North Vancouver, Chantale Lavoie, Director of Development + Alumni Relations, rounded out the speakers, who stressed the value of public art and supporting emerging artists.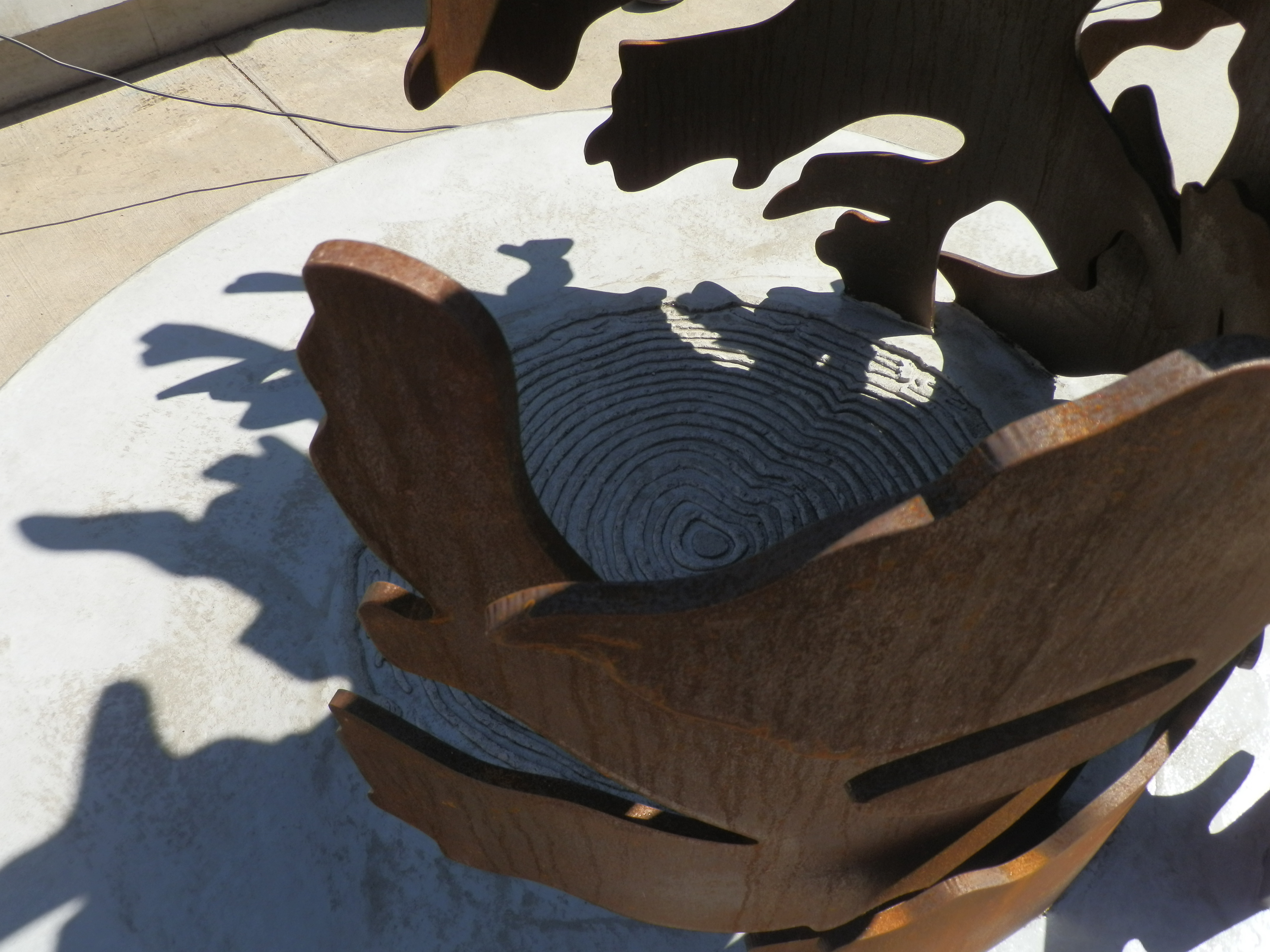 "A highlight of this experience was applying my woodblock printmaking skills to a work in the public realm in the form of a concrete embossment that I created using my Grandpapa's old tools."
Jaymie shares, "As an emerging artist striving to work primarily in the public realm, it means so much to me to have won this competition. Not only is it an amazing experience to see a concept through to physical realization on this scale, but the process and finished work is has given me essential experience and an important 'foot in the door' that will help lead to more public art opportunities."
Jaymie's aspirations are to continue to work in the public realm, which includes two current student-engaged murals for Science World using recycled paint, the upcoming Bee-Decking the Meadow project in Kelowna, and a residency at the Caetani Cultural Centre in Vernon for their Fresh AiR! art and environment themed residency.
About the First Capital Realty Inc. Public Sculpture Competition:
Now in its fourth year, the competition has a model unique to Emily Carr University, thanks in large part to Dr. Cameron Cartiere, then Dean of Graduate Studies. Cameron, a public art expert and Assistant Professor in the Faculty of Culture + Community consulted with the Advancement Office to create a more meaningful and pedagogical experience for students and alumni wishing to enter the public art domain. The rigorous proposal process prepares participants for future public art opportunities, with the guidance of their mentor and feedback from the jury. The competition has a strong formula for success: previous winners Christian Huizenga and Kai Choufour have each undertaken large public art projects after the competition.
Thank you to First Capital Realty Inc. for investing in the community, education and emerging artists.
Read our interview with Jaymie in its entirety.