The Junior Art Intensive Returns with New Format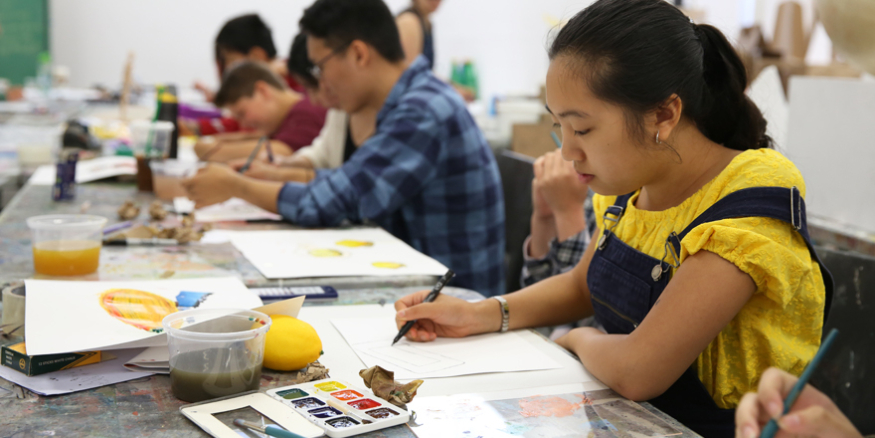 Posted on January 30, 2017 | Updated August 06, 2019, 9:06AM
Our newest youth program will return in July 2017.
The Junior Art Intensive (JAI), our program for students aged 13-15, returns this July with a few changes from its debut last summer.
"Many of the changes came out of feedback from students and parents," says Jaclyn Murray, ECU's Youth + Transitions Coordinator. "I think our participants this summer will be blown away by some of the projects they will be able to complete."
What's new for the Junior Art Intensive in its second year? The program has been expanded to two weeks and will focus on drawing, painting, print media and soft sculpture.
"We wanted to keep both 2D and 3D art-making in the program," says Jaclyn. "I think the format we've chosen will help student immerse themselves in these disciplines."
In addition to developing their skills in these mediums, students will also spend time exploring the creative process. Their final day will be spent preparing for their exhibition.
"The exhibition last year was amazing," says Jaclyn. "Students were showing off their work to their families and the range of work was really impressive."
This summer, the JAI exhibition will be on the same day as the exhibition opening for Summer Institute for Teens, (the one-month studio intensive for high school students aged 16-18), allowing younger students to see what kind of work they may be doing in the future.
Whereas Summer Institute for Teens students are older and often enter the program with considerable skills and experience, Jaclyn says the Junior Art Intensive is open to both passionate young artists and students who want to try something new.
"Our goal with this program is to create a space where youth can really start to explore art in a different way," says Jaclyn. "We want to take away the idea of talent and show them how diverse art and the act of creating can be."