Leza Macdonald | A Legacy of Creativity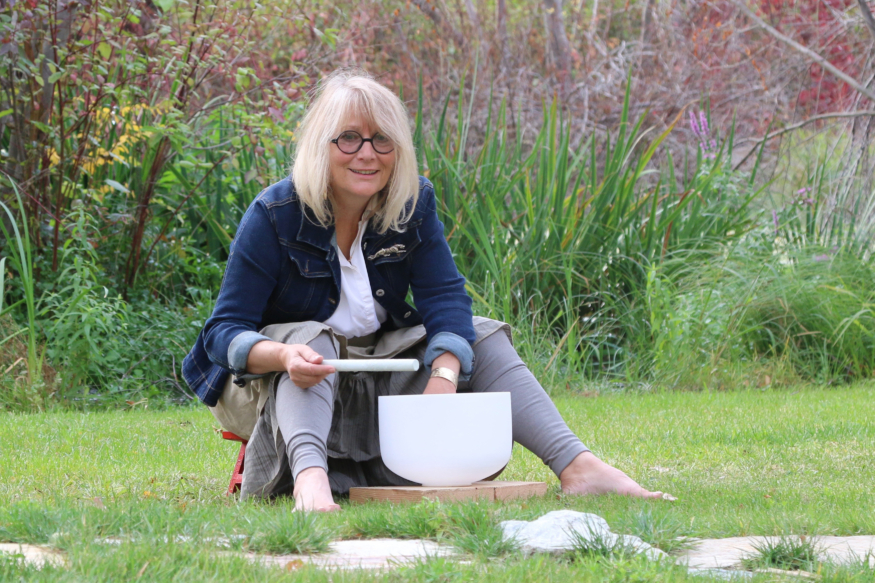 Posted on April 26, 2017 | Updated August 06, 2019, 9:06AM
Alumna Leza Macdonald ('82) has found the formula for happiness - lifelong creativity.
35 years after graduating from Emily Carr in 1982, Leza Macdonald still feels connected to the place where she majored in painting and minored in photography. It was here that she made lifelong friends, learned how to drink coffee and understand art. It is also the place she wants to support through a gift in her Will.
After graduating, Leza had a very successful career in the creative industries as a self-employed photographer, illustrator, graphic designer and art director. She traveled the world photographing people in business, politics, dance and fashion – Leza also earned the name "Click" by the secret service.
But that life ended when Leza witnessed a violent crime outside her Gastown studio. She reevaluated her life, said good-bye to her clients, and moved to the small town of Oliver where she planned to "contemplate my belly button."
While she enjoys the quieter life, passionate artists like Leza never really stop working, and it wasn't long before she began a new career as a teacher, newspaper columnist and muralist. For six years she has organized "The Wild Woman Workshop" whose themes range from women in history to discovering your spirit animal. During this time she discovered a passion for teaching young children and in a way, it is what brings her back to Emily Carr.
"At the moment my Arty Smarty Group, (I have been doing this for about 5 years) of children 4-9, is putting on a puppet show. How much fun is it to make up stories and hang out in a box big enough to put a big stove in? It is painted and has fancy curtains, they made the puppet heads and hands from clay and voted on the characters and story line."
It is the joy she finds in encouraging creativity in children, and the cost of post-secondary education that drives her support of Emily Carr. "I want my students to go there [Emily Carr] but these kids can't afford it."
When asked what she is hoping to accomplish through her future gift the answer comes quickly. "Romance. I want to help kids raised in the foster system to get a chance. At this moment, this portion of my estate can sponsor two full scholarships. But I think I will be more creative and think about this."
At a time when many people are slowing down, Leza continues to undertake new ventures. The most recent is the purchase of an online news site, the Oliver Daily News. "I will be the publisher for the third act of my life. I'm a bit scared but I am also excited. I can do more with this site than if I went into politics!"
She was also happy to submit her favourite photo of herself for this story. "I am playing a crystal singing bowl at a labyrinth and I am 62. Life just gets better."
Have you considered leaving Emily Carr University a gift in your Will? Please contact Eva Bouchard at 604 630 4553 for help with your legacy plan, and to ensure your gift meets your needs and makes the greatest impact.