The Health Design Lab Enters into Third Year of Collaboration with The Pacific Autism Family Network
Posted on September 28, 2017 | Updated April 27, 2021, 1:54pm
A recap of the 2016/17 year.

Our Health Design Lab (HDL) has been collaborating with the Pacific Autism Family Network (PAFN) and Inform Every Autism to create an environment where autism researchers and clinicians can come together to bring current, evidence-led best practices to families and adults living with Autism Spectrum Disorders (ASDs). This collaboration began in 2015 with a focus on creating a family-centered framework for ASDs research.
Now entering their third year of partnership, we recap some of their successes over the past academic year.
At the grand opening of the GoodLife Fitness Family Autism Hub in Richmond this past November, the HDL created an interactive installation consisting of two components: a vision wall and a live bar graph. Over the course of 4 days, hundreds of visitors participated in the installation.
For the vision wall participants were encouraged to write down their vision on a paper hexagon and add it to a wall display. Yellow hexagons began with the prompt, "I hope…", while green hexagons began with the prompt, "I need…".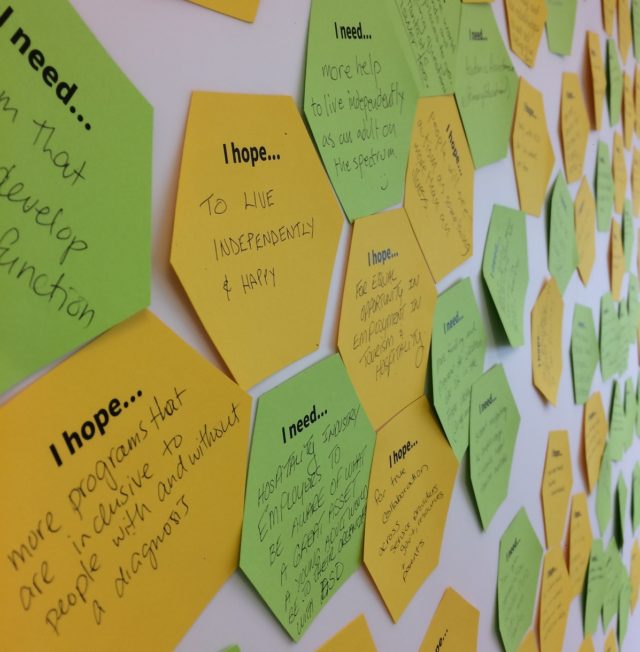 For the live bar graph participants were asked to take a rectangular piece of paper and place it above the category that they felt best answered the question, "Where do you access Autism Spectrum Disorders (ASDs) research?". Categories included: web search, MCFD, other families, clinicians, service providers, research journals and other.
In January 2017, the HDL facilitated four workshops in Richmond and Prince George. Over 40 participants --caregivers/family members, researchers and service providers took part. Activities included: introduction/warm up, string mapping, interviews and final group discussion.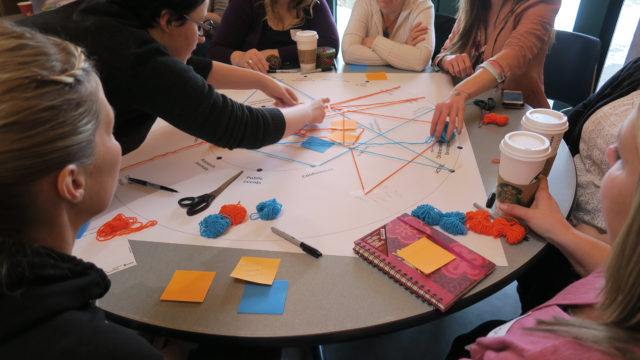 Utilizing design methodologies enabled a multidisciplinary approach for creating and developing knowledge and empathy between the designers, researchers and families engaged in this project. The HDL employed generative methods, including co-creation to enable participants to express their thoughts, feelings and needs, through verbal and visual means. Designing objects or artifacts that act as triggers for conversation assists in fostering dialogue, drawing out latent and tacit knowledge from participants. Workshops provided insights into the way families and researchers currently navigate and share information. The teams gained a better understanding of the barriers to information exchange within the ASDs community, and gathered ideas to improve future access to resources and research.

"Partnering with the PAFN has been a wonderful experience that has allowed us to demonstrate the role that design and designers can play in facilitating meaningful dialogue with community stakeholders in order to foster collaboration and improve experiences for families in the Autism community."
What's up next? The team plans to co-design and prototype a web-platform to facilitate knowledge exchange and support research users (families and self-advocates) in making informed decisions based on best-practice research. The goal? Enabling researchers to connect with families to support their research endeavors creating direct linkages and ongoing connectivity with the ASDs community. This web-platform project is being jointly funded by PAFN, Emily Carr University of Art + Design and the Michael Smith Foundation for Health Research, as a recipient of the first Reach Awards.
Read the complete 2016/17 report and collaborative reports.