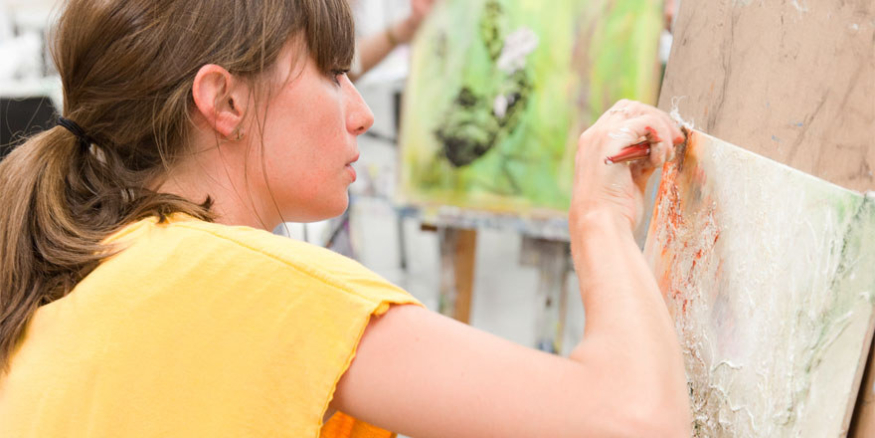 Peggy Anderson Continue Painting Opportunity
Posted on October 31, 2017 | Emily Carr Stories
In 2014, the Peggy Anderson "Continue Painting" Opportunity was established in Peggy's memory by her family to celebrate her life, her love of art, and her desire to spend more time painting. Current Continuing Studies Painting students are invited to enter to win a free painting course.
How To Enter
To enter, complete an entry form (below) and email the completed form to csinfo[at]ecuad.ca, by fax to 604 844 3810 or drop it off in person to the Student Commons.
OPPORTUNITY DETAILS + ELIGIBILITY
The Peggy Anderson "Continue Painting" Opportunity will provide one annual opportunity of up to $500 to an Emily Carr Continuing Studies, non-credit painting student enrolled in the fall term (Sept-Dec). The winner will be selected by a random draw of eligible applicants, and will have the opportunity to take an additional Emily Carr painting course by the end of the following calendar year (i.e. 2016 "opportunity" must be redeemed by December 31, 2017). The "Fund" is to be used to pay the course tuition (or a portion of the course tuition) plus up to $100 for supplies and materials to a maximum value of $500 per "opportunity."
Interested students must indicate that they wish to be considered for the opportunity and complete and return the form below by 3pm on Friday, November 10, 2017.
Please note: Emily Carr employees and Peggy Anderson's family do not qualify for the opportunity, and the opportunity may only be received once.


Peggy Anderson Application 2017