The Honourable John Horgan, M.L.A., Premier of British Columbia Officially Opens the Doors to Our New Campus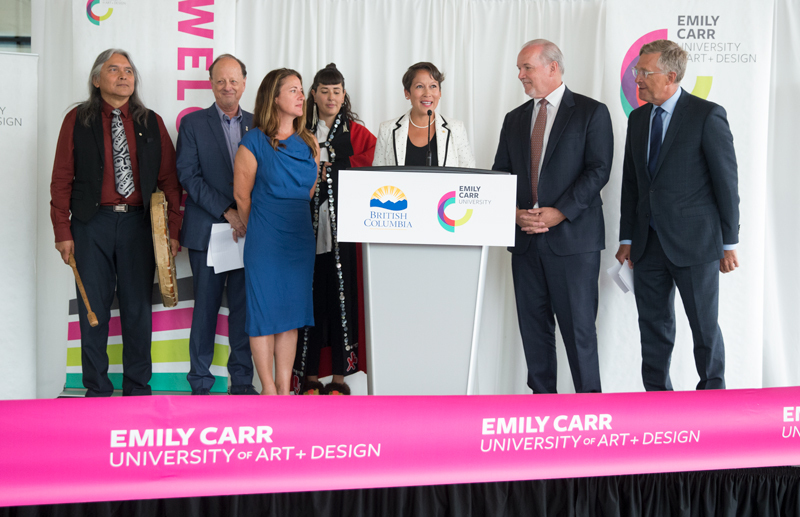 Posted on September 05, 2017 | Updated April 27, 2021, 3:08pm
Watch for information on our Open House events, October 27 + 28th. Coming soon!
Office of the Premier
Ministry of Advanced Education, Skills and Training

NEWS RELEASE
Premier Horgan opens new Emily Carr University of Art and Design campus

VANCOUVER - British Columbia's future leaders in the fields of tech, design and the creative arts will have access to state-of-the-art learning facilities, thanks to an exciting new campus for Emily Carr University of Art and Design, Premier John Horgan announced today.

"This new campus will help students get the education and skills they need to build their futures," said Premier Horgan. "This leading-edge learning environment will allow students to realize their potential and contribute to a strong, sustainable economy that benefits everyone. The new Great Northern Way campus also showcases how innovative B.C. wood products are a true 21st-century building material, worthy of an institution training B.C.'s future arts and design leaders."

The new campus is equipped with state-of-the-art technology to support student learning, including a motion-capture and visualization lab, networked virtual reality systems, a digital animation studio, and a digital embroidery and sewing lab.

"This new state-of-the-art building will inspire the creative talents of new and returning students," said Melanie Mark, Advanced Education, Skills and Training Minister. "Emily Carr University has been a cutting-edge institution of choice for decades. Students will continue to receive education and training that will transform their lives and our communities through their innovation, art and design."

The LEED Gold-certified building features sky-lit atriums, galleries and exhibit spaces, a natural light-filled library and learning commons, and studios with large north-facing windows. The building exterior is punctuated with coloured-glass panels referencing the distinctive palette of Emily Carr the artist.

The total cost of the project was $122.65 million, including $101.65 million from the Province. The university fundraised $21 million through Emily Carr University's THE BIG IDEA capital campaign.

"This institution is proud of the achievements of its thousands of graduates over the past 92 years," said ECUAD president Dr. Ron Burnett. "This new campus will ensure Emily Carr University graduates will continue to be in the forefront of their fields in the years to come."

ECUAD was founded as the Vancouver School of Decorative and Applied Arts in 1925.

Contacts:

Jen Holmwood
Deputy Communications Director
Office of the Premier
250 818-4881

Richelle Funk
Ministry of Advanced Education, Skills and Training
250 356-7876

Rob Maguire
Director, Marketing + Communications
Emily Carr University of Art and Design
rmaguire@ecuad.ca
604 844-3847


Connect with the Province of BC.
Image (L-R) | Dr. Ron Burnett, President + Vice-Chancellor | The Honourable Melanie Mark, Minister of Advanced Education, Skills and Training | The Honourable John Horgan, MLA, Premier of British Columbia | Tsema Igharas, ECU Alumna | Geoff Plant, Chancellor