A Fond Farewell to President Ron Burnett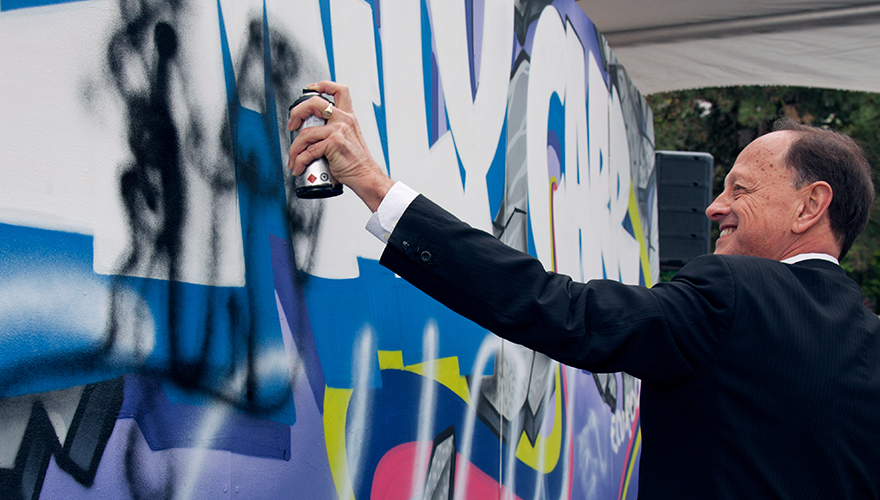 Posted on July 23, 2018 | Updated August 06, 2019, 9:07AM
A message from our Board Chair, Kim Peacock.
To the ECU community,
It's hard to believe that we are in the last week of Ron Burnett's 22-year tenure as President. On July 31, he will officially step down as the leader of the university, but his outstanding contributions to our community will always be a part of Emily Carr.
Ron came to Emily Carr in 1996 from McGill University, leaving one of the most respected post-secondary institutions in Canada to lead what was then a small art and design institute. He took on the position of President because he saw the potential of the Emily Carr Institute for Art + Design to become a world-class university, and a global leader in creative education. As his 22 years at Emily Carr come to a close, he can depart with the knowledge that he achieved this bold ambition.
As our President, Ron shepherded in a period of tremendous growth at Emily Carr, both in the size of the student body and in stature, as we attained university status in 2008. Under his leadership, Emily Carr also began offering graduate programs, undertaking original research in creative fields, advancing technological and digital innovations, and making space for Indigenous voices through our Aboriginal Gathering Place.
Perhaps his greatest legacy is our Great Northern Way campus. During the long campaign to build a new home for Emily Carr, Ron maintained a clear vision of what an innovative, purpose-built institution should be, and how it should serve the community now and in the future. His commitment to this ideal led to our extraordinary space, the first of its kind in Canada, that supports our students and faculty to thrive and create.
It has been an honour to work alongside Ron and personally witness his dedication to serving our community, and his admiration for the remarkable and unique potential of Emily Carr students. He has left an indelible impact, not only on the university but on the global landscape of arts and culture.
On behalf of the Board of Governors of Emily Carr University of Art + Design, I would like to wish Ron all the best in the next chapter of his life. He leaves us with an incredible legacy of achievement, for which we are incredibly grateful.
Best regards,
Kim Peacock
Chair
Board of Governors
Emily Carr University of Art + Design